Trump accused of intimidating impeachment witness Yovanovitch through tweets
Trump accused of intimidating impeachment witness Yovanovitch through tweets
Written by
Siddhant Pandey
Nov 16, 2019, 04:49 pm
3 min read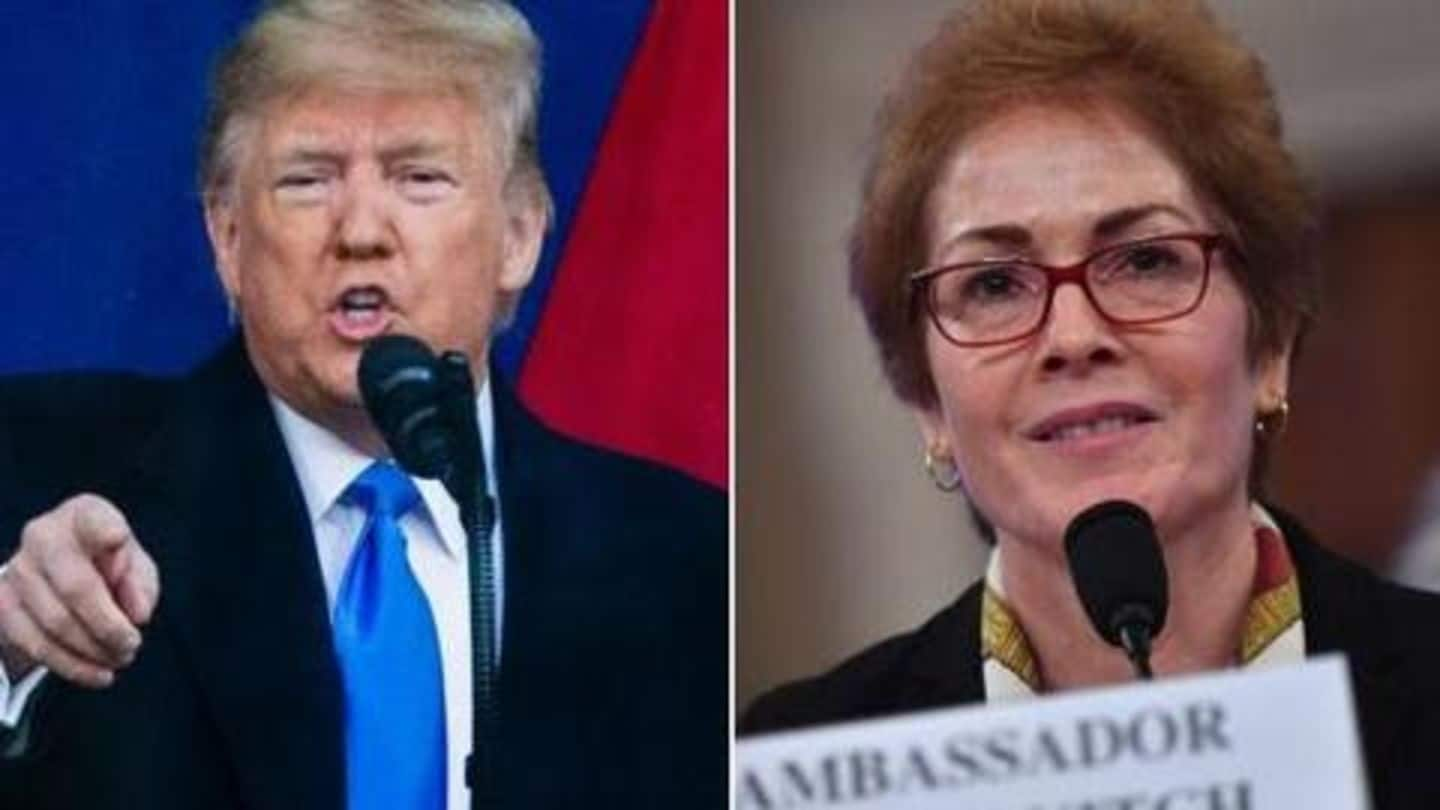 United States President Donald Trump blasted a former US ambassador to Ukraine as she testified in an impeachment hearing in Congress on Friday. While the diplomat, Marie Yovanovitch, addressed the Trump administration's abrupt decision to remove her from office last year, the US President, in a real-time Twitter attack, claimed everywhere Yovanovitch went "turned bad," which sparked allegations of witness intimidation. Here's more.
Why are Democrats calling to impeach Trump?
Democrats called for an impeachment inquiry against Trump over a July 25 telephonic conversation he had with the Ukrainian President Volodymr Zelensky. In the conversation, Trump asked Zelensky to investigate political rivals, former Vice-President Joe Biden and his son Hunter Biden. Joe Biden is a Presidential candidate in the 2020 polls, while his son has served as the director of Ukrainian energy company Burisma.
Ambassador Yovanovitch claimed she was targeted by Trump's smear campaign
In a public impeachment hearing on Friday, Yovanovitch claimed she was targeted by a smear campaign by Trump's personal attorney Rudy Giuliani. Incidentally, Giuliani allegedly helped Trump pressurize Ukraine into investigating Biden. In the July phone call, Trump described Yovanovitch as "bad news" and that she was "going to go through some things." In the Friday hearing, Yovanovitch said "it sounded like a threat."
Our Ukraine policy has been thrown into disarray: Yovanovitch
During the hearing, the former US ambassador to Ukraine said, "Our Ukraine policy has been thrown into disarray, and shady interests the world over have learned how little it takes to remove an American Ambassador who does not give them what they want."
'Everywhere Marie Yovanovitch went turned bad'
While Yovanovitch testified before Congress, Trump launched a Twitter attack in real-time saying, "Everywhere Marie Yovanovitch went turned bad. She started off in Somalia, how did that go? Then fast forward to Ukraine, where the new Ukrainian President spoke unfavorably about her in my second phone call with him." He added, "It is a US President's absolute right to appoint ambassadors."
It's very intimidating: Yovanovitch on Trump's tweet
Reacting to Trump's tweet on live television, Yovanovitch said, "It's very intimidating." She said, "I can't speak to what the President is trying to do but I think the effect is to be intimidating." House Intelligence Committee Chairman Adam Schiff described Trump's tweet as "witness intimidation in real-time." Although witness intimidation is a crime, Schiff did not say if it's an impeachable offense.
Trump, Republicans deny witness intimidation claims
Meanwhile, speaking to reporters at the White House, Trump said, "I have the right to speak. I have the freedom of speech just as other people do have." Republicans also refuted claims of witness intimidation. Republican Representative Jim Jordan said, "The witness is testifying. She wouldn't even have known about the quote if Mr. Schiff hadn't read the tweet."
Two US Presidents impeached in past, neither convicted by Senate
Notably, only two US Presidents, Andrew Johnson and Bill Clinton, have been impeached by the House of Representatives. However, neither President was convicted by the Senate. The investigation threatens to make Trump the third impeached President. It's unlikely that he would be removed from office since, in the Senate, Trump's Republican Party holds 53 to 47 majority against the Democrats.