Venice flooded after new dam system didn't activate on time
Venice flooded after new dam system didn't activate on time
Dec 10, 2020, 06:57 pm
3 min read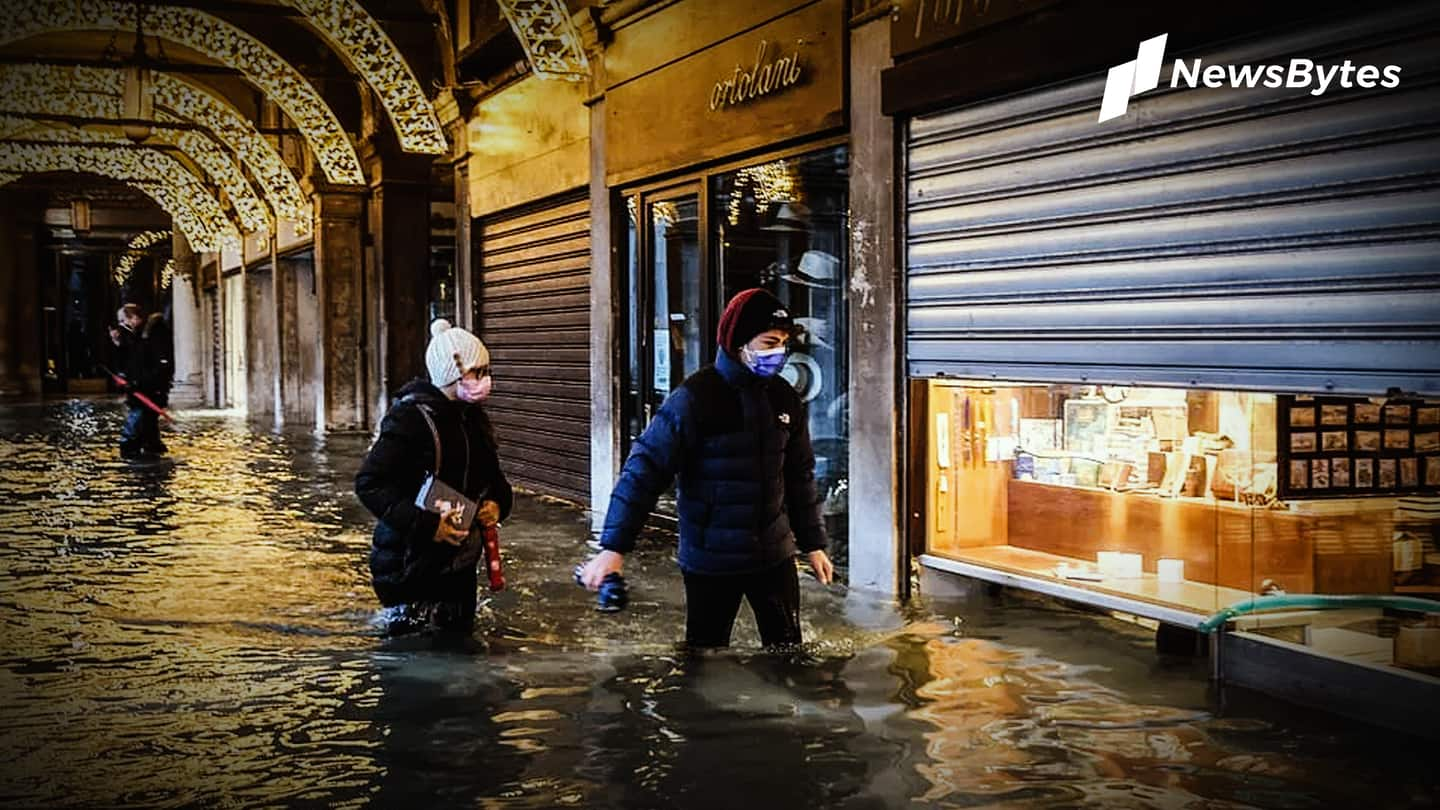 Venice, the popular Italian city, was on Tuesday flooded as a barrier system, named MOSE — that had been installed after being plagued by corruption and cost overruns for years — wasn't activated on time due to an error in the forecast. St. Mark's Square, one of the lowest parts of the lagoon city, was severely hit, with water being recorded at thigh-level.
Venetians finally found a solution to old problem this year
Floods in Venice, triggered by high tides, are pretty common— they have been happening for 1,200 years. But in October, for the first time in centuries, Venice managed to hold back the sea, as the flood barriers were finally installed. MOSE's 78 flood barriers are installed in the seabed and placed at three main entrance points. On October 3, the system functioned perfectly.
When the system worked, residents called it historic
In October, St. Mark's Square, which gets submerged at just 90 centimeters, remained dry. This happened because a dam was formed as soon as high tide arrived. Obviously, the residents were overjoyed. "I was worried when I saw the tide predictions, then somewhere between incredulous and happy when it worked. You appreciate things more when you don't expect it," a local had told CNN.
Higher tides than expected hit, Venice was flooded
In two months since it was introduced, the system has worked five times — last week it was activated for three days. But on Tuesday, the system didn't activate as the weather forecast predicted a tide of 125 centimeters, when it was 138 centimeters (54 inches) above the average. By the time, authorities realized the system has to be activated, it was too late.
The situation is terrible, said a local
On the incident, Venice Mayor Luigi Brugnaro said, "To activate MOSE a bigger forecast is necessary. We will have to review the rules of the command post." The fact that the system, costing $8 billion, didn't work angered residents. Carlo Alberto Tesserin, the head procurator of St. Mark's Basilica, said, "The situation is terrible, we're underwater in a dramatic way."
"We are back to square one"
"The situation is really bad as we weren't expecting it. It's frustrating as we thought that with MOSE this kind of thing wouldn't happen anymore, but instead, we're back to square one. It's the same old problem," said Matteo Secchi, the leader of group Venessia.com.
The situation is indeed terrible!