Huawei Band 6 Review: A little different from the pack
Huawei Band 6 Review: A little different from the pack
Sep 27, 2021, 11:02 pm
9 min read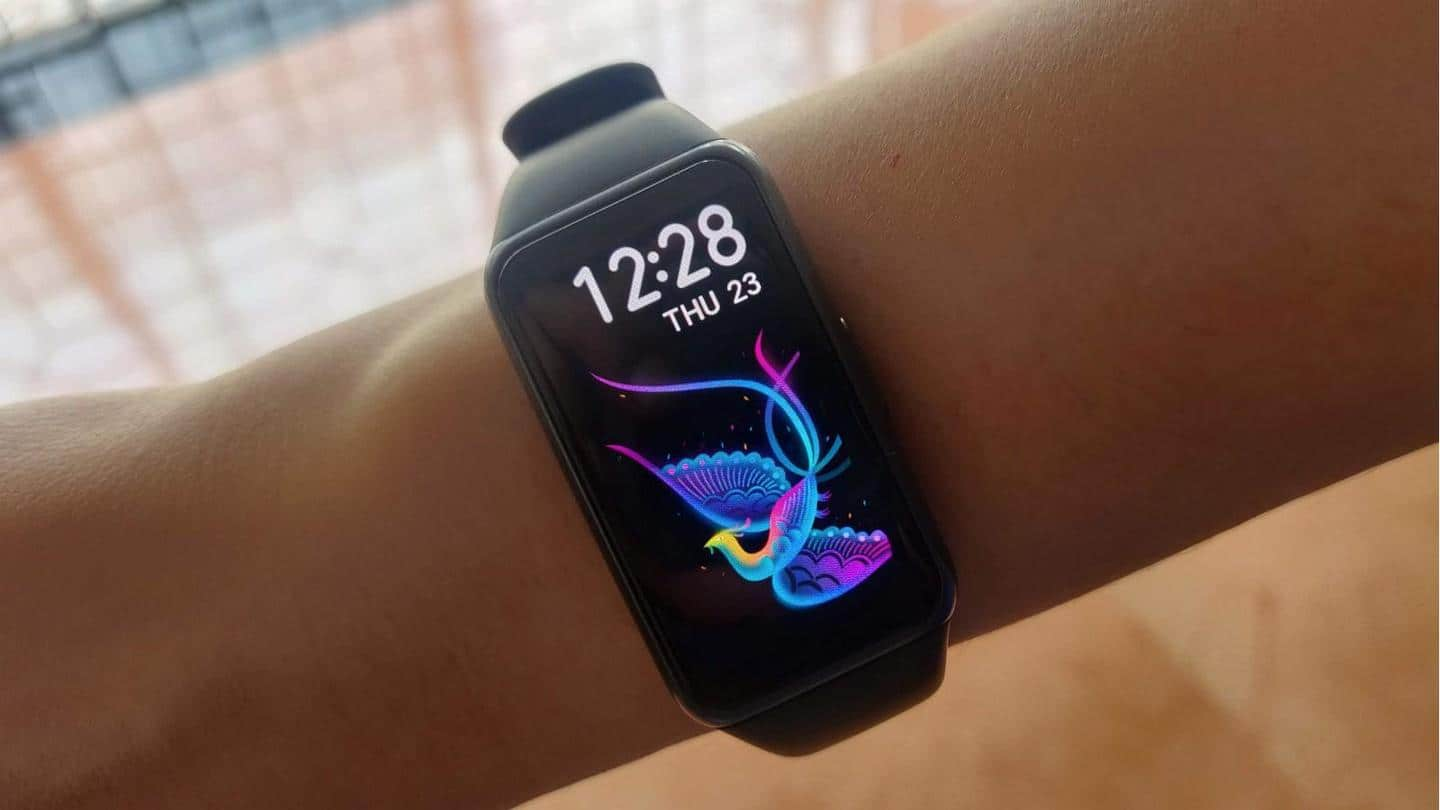 Huawei has been a constant presence in the fitness wearables segment in India over the past several years. The Band 6 that we have for review today is the sixth iteration of their fitness band, and it's an interesting one. One thing I generally miss in fitness bands is a larger display. I know, it's a band and needs to be sleek, but Huawei has looked to address that issue here. The Huawei Band 6 slots right in between regular fitness bands and a fitness watch, courtesy of its larger than usual display. The slightly larger footprint also lets it pack a higher capacity battery and a bunch of useful sensors. The pricing is more than entry level fitness bands but it also offers some features that are hard to find on most of its competitors. Let's see how it performs and if it deserves the premium.
Looks pleasantly different; comfortable to wear all day
The Huawei Band 6 is well built and comes with a smooth matte finish that gives it a premium look. Despite that, the band is fairly light and weighs just 18gm (without the straps). This band does not use standard sized straps, and the pre-installed ones are not so easy to replace. The straps are made of UV-treated silicone that is skin-friendly, and they are indeed comfortable to wear all day without any irritation. The SpO2 and heart rate sensors are located at the back, along with two charging points. There is a single physical button on the side that turns on the screen when pressed and also doubles up as a shortcut to all the key functions of this band. That button along with the touchscreen display let you access the menus and different functions of this device. All in all, this fitness band looks good around the wrist even if you have slim ones, and the larger display offers better readability.
Speaking of display, this Huawei band has a rectangular 1.47-inch AMOLED touchscreen display with a resolution of 194x368 pixels and a curved glass on top. The screen is sharp and colors pop nicely. There is no mention of scratch protection or oleophobic coating in the spec-sheet, but there were absolutely no scratches on the screen after a few weeks of usage. There were hardly any fingerprints or smudges on the screen either, and rarely did I need to wipe it. The screen has five levels of brightness; it is perfectly legible indoors at level 3, but you will need to push it to level 4 or 5 outdoors under bright sunlight. Flicking the wrist turns the screen on, and it works as expected. This feature can be scheduled to stay off during your sleep hours or one can simply turn on night mode that also disables incoming call alerts and other notifications. You will need to press the physical button to wake the screen during that period. The watch comes preloaded with a handful of faces, and you can add more of your choice from the companion app. While the watch face library is fairly elaborate, most of the options I liked were not free. They aren't expensive but the app often keeps recommending a lot of paid options even when you are sampling the free ones, and it can get irritating after a while. You get a good mix of digital and analog faces and also some artistic variety that show useful fitness data along with time. The good part is the watch helps you store and switch between a lot of these faces without the need to go back to the app. Generally, fitness bands let you store about half a dozen faces. I tried storing 14 on the Huawei Band 6, including the preinstalled ones, and they happily coexisted.
Simple user interface, well-organized companion app
The user interface of this fitness band is simple and straightforward. Swipe down on the screen for quick settings, swipe up to check the notifications from various apps, and swipe left or right to cycle through widgets like daily activity progress, heart rate, stress levels etc. Touch and hold gesture on the home screen lets you cycle through and change watch faces. And lastly, pressing the physical button grants you access to all the functions and workout modes of this watch. You need to install the Huawei Health app on your smartphone and sync the Band 6 with it over Bluetooth. It is available on both Android and iOS. The app, however, asks for way too many permissions to perform multiple tasks. Allow whatever you are comfortable with. The app interface looks neat and clean and displays last workout record, steps count, workout duration, calories burnt, distance traveled, most recent SpO2 reading, sleep data, stress level and heart rate graphs. You can tap on either of the tiles to gain deeper insight into each aspect. You can also access watch settings and watch faces, along with detailed breakdown of daily, weekly or monthly fitness activities. In case you aspire to train for marathons, this app guides you through your training process suggesting the kind of speeds and heart rate you should maintain at different stages of the run.
Brisk oximeter, detailed sleep and fitness tracking, except steps counter
The SpO2 sensor is quite good and provides accurate readings that are comparable to a basic over-the-counter Oximeter. While it's not as fast, I did find it noticeably faster than those you get in most budget fitness watches. You need to keep your hand steady for about 20 seconds to get an accurate reading. This band supports all day SpO2 monitoring too, and even when you are asleep. As always, these readings are meant to serve as a broad guideline and not replace dedicated medical equipment. Sleep tracking on this band is fairly accurate and detailed. It not only measures the quantum of light sleep, deep sleep, REM sleep and awake time, it also tracks your deep sleep continuity and breathing quality. Based on all these parameters, you get a sleep score and a variety of advice on how to improve it further. You get all day stress monitoring too, and it provides some guided breathing techniques to lower it. Menstrual cycle tracking is also available on this band. Huawei claims that one can choose from 96 different exercise modes. I could spot the usual walking, running, swimming, jump rope, elliptical, rowing and a few others. I believe the rest are derivatives of these workouts. Some activities have indoor as well as outdoor tracking options. This band doesn't have built-in GPS, and during outdoor activities, you can use assisted GPS to track distance. For that you need to carry your phone along for the band to utilize its GPS. Otherwise, the band uses the built-in pedometer to count steps, which is temperamental to say the least. It tends to be too generous with your steps count and registers steps if you throw your arms around even when stationary. Long story short, it records a lot of false steps when not in a workout mode. The device is 5ATM water resistant and can survive up to 50 meters deep water.
Good battery life for a fitness band, quick charging
This is not a smartwatch and you only have a handful of so-called smart features. Beyond fitness, you can receive call alerts, messages and app notifications on the phone screen, but you can't answer calls or reply to messages. However, most of the stuff is legible on its decent sized screen. You also get controls to manage the music playback on the phone from the watch without touching the phone. Further, you get weather updates from time to time and sedentary reminders if you are stationary for too long. The company advertises a battery life of two weeks for the Huawei Band 6 under typical usage scenario that is defined as 'heart-rate monitoring and sleep tracking on, screen checked briefly 200 times within 24 hours and workout for 30 minutes per week'. The battery life figure may seem a bit too ambitious for a fitness band, but I did manage to get close to 12 days out of it with similar parameters as above but with three hours of workout in that period. Include a couple of SpO2 readings daily and that's not a bad number at all. The charging module here is really tiny and is essentially just two pins that magnetically attach to the base of the band, and on the other end of the cable is a USB port that can be connected to any standard USB charger. It takes well under an hour to charge this band fully, and the company states that just five minutes of charging can keep the band powered for two days; a claim I could not verify as I forgot to stop charging it after five minutes.
Slightly expensive but offers a few extras over budget band
The Huawei Band 6 is priced at Rs. 4,490 in India with a one year warranty and often drops by Rs. 500 on Amazon India. The price may seem a little higher than popular fitness bands from OPPO, OnePlus or Xiaomi that sell under Rs. 3,000, and while they offer comparable features, none of them sport a screen this big or offer as much battery backup. Barring the steps counter, most of the things function as expected, and the level of tracking is quite impressive. Add to that an uncomplicated user interface, a good companion app, and the Band 6 justifies the small premium that it demands. If a larger display is not a necessity, you can consider the OPPO Band Style and save a few bucks. In case you need a bigger display (though not AMOLED) and built-in GPS in this budget, you have options like the Amazfit BIP U Pro and Realme Watch 2 Pro that sell for a similar price. Take your pick!
Huawei Band 6 Review synopsis
Review:
A semi-premium fitness band with a larger AMOLED display, feature-rich companion app, reliable SpO2 and heart rate sensors and good battery life.
Good Stuff:
Lightweight, comfortable, easy to use
Relatively larger sharp AMOLED display
Satisfactory overall performance
Accurate SpO2 sensor and heart rate monitor
Sleep tracking, all day stress monitoring
Bad Stuff:
Best watch faces are not free
Proprietary watch straps may be hard to replace