OnePlus Watch Cobalt Limited Edition review: Classy design, decent performance
OnePlus Watch Cobalt Limited Edition review: Classy design, decent performance
Feb 17, 2022, 10:15 am
10 min read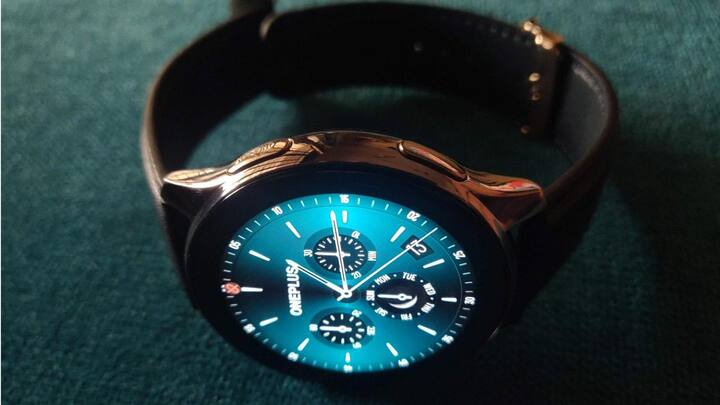 The sub-Rs. 15,000 segment of fitness watches in India is quite exciting where a bunch of options, mainly from Amazfit and Xiaomi offer impressive features and performance. OnePlus also has its contender in the segment that does reasonably well. While the category is mainly focused on functionality, there is only a limited focus on aesthetics. OnePlus plans to change that with the product that we have reviewed here. The company has launched a special edition of their watch that they like to call OnePlus Watch Cobalt Limited Edition to cater to the style conscious buyers who prefer some exclusivity. Of course, there's a bit of premium that one needs to pay to own it. So let's see how much style and how much substance this exclusive product brings to your wrist.
One of the most stylish fitness watches around
The OnePlus Watch Cobalt Limited Edition does have oodles of style and looks extremely elegant in the light golden cobalt alloy frame and dark green vegan leather strap with buckles that match with the frame. Cobalt alloy is supposedly twice as hard as stainless steel that the company uses in the standard edition of the OnePlus Watch, but both watches weigh exactly the same at 45g (without straps). The round dial blends seamlessly into the frame, and there are no rough edges on the watch. The branding is extremely subtle and can be found embossed on one of the two physical buttons along the edge. The construction is sturdy and there was absolutely no noticeable wear and tear after a month of use. This watch may seem on the larger side if you have slim wrists, and the default strap may feel loose even after adjustment. The good part is the strap has a standard 22mm width, and you can replace it with any third party 22mm strap. But good luck finding one that looks as good as the default strap. OnePlus does bundle an additional Fluoroelastomer strap, but I wouldn't bother with it on this special edition watch. Probably the company should have provided two different sized vegan leather straps instead of two straps of different materials, but that's a matter of individual taste. Given that this is a fitness watch more than a fashion accessory, a secure fit is extremely important for accurate tracking. This is not a watch you can dangle around your wrist.
Excellent AMOLED display with a decent collection of watch faces
The display on this watch is excellent. You get a sharp 1.39-inch AMOLED screen with a resolution of 454x454 pixels. A layer of sapphire glass makes it scratch resistant; there was indeed no scratch on the screen even after a month. An oleophobic coating would have been nice to have to make it smudge-free. You get five levels of brightness along with an auto mode. Level 3 works well indoors, but you will need to push it a little higher outdoors, especially when it's sunny. This OnePlus smartwatch supports always-on display function, but it consumes quite a bit of battery. I always prefer to keep that feature off, and flick my wrist to turn on the screen when needed. The flick sensitivity is spot on, and I rarely had to flick my wrist twice to wake the screen. Enabling sleep mode disables the flick-to-wake feature, which is the right thing to do when you wear it to bed at night or in places like a theatre where the screen glow can be a distraction. While there were just about 15 watch faces at launch, and none too exciting, OnePlus has done a good job of taking that number closer to five dozen since. And they are much better looking too with a good mix of analog and digital options ranging from minimalist to those that present a variety of fitness data. You can store up to 14 faces on the watch after you transfer them from the app. The download and transfer process is fairly swift.
Standard user interface, uncomplicated but basic companion app
The watch UI is quite standard. Swipe down on the screen for quick settings, swipe up for notifications and swipe left to access a handful of widgets like daily activity progress, heart rate data, stress levels and sleep info. Pressing the top physical button brings up the app drawer. It also acts as a home button from any screen. The bottom button gives you quick access to fitness modes from the home screen. The UI is highly responsive and lag-free. You have to make do with the preloaded apps and fitness features as you do not have an option to install additional apps, as is the case with its RTOS-based competitors in this price range. But the existing fitness features should suffice for most. To use this watch, you first need to install the OnePlus Health app on your Android smartphone or tablet and sync it over Bluetooth. While the app is available on iOS too, I am not sure if this watch is compatible with the platform yet. The app is uncomplicated even for first time users, but it has limited features. The user interface has noticeably improved after a few updates and is quite easy to understand and navigate around. It has three tabs, the first of which displays all your fitness data like daily activity progress, workout records, heart rate, stress and oxygen levels and sleep data. The second tab lets you quick-start your walks and runs, and the third tab grants you access to certain watch settings. The settings are very limited, and options to alter widgets or other UI elements on the watch, barring watch faces, are unavailable. I prefer to have a choice of what I want the watch to display on different screens and in what order when I swipe left on the home screen, like in the case of some of its competitors.
Generally reliable fitness tracking but steps counter is erratic
This OnePlus Watch has a broad spectrum of sensors at the back to track various fitness parameters. You get the usual SpO2 sensor and optical heart rate monitor, along with an accelerometer, gyroscope, geomagnetic sensor and sensors for ambient light, air pressure and capacitance. The watch can track 110 different workouts based on 15 primary fitness activities like walking, running, cycling, swimming, yoga and a few sports such as cricket and badminton. You have indoor modes for running and cycling, but not walking, and they aren't that accurate, especially the pedometer, which more often than not under-reports steps. The watch has an IP68-rated ingress protection as well as 5ATM water resistance, and is safe to swim with. The watch auto-detects certain workouts but it often takes a bit longer than it should. Better to start the workout manually for accurate results. When outdoors, the results are fairly accurate with the GPS locked in. The watch also tracks your sleep patterns and lets you know about the quantum of deep sleep, light sleep and awake time. No REM sleep data is available even in the app. The watch can also track your blood oxygen level while you are asleep if you enable the feature. The SpO2 sensor on the watch does a good job, and on-demand readings are available in well under 30 seconds if you keep your hand steady. The results are comparable to a basic over-the-counter oximeter, but not meant to replace a proper clinical instrument. In addition, you also get stress measurements and all-day heart rate monitoring. One cool feature on this OnePlus Watch is you get to store and play music from the watch directly, thus eliminating the need to carry your phone along if you wish to. You get about 2GB space for storing music. The watch is Bluetooth 5.0 compliant and you can use wireless earphones with it.
Good battery backup, basic smart features
OnePlus claims a battery life of 14 days under test conditions, but during my testing it managed to last for 9-10 days. I had turned ambient display off, flick wrist to wake screen enabled, screen brightness set to level three most of the time, SMS and call notifications enabled, 45 minutes of fitness activity daily, three hours of cumulative GPS usage, heart rate measurement set to continuous, two oximeter readings in a day and three nights of sleep tracking without oxygen monitoring. That's decent battery life, but not as high as some of the Amazfit options that go as high as two weeks and beyond. Like most fitness watches in this category, the smart features are limited to app notifications, messages and call alerts. But there's a little more here. This watch not just lets you answer or reject calls, but also take/dial a call from the watch itself. The watch has a microphone and a speaker and you can have a conversation from the watch itself without pulling out the phone. The call quality is just about manageable in quiet environments, but it's best to use Bluetooth earphones/headset for a better experience.
Arguably the most elegant fitness watch under Rs. 20,000
The OnePlus Watch Cobalt Limited Edition sells for Rs. 19,999 with a one year warranty, and is available for purchase on the company's website. That's a good Rs. 5,000 more than the Standard Edition with exact features and specifications. That is a premium you need to pay for a touch of class and exclusivity. I cannot tell you if it's fair. That's for you to decide depending on how much you have been smitten by the looks of this watch. It surely is one of the best looking fitness watches around. Other than the design, you get a solid build, an excellent display, a good mix of features, uncomplicated operations and a decent battery life. Add to that, hands-free calling (spot the irony) and the option to store music on the watch and sync fitness data with Google Fit. Not everything is perfect here like the limited customization options and a barebone app. The availability of this watch is also quite scant, or simply playing hard to get. The OnePlus Watch, be it a standard or special edition, is a good all-round product for basic fitness needs and with a few extras, but some of the competing products offer those features for less. A few names come to mind straight away. For starters, you have the Amazfit GTR 3 with the new and improved interface, better fitness tracking and excellent companion app that sells under Rs. 15,000 and doesn't look bad either. Even under Rs. 10,000, you get a couple of options that can match the OnePlus Watch in terms of features. Xiaomi's Mi Watch Revolve Active and the Amazfit GTR 2e with comparable performance and better battery life can give the OnePlus Watch a serious run for its money. Pick the one that best suits your needs and fashion sense.
OnePlus Watch Cobalt Limited Edition review: At a glance
Review:
This OnePlus Watch Cobalt Limited Edition is one of the best looking fitness watches around, but the features and performance are similar to some of the watches available at half its price.
Good Stuff:
Elegant design, comfortable to wear
Decent collection of watch-faces
Easy to use, uncomplicated companion app
Generally reliable fitness tracking
Bad Stuff:
Workout auto-detection takes longer than it should
Fitness analysis could have been more detailed