Realme Pad review: A polished tablet mainly for content consumption
Realme Pad review: A polished tablet mainly for content consumption
Feb 03, 2022, 01:12 pm
8 min read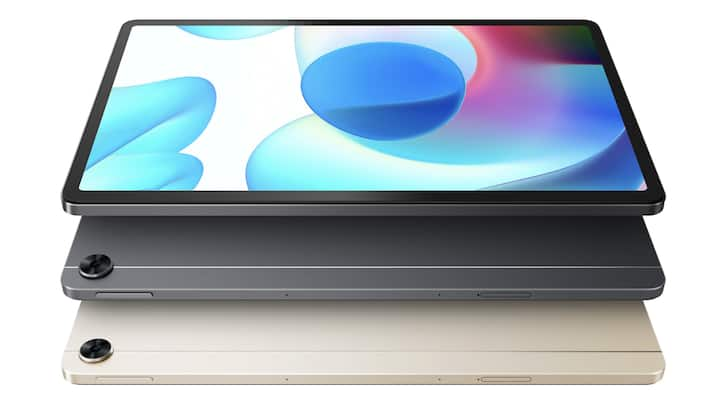 Screen sizes of phones have been growing bigger every six months. So much so that some of the current phones are at least as big, if not bigger, than certain tablets of yesteryear. Just when we thought that Android tablets were nearing extinction, there has been a resurgence in the category over the past year or so. They say necessity is the mother of invention, in this case, reinvention. Courtesy of the pandemic, online classes and web conferences have become a common thing. The phone screen isn't the ideal size to address some of those needs, and laptops can be overkill and expensive. Hence, many have been considering a good tablet for attending online lectures or meetings and also as an extra screen for personal entertainment. This is just the audience Realme is looking to target with its first tablet. Let's see what Realme Pad has to offer, how it performs, and whether you should buy it.
Most of the necessary features are present, and some more
Let's start with the specifications. The Realme Pad is powered by a MediaTek Helio G80 SoC and has Mali-G52 MC2 GPU; not a bad choice of processing hardware for a budget tablet. You get a choice between 3GB RAM and 32GB internal storage or 4GB RAM with 64GB storage. The storage can be expanded further up to 1TB with a micro-SD card, which is a handy option. You either get a Wi-Fi-only variant (3GB/32GB) or a Wi-Fi + LTE variant with the same memory configuration or with 4GB RAM and 64GB storage that we got for review. The LTE variant has a 4G SIM slot for calling and mobile data. You get Bluetooth 5.0 and dual-band Wi-Fi with support for 2.4GHz and 5GHz networks. The Realme Pad has a 10.4-inch display with a resolution of 2000x1200 pixels and support for 16.7 million color shades. It has a rated peak brightness of 360-nits. There are two 8MP cameras, one located at the front and the other at the back of the tablet. The rear camera is more of a utility thing than for serious photography. The front camera has an ultra-wide lens with a broad 105-degrees field of vision that is quite a useful feature for video calls. You get a face unlock option here but no fingerprint scanner. This tablet has quad speakers with Dolby Atmos compliance and the output is quite impressive
Stylish design, good build quality, and sharp display
Despite being a budget tablet, the Realme Pad is quite stylish. The champagne gold aluminium frame and back look elegant, and even better, the tablet is less than 7mm thin. It weighs 440g, but the weight distribution is good and it doesn't feel heavy to hold. The bezels could have been thinner though, without compromising on a good grip from the sides. An 8MP camera can be found at the back of the tablet along with the company logo. While you can use this tablet in portrait and landscape mode, it is ideally meant for the latter, especially when watching videos or indulging in video calls. The front camera is placed at the center of the longer edge of the tablet, and a couple of speakers each can be found on the left and right side of the screen when in landscape mode. A power button, volume rocker, USB-C port, SIM/micro-SD card tray and a couple of microphones are placed along the edges of the tablet. The display on the Realme Pad has an IPS panel and the viewing angles are quite broad. The screen is protected by a scratch resistant glass, but it doesn't seem to have an oleophobic coating. It tends to attract a lot of smudge marks, and one needs to keep wiping it frequently. It has a standard 60Hz refresh rate, and scrolling feels just a little laggy in comparison to 90Hz and 120Hz refresh rate displays that you get on smartphones these days. The screen is perfectly bright when you use it indoors and is just about bright enough when outdoors. The contrast and color reproduction leave no room for complaint. Though the display doesn't support HDR, the colors feel quite lively and closer to natural. There is Widevine L1 compliance, and as a result you can watch Full-HD content on OTT platforms like Netflix and Prime Video on this tablet.
Near-stock Android UI and good battery backup
The tablet runs Android 11 with Realme UI for Pad. The Realme UI here is nothing like the one you get on their phones, but is a lot like stock Android. No complaints about that. The UI is clean, smooth and almost free of bloatware. With the exception of Facebook, most of the pre-installed apps are Google services. You also have a couple of kid friendly apps like Kids Space and YT Kids. In fact, while setting it up for the first time, the setup asks you who would be using the tablet (adults or children) and configures it accordingly. As for battery backup, the Realme Pad is equipped with a 7,100mAh battery that kept it running for close to two days of moderate use that included a couple of hours of watching content on OTT platforms, two hours of reading/browsing and half an hour of video calling daily. That's not bad at all. It supports 18W fast-charging and the bundled charger takes about three hours to charge it fully, which is not really fast. It would have been great had it supported at least 30W charge like several Realme phones. On the bright side, the tablet supports reverse charging and can be used like a powerbank to charge other devices if necessary.
Good for content consumption, not so much for content creation
The usual day to day operations on the Realme Pad are generally lag-free, unless you leave too many apps running at the same time. Otherwise, the Helio G80 chip in conjunction with 4GB RAM can handle tasks like browsing, reading, audio-video playback and video calls with ease. It can also manage less graphics intensive games at low to medium settings fairly well, but don't get too adventurous due to the mention of 'gaming processor' on its product page. Typing on most tablets isn't very comfortable, and the Realme Pad is no different. Replying to the odd email is fine but typing out essays or articles is not enjoyable. This tablet is better suited for content consumption. Browsing the internet or reading e-books is perfectly fine. You also get multiple viewing modes like reading, night, dark and sunlight for different lighting and activities. Reading mode for instance is easy on the eyes in a dimly lit room. Video calls work well too, and the larger screen gives you more real estate for group calls. As I mentioned earlier, the rear camera here is not for photography enthusiasts but for basic use where color accuracy and details don't matter much. This tablet (LTE variant) lets you add a nano SIM and make voice calls. It doesn't have an earpiece but the built-in microphones and speakers work very well. You can always use a Bluetooth headset if you seek privacy. Streaming videos on this tablet is probably the best part. The four built-in speakers do a surprisingly great job most of the time at close to peak volume. They are Dolby Atmos compliant and give you a fairly immersive experience, way better than what one expects from built-in speakers on a tablet. I rarely switched to earphones when watching stuff on the Realme Pad. Since this is an Android tablet, it lets you cast content from Chromecast compliant apps to Android TVs.
Good value for money, great for entertainment on the go
The Realme Pad can be purchased starting from Rs. 13,999 for the Wi-Fi only variant with 3GB RAM and 32GB storage. The top-end Wi-Fi + LTE variant with 4GB RAM and 64GB storage sells for Rs. 17,999. The pricing is quite competitive given the scarcity of quality alternatives under Rs. 20,000 from competing brands. The Realme Tab may not be perfect on all counts, but is a great debutant from the company in the segment. You get a good all-round product that covers a lot of bases like audio-video consumption, reading, browsing and video-calling. It also runs a more recent version of Android with a clean user interface, has an elegant design and provides two days of battery backup under moderate usage, all adding up to good value for money.
Realme Pad review: At a glance
Review:
Realme Pad happens to be a feature-rich tablet that is better suited for entertainment, reading and video-calling, but not so much for content creation.
Good Stuff:
Good all-round tablet with most bases covered
Sharp display with Widevine L1 compliance
Surprisingly good sound output with Dolby Atmos
Competent processing hardware, expandable storage up to 1TB
Sturdy build and elegant design
Bad Stuff:
Screen attracts a lot of smudges