OnePlus TV 50 U1S Review: Impressive performance and features
OnePlus TV 50 U1S Review: Impressive performance and features
Dec 15, 2021, 12:23 am
9 min read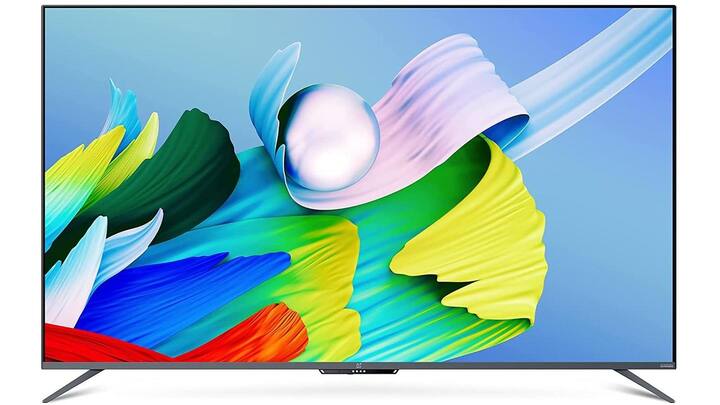 OnePlus has established itself as a front runner in the midrange to high-end smartphones segment. It hopes to do that in the smart TV category too. The company's foray into the premium TV segment wasn't as successful as they would have liked, and since then have aimed at a more lucrative midrange TV segment. Their new U1S series is the next iteration of the U1 series released last year and brings forth some interesting features to the table. I cannot call it an out and out upgrade as it misses out on support for Dolby Vision, which the earlier series had. Beyond that, things are mostly better here with faster HDMI ports, support for hands-free voice commands, a collaboration with Dynaudio for improving the sound quality and more. Time for me to watch some TV and tell you how good the OnePlus TV 50 U1S truly is.
Stylish exterior with an impressive suite of connectivity options
This TV sports a near bezel-less design on three sides. The gray bottom bezel isn't too thick either and has an elongated chin at the center that hosts a bunch of LEDs and receivers for far-field mics, along with a power LED. Though this TV isn't as slim as the U1 model, OnePlus has done a good job of making it look slimmer than it actually is. It can be wall-mounted or placed on a desk using the bundled metal stands. The necessary screws are provided in the package. You get a voice enabled remote in the package along with a pair of AAA batteries to power it. The remote is compact and looks different from its predecessor. The key layout is fine and has most of the necessary buttons. Some buttons perform multiple tasks when pressed once and when you press and hold it. Case in point, the OnePlus button that starts OxygenPlay when pressed once, and if you long press it, you get options to shut down the TV, restart it or put it on standby. I would have preferred a dedicated power button instead. In the connectivity department, you have a good spread. You get three HDMI 2.1 ports, one of which supports eARC, two USB 2.0 ports, Optical audio out, A/V input and a LAN port. An analog audio out option is missing here. Wireless connectivity options include Bluetooth 5.0 to connect to wireless speakers or headphones and dual band Wi-Fi with support for 2.4GHz and 5GHz networks. All ports can be found along the left edge of the rear module. However, the ports are located closer to the center of the TV rather than near the edge, making them difficult to access if you choose to wall mount it.
Most popular features are available except Dolby Vision
The OnePlus TV 50 U1S has a 50-inch panel with an Ultra HD (4K) resolution of 3840 x 2160 pixels and a 60Hz refresh rate. Information about the panel type and its peak brightness isn't available. The TV supports popular HDR standards like HDR10/10+ and HLG, but unlike its predecessor, it doesn't support Dolby Vision. It supports 10-bit color depth and can display over a billion different shades. It is powered by a Mediatek MT9612 SoC and you get 2GB RAM and 16GB of internal storage, a chunk of which is taken up by the Android TV 10 OS and pre-installed apps. Hence, you are left with less than half the space for installing more apps. Sound output is rated at 30 Watts RMS with support for Dolby Audio. Dolby Atmos is available via HDMI passthrough. Like all certified Android TVs, it has Chromecast built-in and lets you cast content to the TV from compatible apps on your phone or tablet. The wireless remote control operates over both IR and Bluetooth. You are prompted to pair it with the TV by pressing a couple of buttons simultaneously when you set it up for the first time. You can bring up Google Assistant by pressing the corresponding button and issue voice commands. The TV also has built-in far-field mics. So, if you wish to go completely hands-free, you can simply say OK Google or Hey Google and issue the command. More on that a little later.
Android TV 10 with a clean UI and smart tweaks
The OnePlus TV 50 U1S runs the official Android TV 10 OS and has a stock user interface. It is simple even if you haven't used an Android TV before. You have a row of your favorite installed apps, the shortcuts for which can be shuffled around. Other rows display last played or suggested content from various OTT services. The UI is responsive and lag-free. Apps for Netflix and Prime Video are pre-installed, along with another half a dozen local OTT services like ZEE5, Disney+ Hotstar, Voot etc. The good part is you can uninstall most of them to free up space. You also have the OxygenPlay launcher here, which aggregates content from various streaming services. You, of course, need to have an active subscription of the given service to watch a particular video. This OnePlus TV lets you adjust sound and picture settings on the fly while viewing content from any source. There is no dedicated settings button for the remote though. You need to keep the menu button (with 3 horizontal lines) pressed for a couple of seconds to bring up the quick settings menu and make the necessary adjustments. You don't have to shut the video or exit the app while you do it, which is a good thing.
Impressive picture quality after a good amount of adjustments
The picture quality of this TV is quite good, but after tweaking the picture from the settings. The default tone is on the cooler side and the picture has a bluish tinge. Changing the color temperature to warm improves things significantly. The brightness and contrast are good and details in dark areas in high contrast scenes are clearly visible, but the black levels could have been better. There is hardly any flickering in high contrast scenes either. The color reproduction is impressive, but they feel unnaturally vivid out of the box. With a bit of adjustment, you can bring them a lot closer to natural, which is great. It is best to switch off MEMC (motion compensation) or set it to low to avoid motion artifacts. You get a lot of picture adjustment settings, right from basic to advanced, if you are patient enough to get the best out of this TV. You also have picture presets, if you wish to take the easy way out. 'Standard' preset with warm color temperature should work for most or the 'Movie' preset. Strangely, you get the same set of presets in HDR and SDR content. There's also a HDR10+ preset, but the TV doesn't switch to it automatically when playing HDR10+ content. Manually using the preset in compliant content makes it look better. But avoid using it when watching SDR videos. HDR10+ videos look quite lively on this TV with vibrant colors and good contrast, and that applies to most HDR content in general. Since there is no Dolby Vision, shows encoded in that format on Netflix play in HDR10/10+. The 4K SDR content looks equally sharp and with ample detail. And, the 1440p and 1080p videos upscale well too. 720p videos are watchable, but a tad soft as expected. Anything lower looks washed out. The viewing angles are good with minimal color shift when viewing the TV from sharp angles.
Impressive sound co-tuned by Dynaudio, hands-free voice commands work well
A pair of bottom firing speakers rated at 30 Watts RMS deliver impressive sound output. The output is loud, punchy and enjoyable across a wide variety of content. It is not just good for watching news or sports, but the speakers are pretty decent at handling music and movies. Of course, it would be unreasonable to expect a soundbar level thump; the sound has more than a hint of warmth and a lot of detail. Dynaudio has done a commendable job here. The speakers are tuned well out of the box, and you have more sound adjustment options to tweak it further. The audio is generally loud enough even at 30 percent volume level, but on occasion you need to push it closer to 70% for certain shows on Prime Video and Disney+ Hotstar. Dolby Atmos is not available on TV speakers (which is fine) but the TV can send the feed via HDMI eARC if you plug in an Atmos-compliant speaker system. The TV takes about 40 seconds to boot when you switch on the power, which is standard for most Android TVs. After that, it comes back on almost instantly from standby mode. However, you need to press the OnePlus button on the remote for a few seconds to put it in standby. If you release the button early, it starts OxygenPlay. This can get irritating. A dedicated power button would have done no harm. The far-field mics on the OnePlus TV 50 U1S work well most of the time when issuing hands-free voice commands. The LED lights located on the chin glow to let you know that the TV is ready to accept the command. If you have concerns about leaving the far-field mics on at all times, there is a physical switch to turn them off. However, that leaves four yellow LEDs on all the time which can be distracting.
Good product overall but pricing could have been more aggressive
The OnePlus TV 50 U1S can be purchased for Rs. 43,999 with a one year warranty. Incidentally, it was launched at Rs. 39,999 not too long ago, and the company should have stuck to that price. This TV does have a few extra bells and whistles like far-field mics and good audio quality, but similar sized Dolby Vision-compliant TVs can be purchased for closer to Rs. 35,000. Mind you, the 50 U1S is a good all-round TV even at its current selling price, but the additional premium may serve as a deterrent for its potential customers. Here's why! The Hisense 50A71F is available for Rs. 33,999. It lacks a few features like newer HDMI 2.1 ports and has a generation-old Android TV 9 platform, but it boasts of Dolby Vision and Dolby Atmos compliance, has comparable picture quality and an even better sound output. Next is the Redmi X50 that can be found under 35K too. That also has comparable picture quality, the newer HDMI 2.1 ports, Android TV 10 and Dolby Vision support. The sound output is decent but not in the same league as this OnePlus model or the Hisense. So, if you want to save a few bucks, those are the best alternatives around. However, if you do buy the OnePlus TV 50 U1S, you won't be disappointed for sure.
OnePlus TV 50 U1S review synopsis
Review:
This OnePlus TV does perform well and has a few extra bells and whistles like far-field mics and good audio quality, but similar sized Dolby Vision-compliant TVs can be purchased for less.
Good Stuff:
Good picture with HDR10+ support
HDMI 2.1 ports with support for eARC
Access to picture and sound adjustments on the fly
Far-field mics for hands-free voice commands