Reliance Jio's Rs. 399 recharge IPL offer is fake news
Reliance Jio's Rs. 399 recharge IPL offer is fake news
May 16, 2019, 04:53 pm
2 min read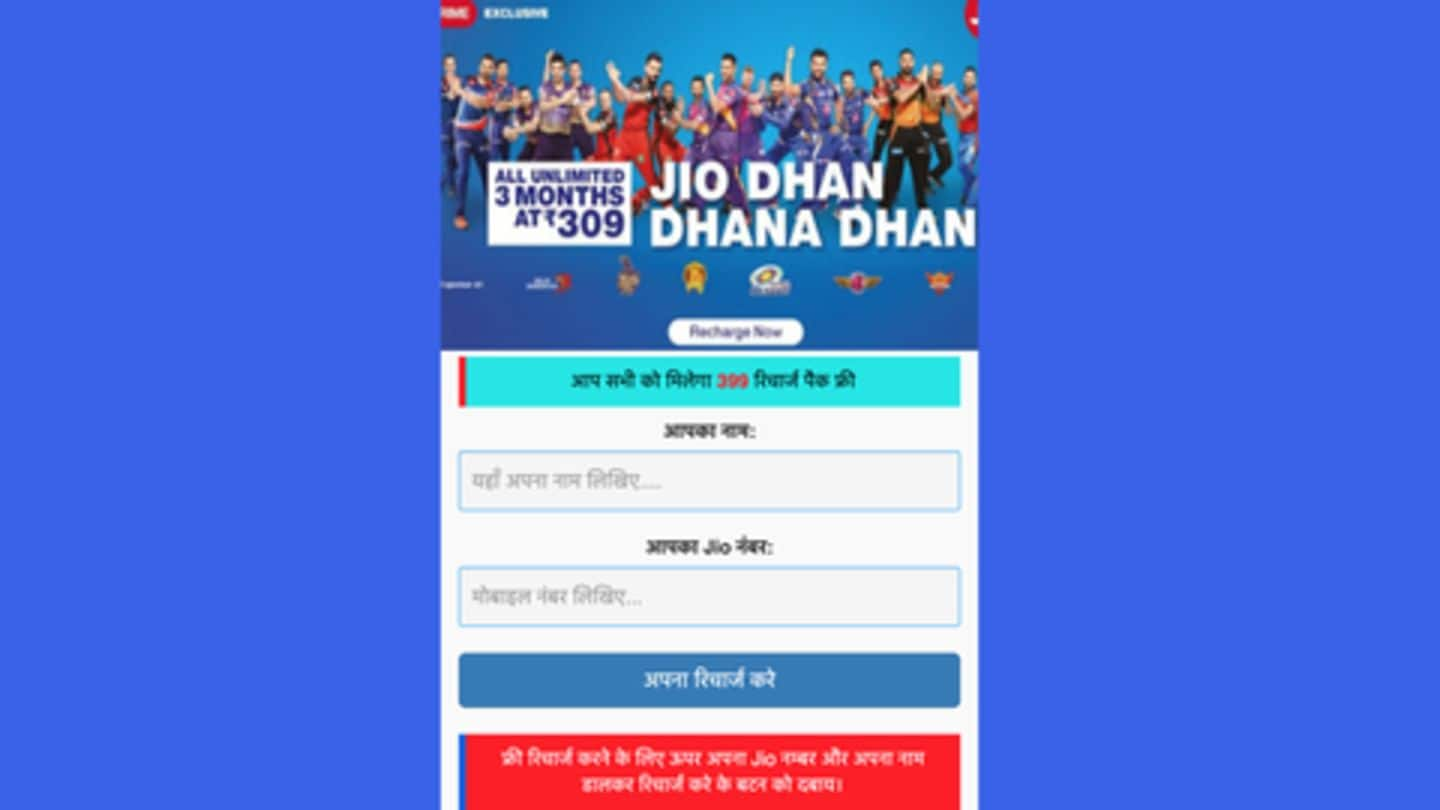 Reliance Jio has been marred with sophisticated scams. Earlier, we had reported how Jio Mobile Tower Scam and Jio DTH connection fraud cheated many people in India. In the latest such development, a fake WhatsApp forward, in the name of Reliance Jio, is offering subscribers Rs. 399 recharge for free. Here's all about this scam.
The finer details of this fraud
A message, in the name of Reliance Jio, is circulating on WhatsApp and other social media platforms promising you a Rs. 399 recharge for free. As per the message, the free recharge benefit is part of the IPL Offer 2019 to celebrate Mumbai Indians' win this season. Notably, the message also says that the offer ("bait") is valid for just 20,000 Jio users.
Here's how the scam works
The message first asks your name and Jio mobile number and then redirects you to another page with a banner of the Mumbai Indians team. On this page, you're asked to forward the message to 10 contacts on WhatsApp before completing the recharge. However, we stopped here after understanding how the hoax website is designed to lure more people into forwarding the bait message.
Fact: There is not Rs. 399 Jio IPL offer
The truth is that there is no free Rs. 399 offer. A simple fact check confirmed that Jio has never announced any such plan. If a company announces an offer, it is highlighted on its website and/or covered by media publications. Moreover, the site address and appearance also confirm the fake nature of the information.
Use these tips to safeguard your interests
For fake websites, look out for HTTP and HTTPS prefixes. The former shouldn't be trusted with personal information or payments while the latter is secure as it uses an encrypted, private connection. Moreover, look for copyright information, company details, spot spelling errors, broken links etc. For spotting fake calls, use caller IDs like TrueCaller to verify numbers and doubt every good offer.