Tanmay says he's suffering from depression, Aditi Mittal lashes out
Tanmay says he's suffering from depression, Aditi Mittal lashes out
Written by
Pallabi C Samal
Jul 02, 2019, 12:59 pm
4 min read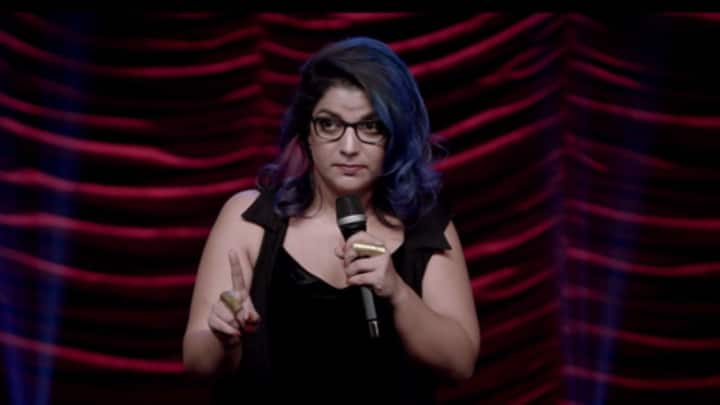 Soon after AIB founder Tanmay Bhatt posted a video on Instagram saying how he has "mentally checked out," after "everything that happened in October," stand-up comedian Aditi Mittal lashed out at him. In a few tweets, she recalled the harassment she faced while working with AIB due to which she "spent a year saying no to work after that coz I was terrified."
But first, what has led to this situation
Last year in October, ex-AIB employee Utsav Chakraborty was accused of asking sexually explicit images/videos from minors. Meanwhile, Tanmay was accused of knowing about these sexual harassment allegations, but never acting on them. In a statement on October 8, AIB had announced that Tanmay had "stepped away" as CEO. In his depression videos, this was the October incident he was referring to.
Unable to participate socially, says Tanmay in depression post
Tanmay further said that he's "unable to participate socially." He informed that he has been diagnosed with clinical depression, and that "A lot of you have been asking why don't you move on, why don't you rebuild, but for some reason, I have just watched something that I have worked for the last part of my adult life come crashing down."
Here is what Tanmay told in his video
Tanmay told I gave "tit access too soon": Aditi
Reacting to this, Aditi said, "I remember when I had to hear on the set of a show that I was working on that I gave "tit access too soon" coz it was told by Tanmay Bhat to the 22-year-old writers on that set." "I spent a year saying no to work after that coz I was terrified I'd have to hear that again."
Utsav slut shamed me to another guy, says Aditi
Talking of Utsav, she said that she was "slut shamed" by him "to a guy that said he liked me. He told the guy 'Be careful of Aditi, she's been around.'" "It's kind of why I felt so incredibly strongly for Mahima (Kukreja, who accused Utsav of misconduct) when she spoke up. I just couldn't bear to have MORE of this happen," she added.
Aditi talks about how men kept silent during her crisis
And the deafening, the silence around the Caravan article. LOL. The women IN OML that told the artists "Please don't respond to the article, we can't lose our jobs"

— Jai Aryakuchnahikarta (@awryaditi) June 30, 2019
What part of your life will you not sell: Aditi
Making fun of Tanmay's depression, she said, "Apparently depression is only newsworthy when someone who had a corporates throwing money at him stopped having money thrown at him." "Sisters out there wanting to be symbols and role models of depressed people not being depressed. Like what part of your life will you not sell for public consumption, again," the 31-year-old comedian asked.
If you talk depression now, acknowledge others' suffering, says Aditi
She added that if Tanmay speaks about depression now, he ought to acknowledge the "depression of SO many young women who tried to do comedy at that time," that were brought on by "men with VC funds that you were friends with."
"Men love to label women who speak up as unstable"
A prominent journalist told me that an open micer told him that I'm the Kangana Ranaout of comedy, like wow men LOVE to label women who speak up as unstable and themselves release articles about depression and sadness and how we should pity them. Chal na Chomu.

— Jai Aryakuchnahikarta (@awryaditi) June 30, 2019
Meanwhile, several industry colleagues have come out in Tanmay's support
While Aditi's tweets were harsh, several of Tanmay's industry colleagues stood by him. Comedians Zakir Khan, Kenny Sebastian, Sumukhi Suresh, Kaneez Surka, Naveen Richard, Kunal Kamra, and AIB members Rohan Joshi and Ashish Shakya wrote messages of support in the comments section of Tanmay's post. "You've gone through so much and come out wiser and stronger, this will be no different," Kenny wrote.
Aditi was accused of kissing a girl without consent
Kaneez wrote, "You are so loved jaan - you don't even realise how much." It should be mentioned here that Kaneez had accused Aditi of kissing her forcibly, without her permission way back in 2016. In response to Kaneez's demand of an apology, Aditi wrote a long note on Twitter saying, "The intentions were not sexual in nature," and that "I am unconditionally sorry."