9 highly-anticipated Hollywood movies that are releasing this year
9 highly-anticipated Hollywood movies that are releasing this year
Written by
Pallabi C Samal
Jul 26, 2019, 08:22 pm
4 min read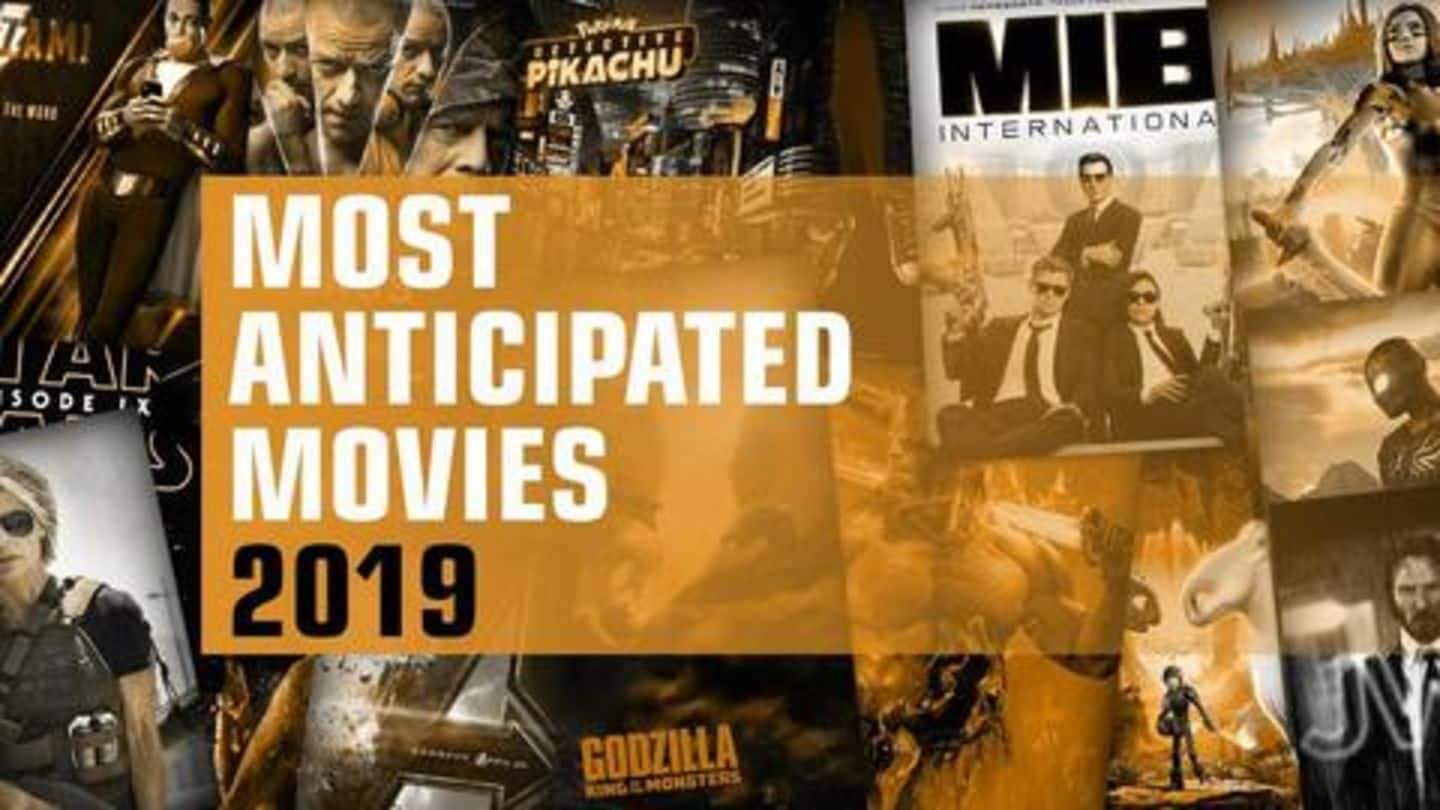 Once Upon a Time In Hollywood, directed by the legendary Quentin Tarantino, featuring three big-shots (Leonardo DiCaprio, Brad Pitt, and Margot Robbie), hits theaters today. Till now, admittedly, Hollywood has been graceful upon us, releasing top films like Avengers: Endgame, Captain Marvel and Shazam! However, we still have many months left in 2019. So, here are some anticipated movies of this year.
Dwayne-Statham headlined 'Hobbs & Shaw' releasing on August 2
When Hobbs & Shaw was announced, the excitement was palpable and contagious. After all, it is a spin-off of The Fast and the Furious franchise, and will have Dwayne Johnson and Jason Statham reprising their roles, Luke Hobbs and Deckard Shaw from the main series, respectively. It also has Idris Alba playing the villain, making this one of the most anticipated movies of 2019.
Horror film 'It Chapter 2' releases on September 6
It Chapter 2 is the sequel to It (2017), the highest-grossing horror film of all time. Both based on Stephen King's novel It (1986), the second part is set 27 years after the events of the first film. Bill Skarsgård returns as Pennywise the Clown to haunt the adult versions of The Losers Club, aka James McAvoy, Jessica Chastain, and Bill Hader, among others.
Stallone returns in 'Rambo: Last Blood' on September 20
Sylvester Stallone returns as John Rambo, our favorite military hero, and his mission is to rescue his friend's sister from the Mexican drug cartel. Set 11 years after the events of the previous film, Rambo: Last Blood is the fifth installment in the Rambo franchise. Co-written by Stallone, the film has apparently been shot in style of Logan (2017), says director Adrian Grunberg.
Smith fights his younger self in October 3-release, 'Gemini Man'
Academy Award winning director Ang Lee, known for Brokeback Mountain, Life of Pi and Crouching Tiger Hidden Dragon, directs this Will Smith-starrer. When its trailer released, it created quite a buzz, since it featured Smith in two versions, young and adult, both pitted against each other. In this, Smith plays an elite assassin who wants to retire, but must first face his younger clone.
'Joker' aka Joaquin Phoenix returns on screens on October 3
While Joker has been played by noted actors like Jack Nicholson, Heath Ledger and Jared Leto, Joaquin Phoenix was selected for this first in a series of DC-based films for a reason. Phoenix can play the nuances of a psychopath marvelously. This psychological thriller film will show how Arthur Fleck/Joker turns insane and resorts to a life of crime and chaos in Gotham City.
'Terminator: Dark Fate': Schwarzenegger to scorch screens on October 31
The sixth installment in the Terminator franchise, Terminator: Dark Fate has Arnold Schwarzenegger back as T-800 "Model 101" / Carl, an aging Terminator. He's aptly supported by Linda Hamilton and Edward Furlong playing Sarah Connor and John Connor, respectively. Co-written and backed by James Cameron, this upcoming science fiction action film is set 27 years after the events of Terminator 2: Judgment Day (1991).
'Wonder Woman: 1984' is set for a November 1 release
After Wonder Woman (2017) emerged super-successful, raking in some $821 mn, talks were on for a sequel, and here we are, looking forward to this film. In this "Diana Prince (Wonder Woman) comes into conflict with the Soviet Union during the Cold War in the 1980s and finds a formidable foe by the name of the Cheetah," says the film's distributor Warner Bros. Pictures.
Group of teens back in Jumanji on December 13
Sequel to Jumanji: Welcome to the Jungle, 2017 outing, this film is the fourth installment of the Jumanji franchise. Jumanji: The Next Level brings back Dwayne Johnson, Karen Gillian, Kevin Hart and Jack Black as a group heading back into Jumanji to rescue their friend. Its filming began this January in Atlanta, New Mexico, Calgary, and Hawaii, and wrapped up by May.
'Star Wars: The Rise Of Skywalker' releasing on December 20
The final episode of the nine-part Skywalker saga, this JJ Abrams directorial will show the real fate of Rey (Daisy Ridley) and Kylo Ren (Adam Driver) after Luke Skywalker's death. It will feature the ancient conflict between the Jedi and the Sith reaching its climax, thus giving it a definitive end. It also shows remnants of the Resistance facing the First Order once again.