#MeToo: Sona Mohapatra slams Sonu Nigam for supporting Anu Malik
#MeToo: Sona Mohapatra slams Sonu Nigam for supporting Anu Malik
Dec 19, 2018, 09:19 pm
2 min read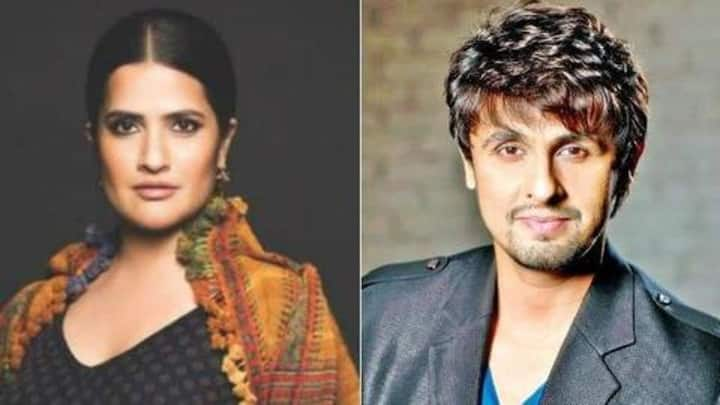 Sonu Nigam sparked fresh controversy after he extended support to Anu Malik, who was accused of sexual harassment by multiple women. Sonu asked for a proof from the accusers, and his words didn't go down well with singer Sona Mohapatra. She slammed him for showing sympathy towards Malik and questioning the victims. Notably, Sona was one of the women who had accused Malik.
Context: Sona had called Malik a serial predator
To recall, when Bollywood was hit by #MeToo wave, Sona had accused Malik and called him a sexual predator. She claimed that Malik made lewd comments and called her maal in front of her husband Ram Sampath. He even called her at ungodly hours. "He didn't know we were married and made a lewd comment - Kya Maal hai Sampath," Sona had alleged.
Sona attacks Sonu, questions his logic
Sona took it to micro-blogging site Twitter and questioned Sonu's logic. He had claimed Malik was losing out on work and she mentioned he was a millionaire already. She also came down heavily on him for being ignorant towards women and minor girls. Further, Sona asked Sonu why the multiple testimonies weren't enough to highlight sexual predators like Malik.
Sona gives a perfect reply to Sonu
so much sympathy for a millionaire losing work? So much empathy for his privileged family being 'tortured'?How about the scores of girls women he tortured?Multiple testimonies not proof enough? @IndiaMeToo https://t.co/Yxuh9obMbO

— SONA (@sonamohapatra) December 19, 2018
Sonu slammed accusers, asked them to give proof
It all started when Sonu, during a recent media event, defended Malik and demanded proof from the accusers. He said that people have been respecting accusers and shaming Malik without any proof. Sonu also spoke about Malik's ban from Indian Idol 10 and said that while he has been named, his family should not be tortured and punished.
Sonu's 'tarnishing image' statement gets a perfect reply from Sona
Notably, Sonu had claimed that the allegations against Malik were intended to tarnish his image. This infuriated Sona and she wrote, "I guess Mr. Sonu Nigam expects all these women/underage girls to carry proof-gathering devices because they have much to benefit defaming him?" she added.
Sona has some serious questions for Sonu. So do we.
Also said - 1)Not 1 but possibly 💯+ women MEN can attest to Anu Malik's deplorable abusive behaviour.
2)Mr. Sonu Nigam expects all these women/underage girls to - a)strap recording devices b)carry spy cams,other proof gathering devices cus they have much benefit defaming him? https://t.co/Yxuh9obMbO

— SONA (@sonamohapatra) December 19, 2018