Assam floods: 20 dead, 52 lakh affected; Centre releases funds
Assam floods: 20 dead, 52 lakh affected; Centre releases funds
Jul 17, 2019, 11:05 am
3 min read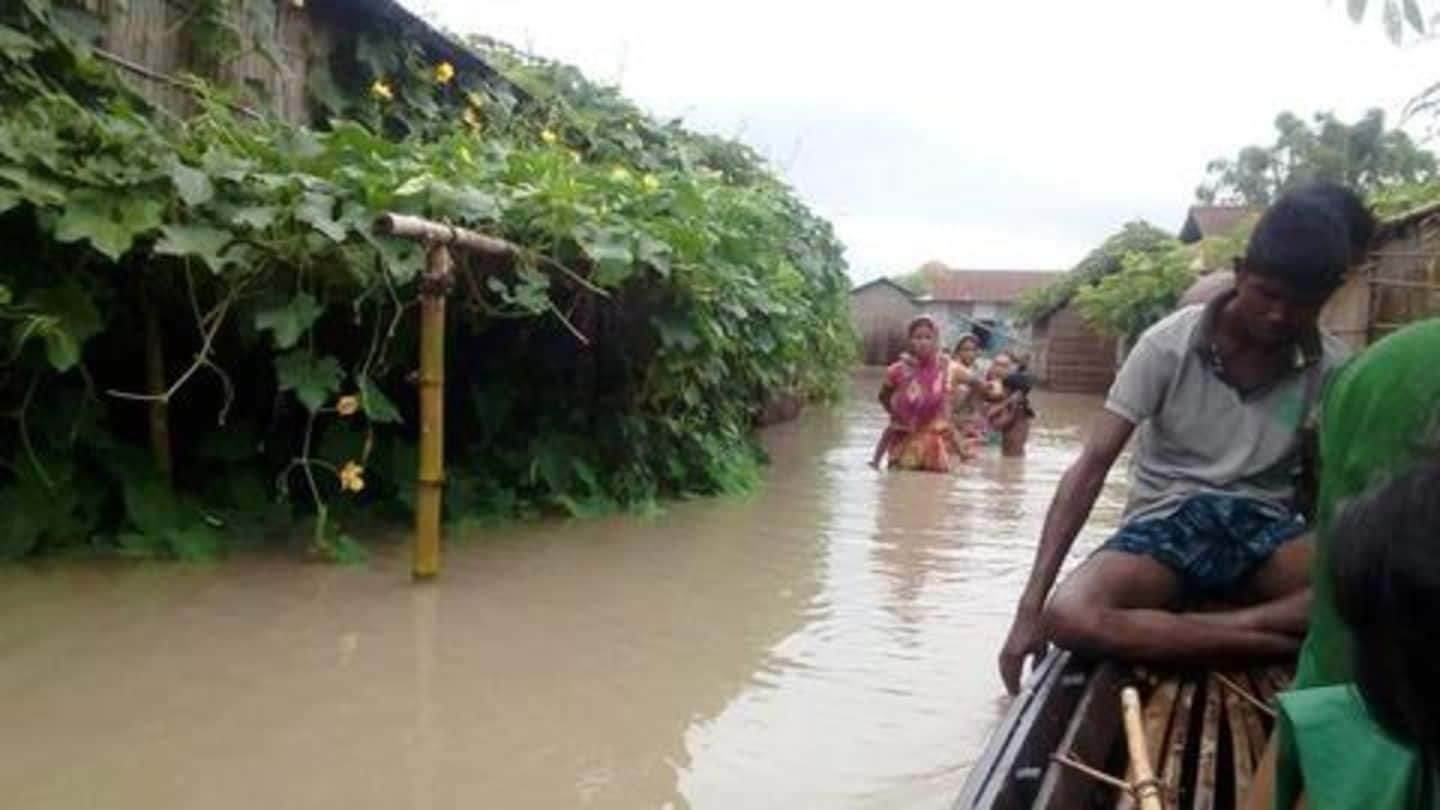 Assam battered due to floods, found no respite on Tuesday with the death toll reaching 20. The number of people who have been affected by incessant rains touched 52 lakh, while only 1.5 lakh have been taken to relief centers. The Indian Army has also been called to help in rescue operations. Meanwhile, the Centre released Rs. 251.55 crore for the state.
30 out of 33 districts affected, 11 rivers overflowing
As many as 30 out of Assam's 33 districts have been ravaged due to floods. The worst affected districts are Barpeta, Dhubri, and South Salmara. More than 4,600 villages were submerged as 11 rivers flowing in the state stayed above the danger level. The water level in Brahmaputra river, which passes through capital Guwahati, didn't show signs of receding either.
15 NDRF teams pressed to service, IAF choppers on standby
To note, 15 teams of National Disaster Response Force (NDRF), having 380 personnel, have been deployed to aid in relief operations. Indian Army has also stepped in. Moreover, aircraft of Indian Air Force have been kept on standby to drop relief materials from the air.
30 animals died in Kaziranga, but water has started receding
Separately, in Kaziranga National Park, which is home to endangered one-horned rhinos, 30 animals have died so far. However, officials said the water level is finally receding. Due to rains, 95% of the wildlife reserve was submerged, prompting animals to look for safer zones. 150 anti-poaching camps were also affected. Considering the downpour, authorities imposed Section 144 in the vicinity of the national park.
Watch: Kaziranga staff save a rhino calf
Sincere appreciations to the Kaziranga rescue team for their dedicated efforts to rescue rhino's, Hog deers and elephant calves. Here the @kaziranga_ staff are seen rescuing a rhino calf. They are a classic example for "Heroes don't always wear capes".
Source - Kaziranga NP pic.twitter.com/boPUAuMac7

— Sudha Ramen IFS (@SudhaRamenIFS) July 16, 2019
To help Assam deal with crisis, Centre released funds
On Monday, Prime Minister Narendra Modi spoke to Assam Chief Minister Sarbananda Sonowal to take stock of the situation and promised all necessary help. A day later, Rs. 251.55 crore was released. Thanking PM Modi and Home Minister Amit Shah, Assam leader Himanta Biswa Sarma said, "This shall immensely help in relief operations and mitigating suffering of people affected by Assam floods."
असम, बिहार, उतर प्रदेश, त्रिपुरा और मिजोरम में बाढ़ से हालात बेकाबू हो गए है। जन-जीवन बुरी तरह प्रभावित हो गया है।

मैं इन सभी राज्यों के कांग्रेस कार्यकर्ताओं से अपील करता हूं वे आम लोगों के राहत और बचाव कार्य में तत्काल जुटे।

— Rahul Gandhi (@RahulGandhi) July 16, 2019
Hima Das donated half of her salary to relief fund
Meanwhile, other renowned personalities have also been urging citizens to help Assam. Athlete Hima Das, who belongs to the state, posted pictures of the deluge on her Twitter account to shed light on the crisis. She has also donated half of her months' salary to Assam Chief Minister's Relief Fund. Bollywood star Ayushmann Khurrana also prayed for the state, in a tweet.
Please help Assam, urged Hima Das