Muzaffarpur sex-abuse: Cops recover influential people's numbers from accused
Muzaffarpur sex-abuse: Cops recover influential people's numbers from accused
Aug 12, 2018, 02:09 pm
3 min read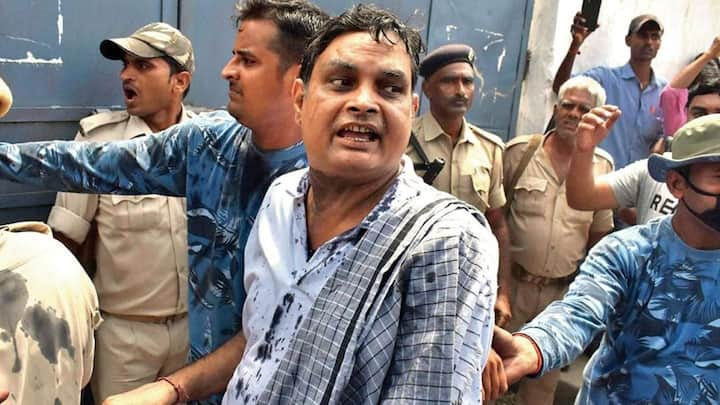 Police have recovered a list of 40 mobile phone numbers from Brajesh Thakur, the main accused in the Muzaffarpur shelter homes abuse case, which includes those of some "powerful" people, including a minister. The discovery was made when cops conducted raids in prisons across Bihar yesterday. Thakur was found in the visitors' area in Muzaffarpur Central Jail. Two handwritten pages were recovered from him.
Girls were starved, drugged, beaten, assaulted
Thakur owns the NGO Sewa Sankalp Evam Vikas Samiti, which was running Balika Grih. In April, TISS flagged rampant abuse at the home, including sexual abuse. There were allegations an inmate had been killed and buried in the premises. The girls told cops they were starved, drugged, forced to sleep naked, and beaten. A 10-year-old said she was made to sleep in Thakur's room.
NGO owners apparently had influential friends
The accused presumably had contacts in high places. The husband of Manju Verma, Bihar's Social Welfare Minister, apparently used to regularly visit the home. Neighbors said they frequently heard screams from the shelter, but "never got the courage to intervene as Thakur was a muscleman." Moreover, a month after the FIR was filed, the NGO was awarded another government project, before it was cancelled.
Thakur's newspaper showed official circulation of 230 times actual number
Thakur also ran the daily Pratah Kamal, which had official daily circulation of 60,862 copies, more than 230 times higher than the actual figure. Police submitted that the publication didn't even have enough employees or printing machines. But it was still getting advertisements worth nearly Rs. 30L a year from the Bihar government. Ads have now been discontinued after a case was filed against Thakur.
Despite arrest, Thakur has managed to escape 'imprisonment'
Thakur was arrested along with other NGO staffers on June 2. But he has managed to spend almost 40 days since then at a hospital ward inside the Muzaffarpur district jail, and not the barracks. SP Rajiv Kumar Jha cited his slipped disc, fluctuations in blood pressure, and risk of a heart attack. "Who will be responsible if something happens to him in the barrack?" he asked.
CBI probing the case, opposition demands investigation into other homes
The CBI has meanwhile taken over the sex abuse case. At least 34 inmates were raped throughout the years, officials have found. The Patna HC is monitoring the investigation. The TISS report flagged similar abuse patterns at several other shelter homes, including at boys' homes in Motihari (NGO Nirdesh), Bhagalpur (NGO Rupam Pragati Samaj Samiti), Munger (NGO Panaah) and Gaya (NGO DORD). The opposition has demanded an investigation into these cases too.