We don't count casualties, government does that: IAF Chief
We don't count casualties, government does that: IAF Chief
Mar 04, 2019, 01:27 pm
3 min read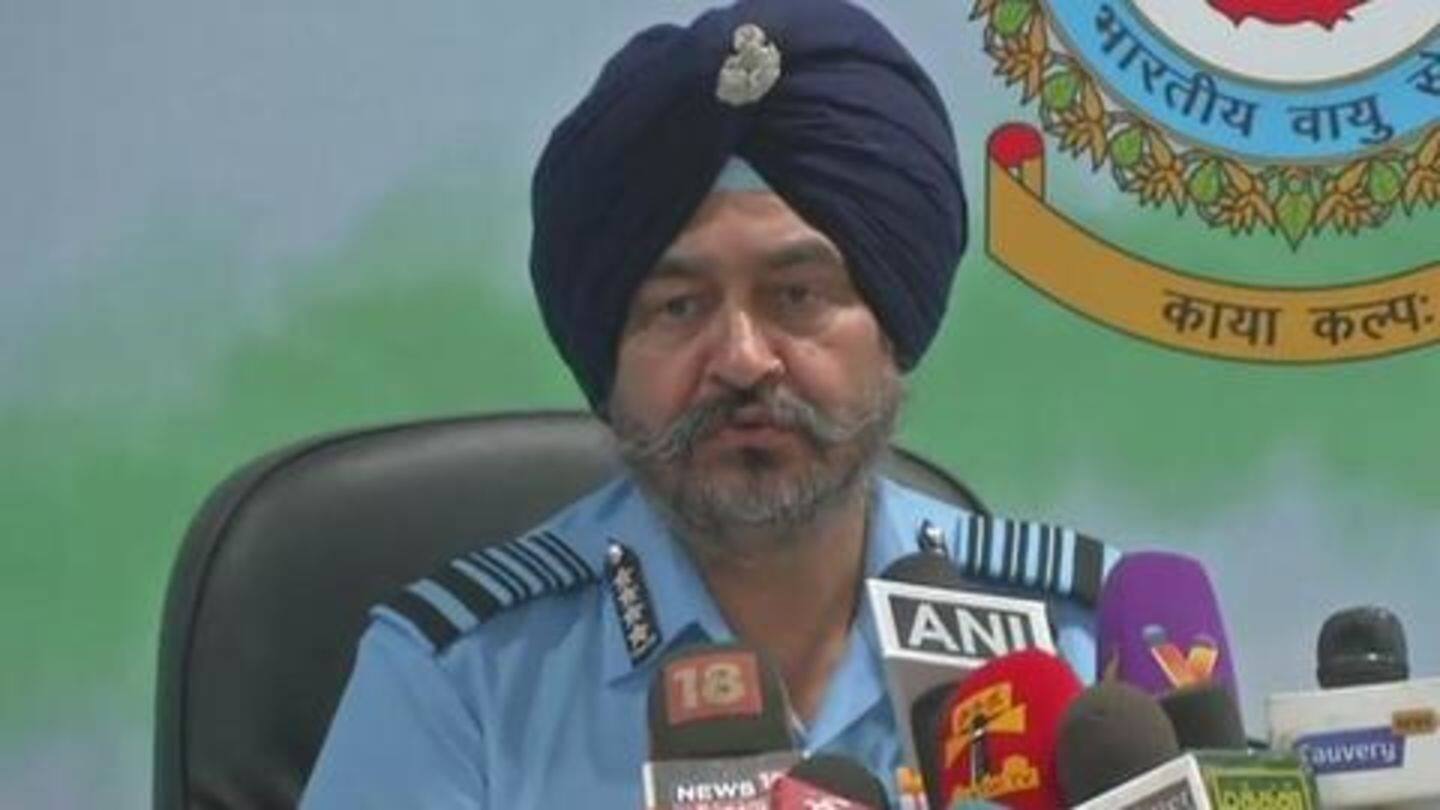 Almost a week after Indian Air Force jets demolished Jaish-e-Mohammed's biggest camp in Pakistan's Balakot, Air Chief Marshal BS Dhanoa said they don't count the number of human casualties. Speaking to media in Coimbatore on Monday, Dhanoa said the IAF is only concerned with hitting the target, which it did effectively. He added it is up to the government to calculate casualty numbers.
Backstory: IAF jets destroyed JeM's camp, leaving Pakistan rattled
To recall, IAF planned the discreet attack in response to the Pulwama attack of February 14, in which 40 CRPF soldiers were martyred. 12 Mirage-2000 jets breached Pakistani airspace and dropped bombs at JeM's training camp However, Islamabad maintained IAF jets destroyed jungles as there was no camp in the area. Reports in international media also hinted the operation may not have been successful.
We only count number of targets, says Dhanoa
As questions about numbers of terrorists killed in the risky operation gained momentum, Dhanoa spoke on the strikes. He said, "IAF is not in a position to clarify the number of casualties. The government will clarify that. We don't count human casualties, we count what targets we have hit or not." He also rejected Pakistan's claims that only trees were hit.
"Why did Imran Khan respond if only trees were hit?"
"The target has been clearly amplified by FS in his statement. If we plan to hit the target, we hit the target, otherwise, why would he (Pak PM) have responded, if we dropped bombs in the jungles why would he respond," Dhanoa asked.
Dhanoa reveals MiG-21 Bison is a capable jet
Dhanoa also spoke about MiG-21 Bison, the aircraft which shot down an F-16 jet that is made in the United States. He said, "The MiG-21 Bison is a capable aircraft, it has been upgraded, it has better radar, air-to-air missiles, and better weapons system." Notably, Wing Commander Abhinandan Varthaman scripted history on Wednesday by downing the highly-specialized jet.
Medical fitness will decide Abhinandan's future, says Dhanoa
After downing F-16 jet, Abhinandan strayed over the wrong side of LoC. He returned to India on Friday after spending almost three days in Pakistan's captivity. About the nation's hero, Dhanoa said Abhinandan's medical fitness will decide if he can fly again or not. "Whatever treatment required, will be given. Once we get his medical fitness, he will get into fighter cockpit," Dhanoa said.
All aircraft are capable of fighting enemy: Dhanoa
When Dhanoa was asked why MiG-21 Bison was used, considering its poor reputation, he said all aircraft are capable of fighting the enemy. He said there is a difference between a planned operation and one which is executed in defense. "When an adversary does a strike on you, every available aircraft goes in, irrespective of which aircraft it is," he explained.