INS Vagir: 'Made in India' submarine commissioned into Indian Navy
INS Vagir: 'Made in India' submarine commissioned into Indian Navy
Jan 23, 2023, 11:02 pm
3 min read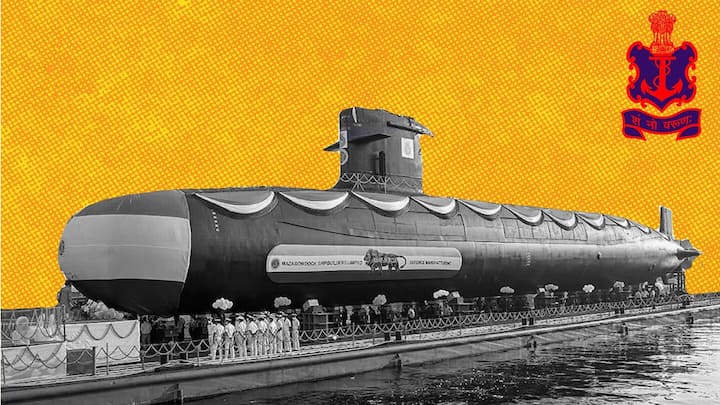 INS Vagir—the fifth of the Kalvari-class submarines—was commissioned into the Indian Navy on Monday in presence of Chief of Naval Staff Admiral R Hari Kumar. The submarine was indigenously built by Mazagon Dock Shipbuilders Limited (MDL), Mumbai, with technology transfer from France. Vagir means "sand shark," which represents "stealth and fearlessness," and officials said the submarine would boost the defense prowess of the country.
Why does this story matter?
INS Vagir is a big boost to the government's Atmanirbhar Bharat initiative and strengthens Western Naval Command.
It's the fifth Kalvari-class submarine under Project-75—which involves the indigenous production of six Scorpene-class submarines.
Four Kalvari-class submarines have already been commissioned into the Indian Navy.
With INS Vagir in its fleet, India can now deploy it on diverse missions, including anti-surface combat, anti-submarine warfare, and surveillance.
INS Vagir—collaboration of MDL and French company
The Defence Ministry said INS Vagir is one of the three indigenously-built submarines inducted into the Navy within 24 months. It was built by MDL and the French company Naval Group as part of Project-75, under which six submarines with Scopene design will be built. Following the completion of its sea trials, MDL handed over INS Vagir to the Navy on December 20, 2022.
Watch: Video of INS Vagir shared by India Navy  
INS Vagir can travel at 37km/h underwater 
Vagir can stay underwater for a long time (about 50 days) without access to surface oxygen and reportedly has the ability to produce oxygen. The submarine is 221ft long and 40ft high and has a draught of 19ft. It can travel at a speed of up to 20km/h at the surface and 37km/h underwater. It can reach a depth of 350m in the sea.
Capable of carrying multiple missions 
INS Vagir will enhance the Navy's capability to advance India's maritime interests. It is capable of carrying out anti-surface combat, anti-submarine warfare, naval mine-laying, intelligence gathering, and surveillance missions, according to the Indian Navy. The submarine can be deployed both near the coast and in the middle of the ocean and also has a state-of-the-art torpedo system for self-defense.
Kalvari-class submarine named after erstwhile INS Vagir 
The newly-commissioned Kalvari-class submarine has been named after the erstwhile Vela-class Vagir submarine from Russia. The latter was commissioned into the Navy in 1973. After completing a number of missions, it was retired in 2001, over thirty years after it entered service. In November 2020, the new INS Vagir was launched with a renewed guise and subsequently underwent numerous sea trials and comprehensive inspections.
Watch: Commissioning ceremony of INS Vagir 
A little about Scorpene-class submarines
Six Scorpene-class submarines are being built for India by MDL and France's Naval Group. The Scorpene submarines are "extremely potent platforms" and offer advanced stealth features. They are also equipped with long-range guided torpedoes and anti-ship missiles, as per the Defence Ministry. "These [submarines] have a state-of-the-art SONAR suite and sensor suite permitting outstanding operational capabilities," the ministry added.
'Most lethal' warship INS Mormugao joined Navy last month 
A month prior to Vagir's commissioning, Defence Minister Rajnath Singh commissioned INS Mormugao, a P15B class indigenous stealth-guided missile destroyer vessel, into the Indian Navy on December 18, 2022. The INS Mormugao, outfitted with cutting-edge armaments and sensors, can undertake surface-to-surface and surface-to-air missiles. As a result of its various features, it is considered one of India's most lethal warships.