Supreme Court suggests 2-day lockdown in Delhi to curb pollution
Supreme Court suggests 2-day lockdown in Delhi to curb pollution
Nov 13, 2021, 12:50 pm
3 min read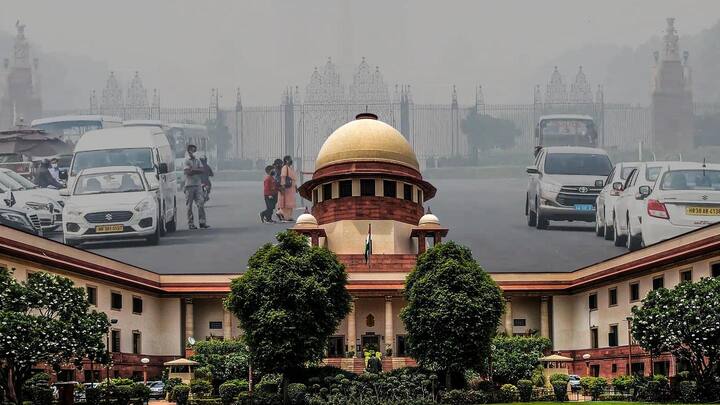 The Supreme Court on Saturday asked the central government to devise an emergency plan to check the harrowing pollution levels in Delhi and neighboring cities. Chief Justice NV Ramana inquired if a two-day lockdown can be imposed in the national capital. Air pollution in Delhi has remained severe over the past couple of weeks. Here are more details on this.
Wearing masks even in our houses: CJI
"You tell us how do you plan to take the emergency measures? Two-day lockdown? What is your plan on lowering the AQI (Air Quality Index) levels?" CJI Ramana asked. "You see how bad the situation is...even in our houses, we are wearing masks."
'Beyond politics and government'
The Supreme Court said that Delhi's air quality has remained poor and will further drop in the next two to three days. "You have to look at this issue beyond politics and government. Something must happen so that in two to three days we feel better," it told the Centre. The court added it will consider a long-term solution at a later stage.
We are exposing little children: SC
Justice DY Chandrachud pointed out that with schools open, children are being exposed to hazardous air pollution. "Schools are open. (AIIMS chief) Dr. Randeep Guleria said there is COVID-19, dengue, and pollution, and children are going out in this kind of weather."
Centre blames stubble burning in Punjab
The Centre told the court it is taking steps to stop stubble burning, a major contributor to Delhi's air pollution. It, however, blamed the Punjab government over the issue, saying, "The state government needs to buckle up." The CJI replied to this, "Why are you projecting like (the) pollution is because of farmers? It is only a certain percentage of pollution."
'Fashion to bash the farmers'
"It has become a fashion for everyone to bash the farmers. You banned firecrackers but what about what has been happening in last 5-6 days," Justice Surya Kant remarked. "If you are not giving incentives to farmers for alternatives, then things cannot change."
How bad is the situation?
On Saturday, Delhi's residents woke up to "severe" air quality with the AQI as high as 499. Further, a thick layer of smog lingered over the National Capital Region (NCR), lowering visibility to 200 meters at several places in the city. Authorities have advised people to limit outdoor activities and reduce the use of vehicles by at least 30% to combat the pollution levels.
Delhi CM Kejriwal calls emergency meet
Meanwhile, Delhi Chief Minister Arvind Kejriwal has called an emergency meeting to discuss the situation. Deputy CM Manish Sisodia, Health Minister Satyendar Jain, Environment Minister Gopal Rai, and Delhi's Chief Secretary will reportedly take part in the meeting.