Ghoonghat: The 'pride' of Haryana? Government faces flak
Ghoonghat: The 'pride' of Haryana? Government faces flak
Jun 28, 2017, 08:28 pm
3 min read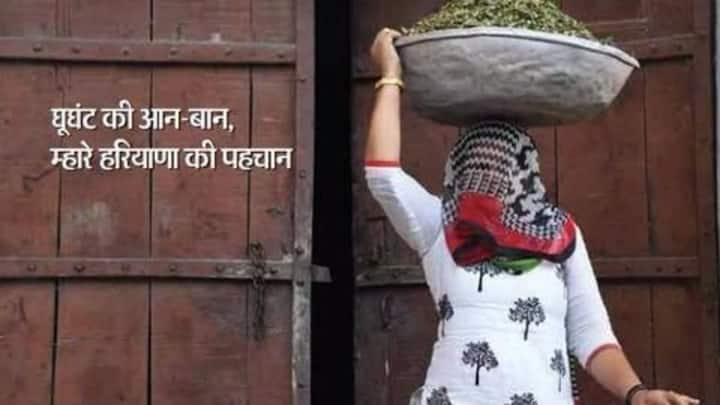 The Haryana government has landed in a controversy. Krishi Samvad, a supplement of the government's monthly Haryana Samvad magazine, has published a questionable ad. A photo of a veiled woman is captioned thus: "Ghoongat ki aan-baan, mara Haryana ki pehchaan" (The ghoonghat tradition is the identity of my Haryana). Ironical, considering Manushi Chhillar from Haryana won the Miss India crown two days ago.
Apparently, ghoonghat is not even an Indian tradition
According to reports, 'ghoonghat pratha' is not even native to India. As folklore goes, the veil came when invaders like the Mughals and the British entered the country. Originally, it was meant to ensure safety of women, which became a tradition over time. Though it has disappeared from most places, the tradition is still followed in many villages in northern and northwestern India.
What obstacle is a ghoonghat to these superwomen?
One of the many symbols of patriarchy, the ghoonghat hasn't been able to keep women chained. In Rajasthan's Bharatpur, women cover their faces dutifully in the presence of men. These same women are involved in various kinds of work that contribute to the family income. They also maintain the house and help in the fields. What can they not do even with their faces covered!
Lipstick under their ghoonghat
The meaning of the veil can differ even within one society. When a Gujjar woman goes to her new husband's home, she has to cover her face, or symbolically, her "sexuality". But she can remove it without hesitation when she visits her parents: there's no questions raised on the "sexuality" of a married woman. Ghoonghat - modesty in one place, promiscuity in another!
Coming back to Haryana, a land of dichotomies
Haryana's sex ratio is alarming (though it claims to have done better recently, with 950 girls). On one side, female foeticide is rampant, and on another, there's the Beti Bachao campaign. But the state that considers the ghoonghat its 'identity' is the home of Geeta Phogat, India's first female Olympic wrestler. Sakshi Malik was the first Indian woman to win an Olympic medal in wrestling.
Not just celebs, ordinary women fighting against ghoonghat too
Last year in April, eight women in Faridabad took off their veils for the first time ever. One among them was Manju, a school teacher. In November, she led women from 47 villages in a pledge to remove the veil. In neighboring Dhauj, sarpanch Najma Khan was doing the same thing. These were just some of the women revolting against the decades-old practice.
The very real dangers of the ghoonghat
One can't argue there are (many) disadvantages of wearing the ghoonghat. Most northern states experience blistering heat in the summer, and the veil on top doesn't help. There have actually been accidents as women just can't see clearly. In one case, a newlywed in Uttar Pradesh's Rae Bareli fell into a well! Election officials often face difficulties photographing these women with their faces invisible.
So why not stronger campaigns?
Efforts can be made to change the way the ghoonghat looks, but fact remains it is a symbol of oppression that most women in particular regions don't have a choice about. However, in those places, there are other issues for women, often more severe: domestic violence, lack of education and healthcare, and more. Women first need to be empowered to make their choice.