5 must-visit places in Kolkata for those 'zamindari' vibes
5 must-visit places in Kolkata for those 'zamindari' vibes
Jan 30, 2023, 04:15 am
2 min read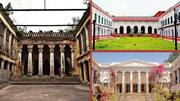 A melting pot of traditions, heritage, and culture, Kolkata is home to several rajbaris and royal residences that belonged to zamindars during the British Raj. These lavish mansions have been later revived by royal families to their former glory. Many of these rajbaris have been converted into heritage resorts, while some are still in ruins. Here are five famous rajbaris in and near Kolkata.
Located in North Kolkata, the royal and lavish Shobhabazar Rajbari was built by Maharaja Nabakrishna Deb, the ruler of Sutanuti village. A symbol of zamindari status and grandeur, the rajbari features a green-trimmed lawn to welcome guests. It also celebrates the iconic Durga Puja, which was first started there in 1757. The rajbari features elegant floors, maxim paintings across hallways, and Italian interiors.
Jorasanko Thakurbari is a historic mansion that served as the residence of India's first Noble Laureate, Rabindranath Tagore. Located in Kolkata's Rabindra Sarani, it marks the place where Tagore started with his literary excellence. The mansion features a thakurdalan which has hosted many theater sessions, dances, and parties during the British times. It is open from 10:30 am-4:30 pm on all days (except Monday).
Located two and half hours from Kolkata, Itachuna Rajbari is a well-preserved heritage palace that has been revamped into a palatial homestay. Also called Bargi Danga, the rajbari was built by the Kundu family, who were among the Bargis settled in Bengal. The 200-year-old palace houses ancient caskets, five courtyards, intricate woodwork decor, framed old texts, and beautiful mud cottages.
Located in Kolkata's Baghbazar area, Basubati was built in 1879 by zamindars Pasupati Basu and Nanda Lal. The palace is built in a unique style inspired by the 13th-century Hoysala artisans, and the pillars have been designed to resemble the Gothic mansions from Central India. Featuring a huge thakurdalan, you will find numerous Islamic and Hindu images across the entire structure.
Located about one and a half hours from Kolkata in Nodakhali, South 24 Parganas, the Rajbari Bawali was built 250 years ago and is known for its spectacular architectural beauty. The rajbari belonged to the Mondal family of Bengal. However, it gradually ravished after independence and was later transformed into a luxury heritage resort. The mansion features vintage decor filled with zamindari grace.