Benefits of parsley (and how is it different from coriander)
Benefits of parsley (and how is it different from coriander)
Mar 04, 2022, 10:04 am
3 min read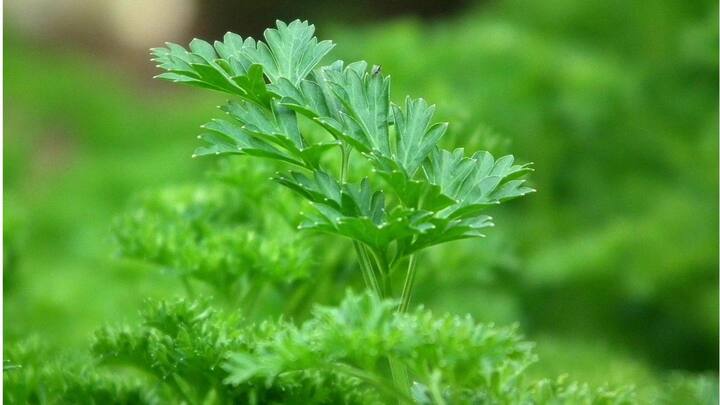 The first time I heard of this amazing herb was in Simon and Garfunkle's song Scarborough Fair--parsley, sage, rosemary, and thyme... Little did I know what they were, but simply swayed to the delightful melody of the song. Years later when I ended up comparing parsley to coriander, I learned how different they were. Here's all you need to know about parsley.
Here is what our expert says
Parsley contains several naturally occurring polyphenols. Apigenin and kaempferol impart parsley with strong antioxidant and antimicrobial activity.
It is also a rich source of vitamin K, which is important for healthy bones and bone marrow.
Parsley has been studied and used for the treatment and prevention of urinary stone formation. Few scientific studies also describe its role in the treatment of depression & anxiety.
Differentiate between parsley and coriander
This leafy green herb looks very similar to our coriander. However, they smell and taste very different. While parsley has a fresh and mild aroma, coriander gives out a strong, spicy aroma. Coriander leaves are more rounded, while leaves of parsley are pointy and mostly larger than coriander. Parsley is native to the Mediterranean basin and northern Africa, while coriander is from western Asia.
Parsley is rich in flavonoids and antioxidants, vitamin A, vitamin C, and vitamin K. Furthermore, it is low in calories despite being flavorful. Parsley is often used in many recipes owing to its low-calorie content. This herb can be incorporated into our diet very easily--dried or fresh. Excessive consumption of parsley can be harmful to pregnant women, but it is fine in moderation.
Three important plant compounds--beta carotene, lutein, and zeaxanthin--present in parsley help protect your eyes and support healthy vision. As per studies, eating foods rich in lutein and zeaxanthin may reduce your risk of age-related macular degeneration (AMD) which may lead to blindness. The beta carotene gets converted to vitamin A in your body which protects the cornea and the conjunctiva.
Parsley is a great source of vitamin K which helps build stronger bones by supporting osteoblasts, the bone-building cells. Vitamin K also helps increase bone mineral density by stimulating some proteins. Lower bone mineral density is connected with a heightened risk of fractures, especially in elderly persons. A study concluded that higher vitamin K intake was associated with a 22% lower risk of fractures.
Cancer-fighting properties
Oxidative stress is a condition caused by an imbalance in levels of antioxidants in the body which results in the development of cancer among other diseases. Parsley, rich in flavonoid antioxidants and vitamin C, reduces oxidative stress in your body thus lowering your risk of cancer. Foods rich in vitamin C, in general, reduce your risk of getting cancer.