How to plan the perfect road trip?
How to plan the perfect road trip?
Mar 15, 2022, 05:02 pm
2 min read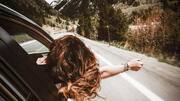 If you are bored and stressed with your everyday mundane lifestyle, then there is nothing like a road trip to relax and rejuvenate. Road trips do not require weeks of planning and are an excellent way to make memories and explore new places. So pack your bags and drive off for a weekend trip, but not before doing the below-mentioned things.
Before setting out on your road trip, plan the route you wish to take. Plot the stopover destinations on the map that you would like to visit and explore. Decide how long you would like to spend at each spot so you don't end up spending all the time in one place. Carry a paper map in case the phone network is poor.
Road trips are supposed to be budget-friendly, so you need to plan your expenses. Try sticking to the budget as much as possible. Prepare a budget for meals, lodging, petrol, toll taxes, snacks, drinks, and other activities. If you are traveling with someone, discuss the expenses with them. Ask them where they want to go, eat and stay and how much can they afford.
Book your accommodation in advance
Depending on your route, determine which stops you would be making at night and accordingly book your accommodations in advance. If you want to camp, remember to book the campsites beforehand. Booking your accommodation in advance lets you drive peacefully without worrying about whether or not you would have a place to stay. Besides, advance bookings are much cheaper than last minute.
Check and prep your vehicle
Your vehicle has to be in the nick of health if you wish to take it for a road journey. A thorough check is important before the trip. Get your car serviced at least a week before the trip. Also, get the oil, air filters, fluids, lights, blinkers, and tires checked. Carry your insurance cards, registration documents, driving license, spare tire, flashlight, water, etc.
Pack some nutritious snacks
Avoid carrying junk food and pack in some healthy and nutritious snacks for your road trip to prevent fatigue and keep yourself healthy and energized. You can carry protein bars, veggie-loaded sandwiches, fruits, boiled eggs, nuts, etc. that will keep you full for a longer time. Also, carry lots of water to keep yourself hydrated as dehydration can lead to irritability, fatigue, and headaches.