#Article370Scrapped: How Indian politicians reacted
#Article370Scrapped: How Indian politicians reacted
Aug 05, 2019, 02:08 pm
3 min read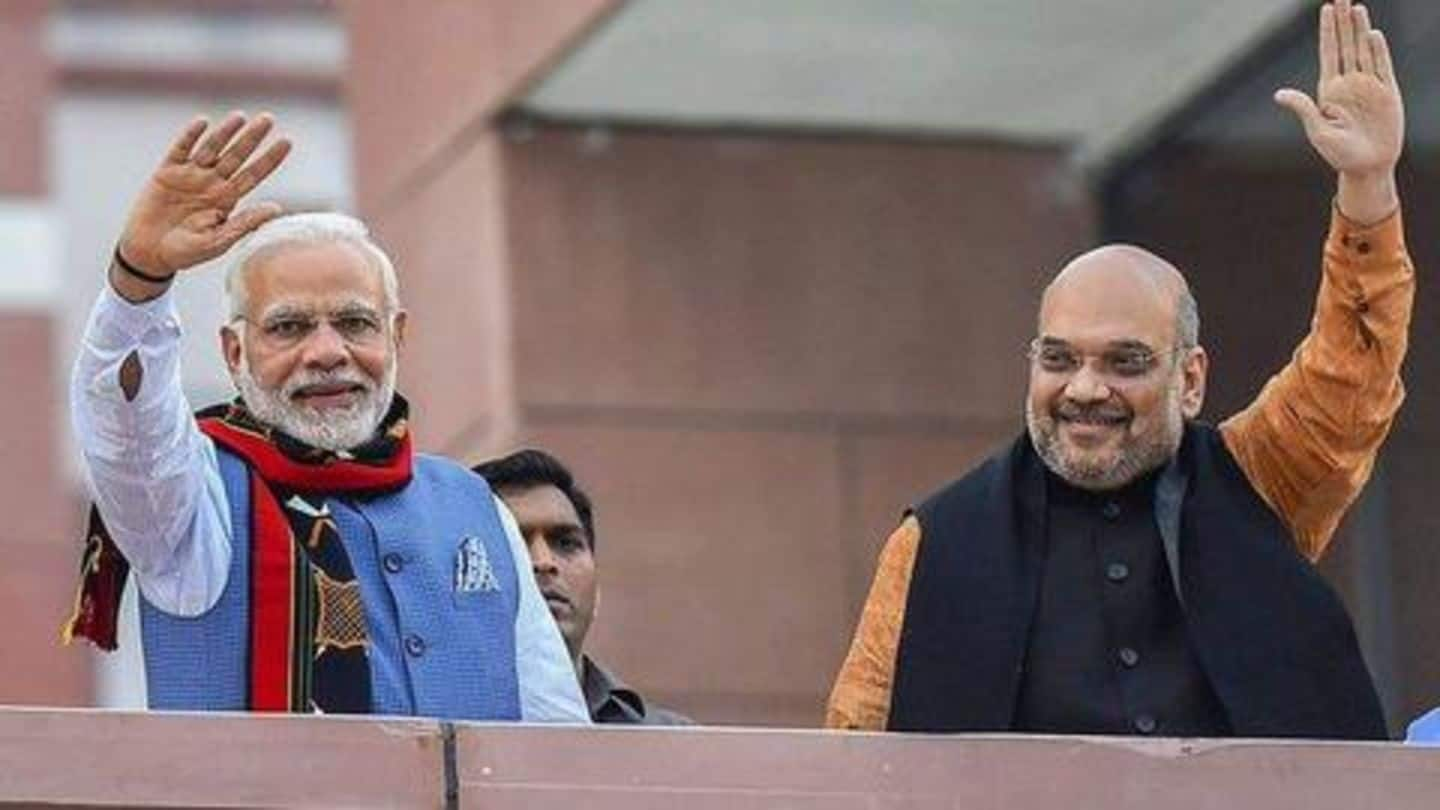 On Monday, India bore witness to history as the BJP-led Centre scrapped contentious Article 370, which granted autonomy to Jammu and Kashmir. The northernmost state will no longer enjoy special status and this move could also prove instrumental in driving the militancy-ridden area towards a new direction. Naturally, Home Minister Amit Shah's announcement elicited plenty of reactions from politicians across the spectrum. Here's taking a look at few.
No special status, no separate flag: Modi-Shah pull biggest gamble
By repealing Article 370, Prime Minister Narendra Modi and Home Minister Amit Shah, the number 2 in government, pulled off the biggest gamble of their careers. Laws which prohibited Indians from buying property there, or becoming "permanent citizens" of the state have now been rendered useless. Now, J&K will function under the Constitution and will follow the same set of rules as other states.
After announcement, Ram Madhav remembered the sacrifices
Naturally, BJP leaders rejoiced at the party's bold move. One of the first reactions came from Ram Madhav, who engineered BJP's alliance with PDP. "Finally d martyrdom of thousands starting with Dr. Shyam Prasad Mukharjee for complete integration of J&K into Indian Union is being honored (sic)," the general secretary of BJP tweeted. Separately, former Finance Minister Arun Jaitley said historic blunder was corrected.
Jaitley congratulated Shah and PM Modi
My complements to the Prime Minister Shri Narendra Modi ji and the Home Minister Shri Amit Shah for correcting a historical blunder.

— Arun Jaitley (@arunjaitley) August 5, 2019
J&K done, now on to "Akhand Bharat", said Shiv Sena
BJP ally Shiv Sena, which had been demanding to abolish Article 370, wholeheartedly welcomed the move. Sanjay Raut expressed confidence that PM Modi would fulfill the dreams of "Akhand Bharat". Another ally, AIADMK, also had the same opinion. "Amma is well known for upholding sovereignty and integrity. So AIADMK party supports the two resolutions, Reorganization Bill & the Reservation Bill," said MP A. Navaneethakrishnan.
Keeping difference asides, unlikely ally BJD said, "Nation comes first"
BJD MP, Prasanna Acharya in Rajya Sabha: In real sense today, Jammu Kashmir has become a part of India. My party supports this resolution. We are a regional party but for us nation is first. pic.twitter.com/GLDE0sIacD

— ANI (@ANI) August 5, 2019
Kejriwal and Mayawati supported BJP on big Kashmir move
Surprisingly, Delhi Chief Minister Arvind Kejriwal, who is a staunch critic of the current BJP regime, also supported the decision. "We support the govt on its decisions on J & K. We hope this will bring peace and development in the state," he tweeted. Mayawati-led BSP also said they won't oppose the move. While BJP made new friends, some old friends appeared unhappy.
BJP ally JD(U) thinks it wasn't a wise decision
"Our chief Nitish Kumar is carrying forward the tradition of JP Narayan, Ram Manohar Lohia & George Fernandes. So our party is not supporting the Bill moved in the Rajya Sabha today. We have different thinking. We want that Article 370 should not be revoked," said JD(U)'s KC Tyagi.
Congress said BJP murdered Constitution; Mufti reminded of old deal
Meanwhile, senior Congress leader Ghulam Nabi Azad said BJP murdered Constitution. Even local J&K parties also didn't have nice things to say. PDP Chief Mehbooba Mufti, who is under house arrest, tweeted, "What did J&K get for acceding to India? Another partition along communal lines? Our special status isn't a gift bestowed upon us. It's a right guaranteed by the same Parliament."
Centre wants to disempower Muslims, felt Mufti
The way some sections of media civil society are celebrating these developments with glee is disgusting disconcerting.

— Mehbooba Mufti (@MehboobaMufti) August 5, 2019
Decisions are illegal and unconstitutional: Former J&K CM Omar Abdullah
"The scrapping of Articles 370 and 35A raise fundamental questions on State's accession because that was done on the very terms enunciated by these Articles. The decisions are unilateral, illegal, and unconstitutional and will be challenged as such by National Conference," Omar Abdullah's statement read.
"GOI resorted to deceit and stealth"
Statement of Omar Abdullah, Vice-President of National Conference and former Chief Minister of Jammu Kashmir, on revoking of Article 370 and other decisions announced by Government of India. pic.twitter.com/L9RXggb10k

— ANI (@ANI) August 5, 2019