Meenakshi Lekhi says Delhi violence was in making for months
Meenakshi Lekhi says Delhi violence was in making for months
Mar 11, 2020, 06:03 pm
3 min read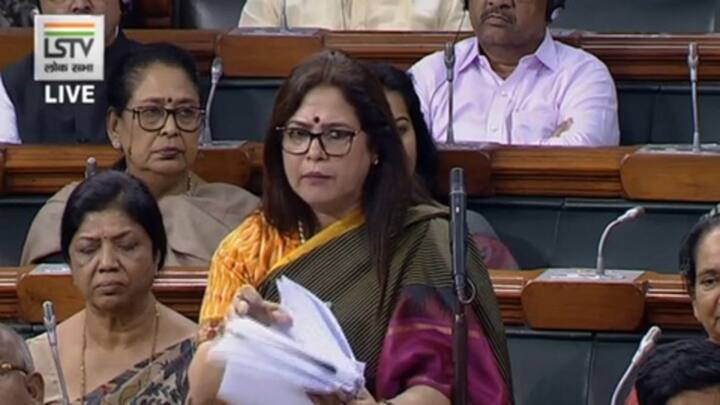 Days after violence rocked Northeast Delhi killing more than 50 people and injuring nearly 200, the riots were discussed in the Parliament with both Congress and BJP attacking one another. BJP leader Meenakshi Lekhi fiercely defended her government on Wednesday and claimed the riots were planned months ago. She also said the carnage was controlled within 36 hours. Here's more on what she said.
CAA protest led to riots, police's inaction was ridiculed
In February, Hindu-Muslim clashes broke out in pockets like Shiv Vihar, Maujpur, and Jafrabad, after a protest against the Citizenship Amendment Act (CAA) turned violent. The deceased included a head constable and an Intelligence Bureau officer. While Delhi burnt, the police was accused of laxity. It was reported that the riots could have been averted had they paid attention to intelligence inputs.
Opposition demanded a discussion, BJP wasn't ready
When the Parliament resumed on March 2 for the second half of the Budget session, Congress and other opposition parties demanded a discussion on riots. For days the House was adjourned after parliamentarians created a ruckus. Thereafter, Speaker Om Birla said BJP is ready to discuss after Holi, further enraging parties. The matter was finally taken up today.
What was Amit Shah doing, asked Chowdhury
Starting the discussion, Congress' Adhir Ranjan Chowdhury said, "Government, especially Home Minister Amit Shah, has to answer how violence continued for three days in Delhi. What was Amit Shah ji doing when Delhi was burning?" Referring to US President Donald Trump's visit at a time when the violence took over, he commented, "Nero fiddled while Rome burned." He also lamented that humanity was defeated.
Congress forgot about Sharjeel Imam, Amanatullah, replied Lekhi
Defending her government, Lekhi listed out the number of riots that happened in Congress' regime. "Congress was running on the politics of minority vote bank, but have forgotten about Sharjeel Imam and AAP MLA Amanatullah," she said. Further, she reminded that explosives were found from expelled AAP leader Tahir Hussain's home and said Kapil Mishra, who belongs to her party, shouldn't be blamed.
People have been inciting violence for long time: Lekhi
"These people are protesting against the CAA. Why are they protesting? Because this government had the courage to grant citizenship to some minorities. People have been inciting violence for a long time, you are now blaming Kapil Mishra and Delhi Police for it," Lekhi replied.
Lekhi defended Shah, said he did whatever he could
Giving an emotional touch to her speech, Lekhi said, "People break bones to build houses, and you do not feel sorry to set these houses ablaze." She said Home Minister Shah did everything in his capacity to contain the violence. He spoke with Delhi Chief Minister Arvind Kejriwal, state BJP President Manoj Tiwari, and police. "BJP controlled the violence in 36 hours," she claimed.
She also spoke about Justice Muralidhar's transfer
Replying to the opposition's question about Justice S Muralidhar's transfer, Lekhi said, "Intelligence Bureau reports against some people should be made public, so that people know who has been transferred and why." To recall, a notification about his transfer from Delhi High Court was issued on the same day when he pulled up Delhi Police for turning a blind eye towards violence.