With big players missing, Congress' meeting on CAA bites dust
With big players missing, Congress' meeting on CAA bites dust
Jan 13, 2020, 05:10 pm
4 min read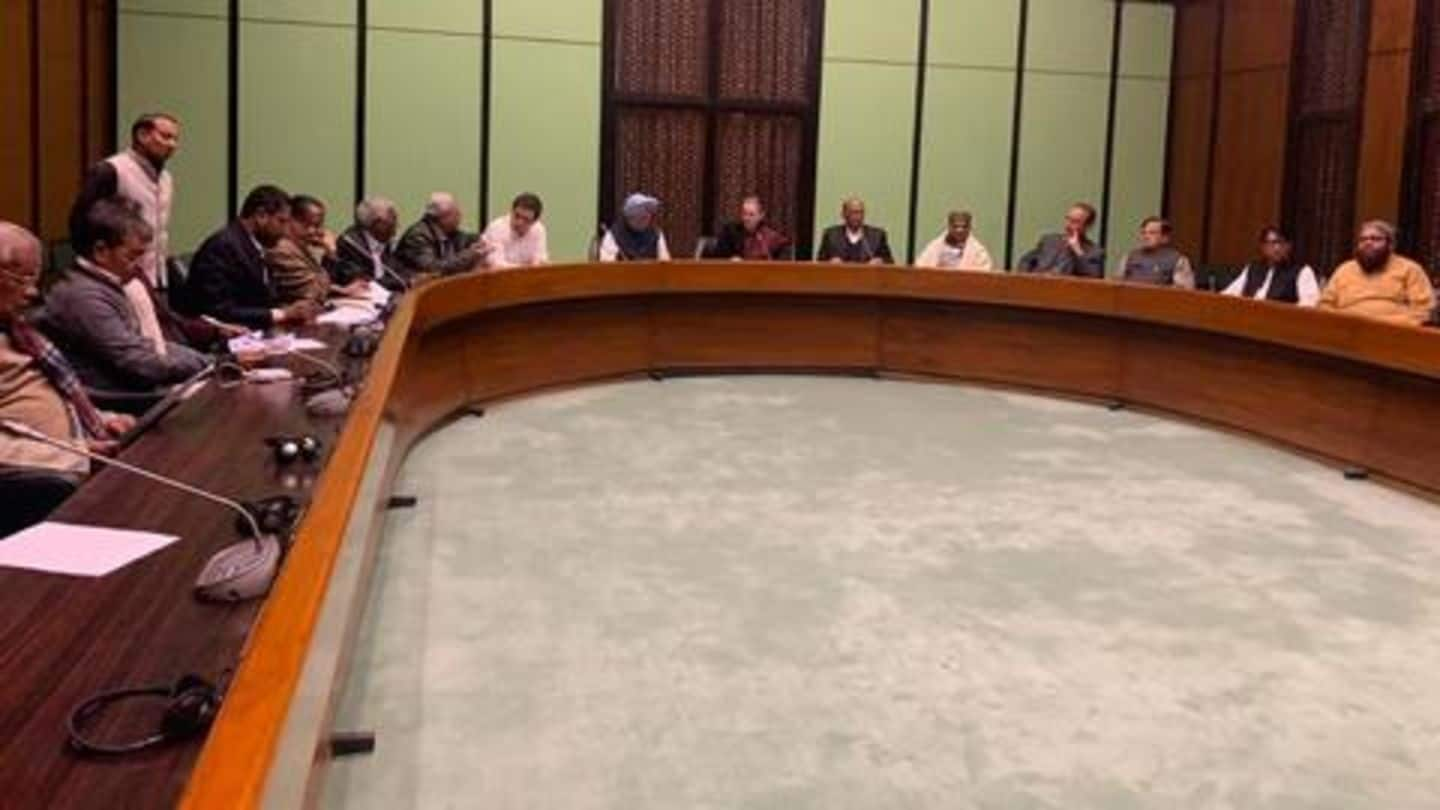 Today, Congress convened a meeting of opposition in New Delhi to prepare a strategy on pressing issues like the Citizenship Amendment Act (CAA), National Population Register (NPR), and National Register of Citizens (NRC). But the meeting, advertised with much pomp and show, turned out to be a dud as big players, including Congress allies, gave it a miss. Read on to know what happened.
Background: People protested against CAA, Congress grabbed the opportunity
The protests against CAA presented an opportunity for Congress, which is trying to stay relevant in Indian politics. Though CAA agitation was driven by students and civil society members, the grand old party used it to slam the ruling BJP, accusing it of bigotry. Congress had also opposed the Bill in Parliament saying religion shouldn't be a criterion for granting Indian citizenship.
Both old and new allies skipped the meeting
Today's meeting, which was held at Parliament House, was a test of opposition unity and Congress clearly failed to glue them. Ally DMK skipped the meeting reportedly because it's upset with Congress' local leaders in Tamil Nadu. And new ally Shiv Sena also gave the meeting, chaired by interim Congress president Sonia Gandhi, a miss. Reports said Sena wasn't extended an invitation.
Sena supported CAB in Lok Sabha, not in Rajya Sabha
Sena, which drifted away from BJP after 2019's Maharashtra polls, supported Citizenship Amendment Bill (CAB) in the Lok Sabha, taking a different stand from allies NCP and Congress. However, in the Upper House, Sena didn't vote in Bill's favor saying it needs answers on some important questions. Nevertheless, the Bill was passed, got President Ram Nath Kovind's assent, and was notified last week.
SP and BSP both remained absent
Samajwadi Party was another notable party that missed Congress' event. Its foe-turned-friend-turned-foe Bahujan Samaj Party (BSP) also skipped it. This morning, BSP supremo Mayawati posted a series of tweets saying Congress' betrayal in Rajasthan forced her to take the decision. She noted her party lent outside support to Congress government in the state but the latter inducted BSP MLAs into its fold, nevertheless.
Furious with Congress' "dirty politics", Mamata rejected meeting's invitation
Another key opposition leader who junked Congress' invitation was Mamata Banerjee. The Trinamool chief, who took to streets against CAA, rejected Congress and Left's protests, equating it to vandalism. Her party also feels that Mamata enabled the protest against the government while Congress merely sat on the bench. Aam Aadmi Party, which sees Congress as a rival, also didn't send any representative for meeting.
Notable ones who attended were Pawar, Yechury, and Soren
One of the most notable names to have attended the meeting was NCP's Sharad Pawar. CPI(M)'s Sitaram Yechury, JMM's Hemant Soren, RJDs Manoj Jha, CPI's D Raja, LJD's Sharad Yadav, IUML's Kinhalikutty, RSP's Shatrujeet Singh, AIDUF's Sirajuddin Ajmal, PDP's Mir Mohd Fayaz, and RLSP's Upendra Kushwaha, also marked their attendance. From Congress, Sonia, Rahul Gandhi, former Prime Minister Manmohan Singh, and AK Antony were present.
However, Congress' street-fighter Priyanka was nowhere to be seen
Quite surprisingly, Priyanka Gandhi Vadra who is leading the charge against BJP was missing. She took to streets against CAA, met those injured in police violence in Uttar Pradesh and sent Preamble as New Year cards to lakhs, but skipped her party's big meeting.
In statement, Sonia accused PM and HM of misleading people
After the meeting concluded, Sonia released a statement claiming Prime Minister Narendra Modi and Home Minister Amit Shah are misleading the nation. "They have contradicted their own statements of only weeks ago, and continue with their provocative statements while remaining insensitive to the state suppression and violence that is increasingly becoming commonplace," she added. Sonia also claimed the Constitution was being undermined in country.
Police action in UP and Delhi brutal: Sonia
Sonia Gandhi: Prime Minister Home Minister have misled the people. They've contradicted their own statements of only weeks ago, continue with their provocative statements while remaining insensitive to the state suppression violence that is increasingly becoming commonplace

— ANI (@ANI) January 13, 2020