Delhi: BJP National Executive meeting begins, PM Modi's roadshow today
Delhi: BJP National Executive meeting begins, PM Modi's roadshow today
Jan 16, 2023, 12:37 pm
3 min read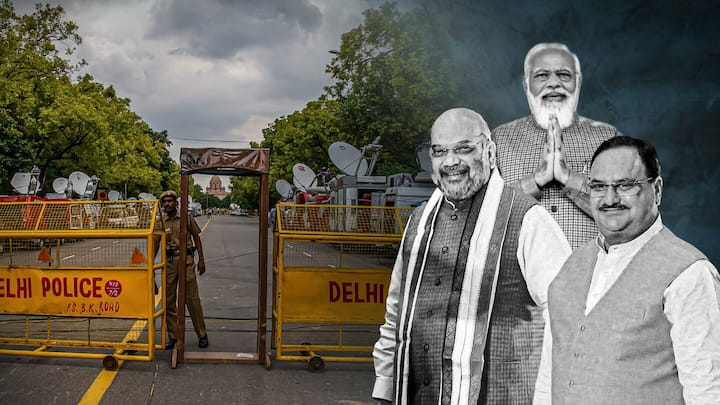 A two-day meeting of the Bharatiya Janata Party's (BJP) National Executive began at NDMC Convention Centre, Delhi, on Monday. Prime Minister Narendra Modi, BJP National President JP Nadda, Home Minister Amit Shah, several Union ministers and chief ministers, among other senior leaders, are expected to attend. The BJP is also scheduled to hold a grand roadshow led by PM Modi in Delhi on Monday.
Why does this story matter?
As part of its preparations for the 2023 Assembly elections and 2024 Lok Sabha elections, the BJP is holding the National Executive meeting, where it is expected to devise an election strategy.
It has already established task committees to review various schemes and ensure better performance.
They are tasked with planning the campaign, PM's election strategy, and focusing on LS seats it never won.
350 executive members participating; Nadda's term extension likely
Besides the aforementioned leaders, 35 Union ministers and 12 CMs and five deputy CMs of BJP-ruled states would be among the over 350 participants of the National Executive meeting. The meeting would focus on the upcoming Assembly elections and the 2024 Lok Sabha elections, reported PTI. The members are likely to approve extending Nadda's term as the national president and discuss the electoral strategy.
BJP anticipating huge crowd in PM Modi's roadshow  
In addition, the BJP has reportedly organized a roadshow for PM Modi from Delhi's Patel Chowk to NDMC Convention Center on Monday. The BJP anticipates that the roadshow, which starts at 3:00 pm, will draw a huge crowd. Due to the event, the Delhi Traffic Police has imposed several restrictions, as vehicular traffic in some areas of Delhi will be affected on Monday.
BJP to discuss major political, economic resolutions
According to News18, the party is expected to discuss major political and economic resolutions at the meeting. It is likely to outline the Centre's efforts to curb inflation and mitigate difficulties posed after the COVID-19 pandemic and the Ukraine-Russia war. PM Modi will address party workers and the public during the roadshow and is later expected to deliver the closing remarks at the meeting.
Delhi Traffic Police announces closure of these roads 
The Delhi Traffic Police's advisory says Ashoka Road (from Windsor Place to GPO, both carriageways), Jai Singh Road, Sansad Marg, Tolstoy Road (from Janpath to Sansad Marg), and Rafi Marg (from Rail Bhawan Roundabout to Sansad Marg) would be closed from 2:30-5:00 pm on Monday due to the BJP's roadshow. Jantar Mantar Road, Imtiaz Khan Marg, and Bangla Sahib Lane will also be blocked.
Check Delhi Traffic Police's traffic advisory  
Delhi Traffic Police issues traffic advisory for the following roads in view of a roadshow to be organized by BJP in Delhi on 16.1.2023 from 1500hrs onwards.@dtptraffic pic.twitter.com/ifzx4aFkiL

— Prasar Bharati News Services & Digital Platform (@PBNS_India) January 16, 2023
Congress's dig at BJP ahead of roadshow 
Congress General Secretary Jairam Ramesh said PM Modi is "rattled" by the success of the Bharat Jodo Yatra led by Rahul Gandhi, which is why he had asked his party to plan a roadshow for him. Ramesh called the BJP's roadshow a "joke" while criticizing it. He said that the BJP has consistently criticized Congress's yatra but now following its path.