RJD poster uses Ravana analogy for PM Modi; BJP reacts 
RJD poster uses Ravana analogy for PM Modi; BJP reacts 
Jan 14, 2023, 06:31 pm
3 min read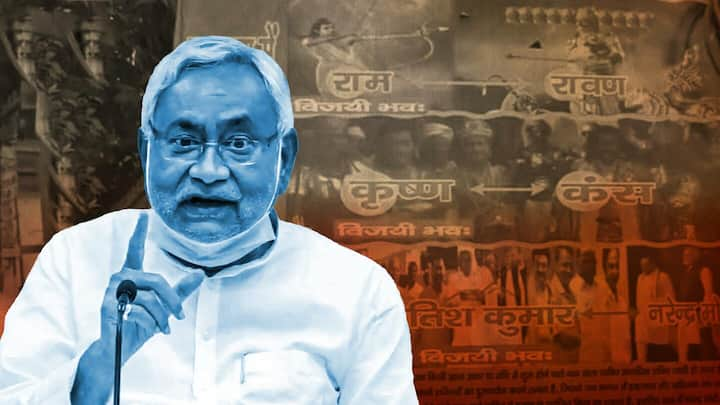 A fresh controversy erupted between Rashtriya Janata Dal (RJD) and Bharatiya Janata Party (BJP) in Bihar after a poster—which compared Prime Minister Narendra Modi to two mythological characters Ravana and Kansa—appeared outside the house of RJD leader Rabri Devi. Notably, the poster was referring to the 2024 General Election battle pitching the grand alliance of the opposition parties against the saffron party.
Why does this story matter?
In preparation for the 2024 elections, RJD and Janata Dal-United (JDU) have been pitching united Opposition against the BJP.
CM Nitish Kumar has also been meeting leaders in an attempt to strengthen the opposition and emerge as PM candidate.
Last year, the JDU broke away from the BJP and returned to power after forming Mahagathbandhan 2.0—an alliance with RJD, Congress, and left parties.
PM Modi shown as Ravana and Kansa of present times 
The poster that emerged outside Devi's residence linked PM Modi to two hostile mythological figures, Ravana and Kansa, per Zee News. It went on to say that the "2024 political war" will be between a large coalition of opposition parties and Modi's BJP. The billboard draws the parallel by depicting a conflict between Ram and Ravana in Ramayan and Krishna and Kansa in Mahabharat.
Bihar CM Nitish Kumar shown as Lord Ram 
The controversial poster also features CM Kumar as Lord Rama or Krishna. In two rows, the poster shows how Lord Ram in the Ramayana fought Ravana and how Lord Krishna in the Mahabharata defeated Kansa. The grand alliance was represented on the poster by Kumar, Rahul Gandhi, and the chief ministers of three non-BJP-ruled states including K Chandrasekar Rao, MK Stalin, and Arvind Kejriwal.
No one can defeat PM Modi, BJP reacts  
While reacting to the poster, BJP spokesperson Nawal Kishore Yadav said: "Nitish Kumar is new among all the opposition leaders, be it Mayawati, Akhilesh Yadav, Mamata Banerjee, and Naveen Patnaik. PM Modi will be in power till 2034. No one can defeat him." Meanwhile, RJD spokesperson Mritunjay Tiwari denied putting up the poster. "We don't know who has put up these posters," he said.
BJP leader Nikhil Anand terms RJD poster idiotic  
ये राजशाही के युद्ध का दौर नहीं है। लोकतंत्र में वोट की चोट का दौर है।

राम-रावण, कृष्ण-कंस तो ठीक है। लेकिन नीतीश- नमो की जगह नमो- नीतीश भी लिखा जा सकता है।

लेकिन मरे हुए को क्या मारना!

तेज(प्रताप)-तेज(स्वी) की तुकबंदी के बारे में क्या ख्याल है राजद के पोस्टर वाले बेवकूफों! pic.twitter.com/yZ1mzNCltg

— Nikhil Anand (@NikhilAnandBJP) January 14, 2023
United Opposition against BJP
In August 2019, RJD joined hands with Kumar-led JDU after the latter broke the alliance with BJP and formed the Grand Alliance (or Mahagathbandhan 2.0) with the Left and Congress. Reportedly, Bihar CM had been dissatisfied with the BJP after the Lok Sabha polls in 2019, after his party was given just one berth in PM Modi-led cabinet at the Centre.