Congress' G-23 leaders call for introspection over leaders leaving party
Congress' G-23 leaders call for introspection over leaders leaving party
Written by
Pratyush Deep Kotoky
Feb 16, 2022, 01:24 pm
3 min read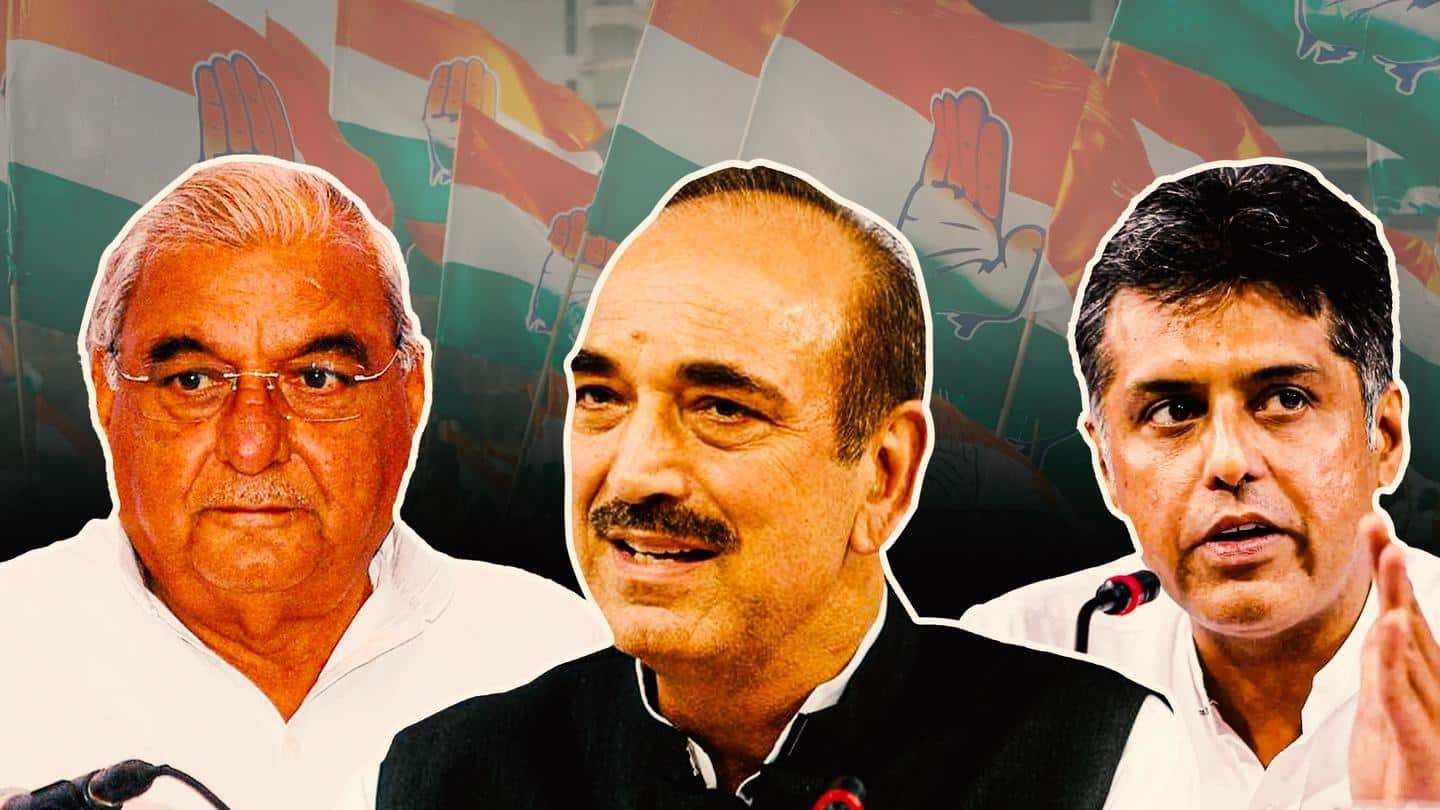 With the exit of senior Congress leader Ashwani Kumar on Tuesday, the simmering tension within the grand old party came to the fore again. While the party leadership maintained silence over Kumar's exit, the dissenting group of senior Congress leaders--dubbed G-23--voiced their concern over leaders leaving the party. They also called for introspection to find the cause of these exits.
Why does this story matter?
Congress has been witnessing a spree of resignations, with dozens of its leaders having deserted the party in recent years.
Apart from Kumar, several prominent leaders, including Jyotiraditya Scindia, Jitin Prasada, Sushmita Dev, Priyanka Chaturvedi, Amarinder Sing, and Laliteshpati Tripathi, have left Congress in the last two years.
The party is also losing ground in regional fronts, with the exit of many stalwarts.
Leader after leader leaving; serious concern: Azad
Senior Congress leader Ghulam Nabi Azad--known to be a part of G-23--said the exit of "leader after leader" from the party is a "matter of serious concern." "Kumar...is the fourth or fifth former Union minister who has left, besides a large number of leaders and workers at various levels across the country," he said. He added Congress needs to introspect why this is happening.
Exits mean there is something wrong: Azad
Azad maintained that it is not "right to say these leaders are going at the behest of any individual or party." "There must be some disquiet within the party (that) makes even hardcore Congress leaders uncomfortable," he added. Highlighting the long-standing association of Kumar's family with Congress--dating back to the pre-independence era--Azad said, "If such people go then that means there is something wrong."
Calls for introspection: Congress MP Manish Tewari
Lok Sabha MP Manish Tewari said, "even if a small worker leaves the party, it calls for introspection." Congress MP Anand Sharma called Kumar's exit "unfortunate." "Sad to see a valued colleague Ashwani Kumar quitting Congress...Unfortunate that someone who gave four decades to serve the party has left...A matter of collective concern," Sharma tweeted. Notably, both are part of the G-23 grouping.
Kumar is an old dear friend: Hooda
Former Haryana Chief Minister Bhupinder Singh Hooda termed Kumar's exit "sad and unfortunate." "He is an old dear friend," he added. Notably, Hooda is also among the G-23 leaders who called for an organizational overhaul in Congress.
More exits expected if assembly results turns unfavorable
Meanwhile, several other Congress leaders, who are not part of G-23, told The Indian Express that the party may face an implosion after March 10 if the Assembly election results are not in its favor. "You can't run the party only with some Youth Congress people. All senior leaders are seriously disgruntled," a leader told the publication on the condition of anonymity.