Khattar-government spends Rs. 3.8L on 10 copies of Bhagavad Gita
Khattar-government spends Rs. 3.8L on 10 copies of Bhagavad Gita
Jan 09, 2018, 07:54 pm
2 min read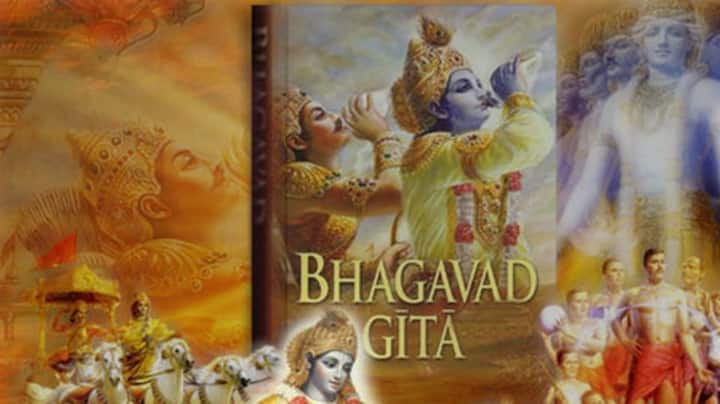 Move over 2G and Coalgate, we have a new scam in making - the "Gita scam." It has now surfaced that Haryana's Manohar Lal Khattar government bought copies of Bhagavad Gita at Rs. 38,000 each. These were gifted to VVIPs during the International Gita Mahotsav organized in 2017. Normally, they are sold at just Rs. 150-250. Why did they cost so much? Find out.
What is the Bhagavad Gita?
The Bhagavad Gita is a sacred Hindu text, which is an important literary and philosophical work. It comprises 18 chapters and about 700 verses. It basically covers the dialogue between Pandava prince Arjuna and his guide Lord Krishna. BJP has always made efforts to popularize this Hindu text. In line with this objective, Haryana government organized the International Gita Mahotsav in 2017.
Why was the Gita purchased by Khattar government so costly?
An RTI filed by Hisar resident Rahul Sehrawat revealed that the 10 copies of Gita cost a whopping Rs. 3.8L. These were apparently prepared with special paper and were designed to look like ancient manuscripts. Moreover, these were presented to VVIPs including President Ram Nath Kovind, Union minister Uma Bharti and RSS chief Mohan Bhagwat, among others. The RTI also revealed other shocking details.
What else was revealed about the event?
Moreover, Khattar reportedly splurged on performances as well. The state paid Rs. 15L to Bollywood star Hema Malini and Rs. 10L to Bhojpuri actor Manoj Tiwari for their performances. Interestingly, both are senior BJP leaders. Shockingly, though Rs. 15cr were sanctioned for the event, the Kurukshetra Development Board gave records of only Rs. 4.32cr through RTI. Who will account for the taxpayers' remaining money?
How did the opposition react to this revelation?
The opposition slammed Khattar's government. Former CM Bhupinder Singh Hooda called the government an event management company. He claimed that they aren't interested in development but in furthering their agenda and misusing public money. He jested, "I hope the government hasn't used gold in preparing the Gita." INLD MP Dushyant Chautala tweeted "Gita ke naam par chori" (loot in the name of Gita).