IAF-strikes: Mentioning Rajiv Gandhi's death, VK Singh slams Digvijay Singh
IAF-strikes: Mentioning Rajiv Gandhi's death, VK Singh slams Digvijay Singh
Mar 05, 2019, 01:56 pm
3 min read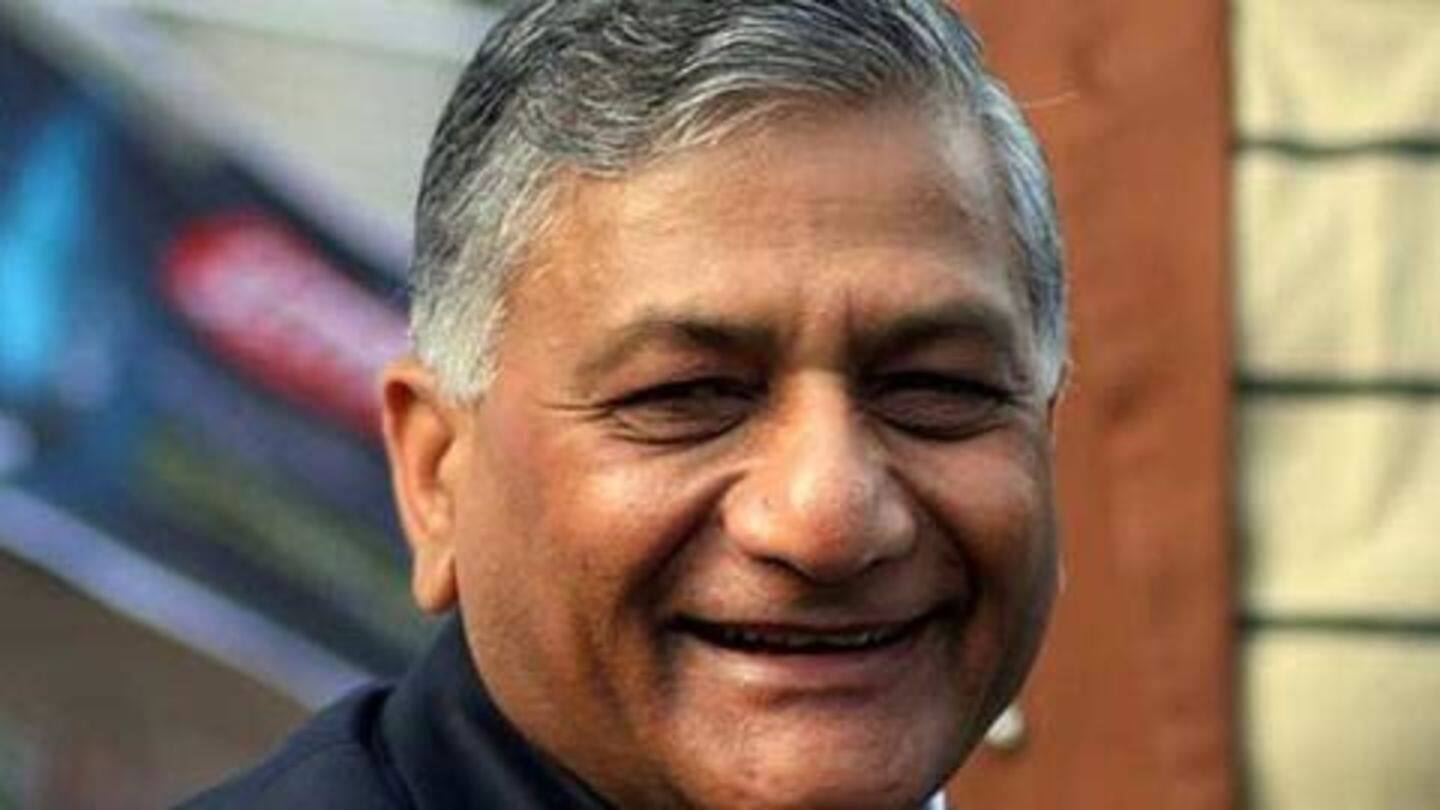 Minister of State for External Affairs, General VK Singh on Tuesday slammed Congress leader Digvijay Singh for calling Pulwama terror attack "an accident" and casting doubts on IAF airstrikes in Balakot, Pakistan. In a series of tweets, the former Chief Minister of Madhya Pradesh wrote the government should come clean on the IAF strikes while adding he wasn't questioning the valor of armed forces.
Digvijay wants government to answer questions on airstrikes
On Twitter, Digvijay used the word durghatna (meaning accident) for Pulwama attack, in which 40 CRPF soldiers were martyred. The horrifying attack was orchestrated by Jaish-e-Mohammed, whose biggest camp in Balakot was destroyed by IAF in airstrikes on February 26. Flaying with Digvijay over his choice of words, Singh asked if Rajiv Gandhi's death was an "accident" or a "terror attack".
Was Rajiv's death an accident too, asks Singh
Former Prime Minister, Rajiv Gandhi was killed in a suicide bomb attack in Chennai in 1991. The attack was executed by the militant organization LTTE. Referring to the inhumane incident, Singh said Digvijay should first clarify his stance on Rajiv's death before commenting on Pulwama attack. "Don't weaken the nation & the morale of our armed forces with these senseless jibes," Singh tweeted.
What Amit Shah said isn't confirmed figure, says Singh
When Singh was informed that BJP President Amit Shah revealed over 250 terrorists were killed in the airstrikes, the minister said, "That was based on people who were housed in the buildings which were hit, it's an estimate." He said Shah didn't say it was a confirmed figure. He also added that jets only hit one target to avoid civilian casualty.
Congress asks questions to BJP, gets another query in return
#WATCH Union minister VK Singh on Congress leader Digvijaya Singh terming #Pulwama terrorist attack an "accident",says, "With due respect, I would like to ask Digvijaya Singh Ji, was Rajiv Gandhi's assassination an accident or a terror incident?" pic.twitter.com/Sm1blc2Gjj

— ANI (@ANI) March 5, 2019
Earlier, IAF Chief said they don't count human casualty
While the success of IAF's discreet operation proved their mettle once again, the airstrikes have led to a political debate. There is little clarity on the number of terrorists who might have been killed. Adding to the ambiguity, IAF Chief BS Dhanoa said on Monday the forces don't count the casualty, as it is the government's job. Dhanoa said they only hit targets.
Opposition accused BJP of politicizing terror
The decorated officer's statements gave more fodder to the Opposition for questioning the government. Many asked how did Shah, who isn't a member of the Security Committee, know about the number of terrorists killed. Citing international media reports which claimed no militants were killed, Congress leader Kapil Sibal wrote the government was guilty of "politicizing terror". Bombarded with questions, BJP isn't staying quiet either.
Go to Balakot and check: Rajyavardhan Singh Rathore tells Sibal
Kapil Sibal ji:

You believe international media over own Intelligence agencies?

You seem happy when media quoted by you says "no losses in strike"?

..and sir, for us you went to london🤦🏽‍♂️ to find evidence against EVMs, will you please also go to Balakot to check? https://t.co/JefbNnGdqP

— Rajyavardhan Rathore (@Ra_THORe) March 5, 2019