In UP deal, Akhilesh gets one seat less than Mayawati
In UP deal, Akhilesh gets one seat less than Mayawati
Feb 21, 2019, 05:16 pm
3 min read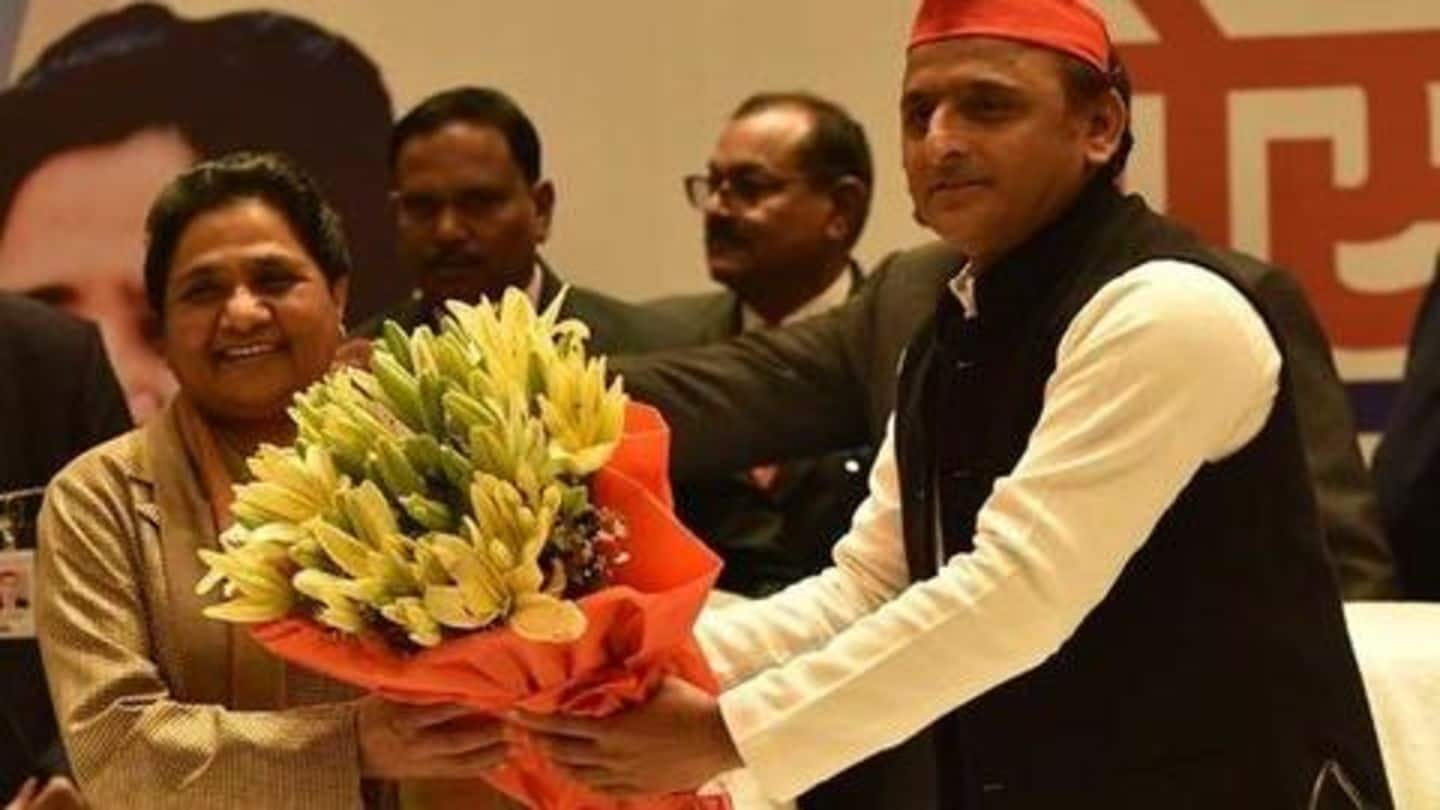 The Samajwadi Party (SP) and Bahujan Samaj Party, which forged a pre-poll alliance months ago, announced the constituency-based seat-sharing arrangement on Thursday. While SP, under the guidance of Akhilesh Yadav will contest on 37 seats, Mayawati's BSP will field candidates from 38 seats of Uttar Pradesh in upcoming Lok Sabha elections. UP sends 80 members to the Parliament. Here are more details.
SP gets BJP's bastions including PM Modi's constituency Varanasi
SP got crucial seats like Lucknow, Kanpur, Jhansi, and Ghaziabad. Quite obviously, bastion Mainpuri stayed with SP. SP was also given constituencies which are considered stronghold of BJP. Akhilesh's party will field a candidate from Varanasi, the constituency of Prime Minister Narendra Modi. Uttar Pradesh Chief Minister Yogi Adityanath's territories like Gorakhpur, Kairana, Phulpur, also went to SP in the deal.
BSP gets Meerut, Agra, Aligarh among others
Mayawati, who is the tallest Dalit leader, will field candidates from OBC-dominated regions of the state. BSP candidates will contest from Aligarh, Agra, Saharanpur, Meerut, Sultanpur, Pratapgarh, Salempur, Devaria, among others. In the last parliamentary elections, BSP was wiped out in UP and failed to win even one seat. Meanwhile, BJP registered a historic victory by winning 71 out of 80 seats.
Amethi, Raebareli left for Rahul Gandhi, mother Sonia respectively
The bitter rivals turned friends didn't field any candidates from Amethi and Raebareli, as promised. Both the seats are Congress' bastions. Reportedly, Chaudhary Ajit Singh's party Rashtriya Lok Dal could field candidates from Mathura, Muzaffarnagar, and Baghpat.
Here is the complete list
Bahujan Samaj Party (BSP) chief Mayawati Samajwadi Party (SP) chief Akhilesh Yadav have decided that SP will contest on 37 seats while BSP will fight on 38 seats in the upcoming Lok Sabha elections 2019. pic.twitter.com/k2Gee6iFyy

— ANI UP (@ANINewsUP) February 21, 2019
Earlier today, Mulayam asked, "Who's destroying SP?"
The seat-sharing arrangement comes hours after SP patriarch Mulayam Singh Yadav expressed his discontent on the alliance. In an apparent hint towards son Akhilesh, Mulayam said, "Who is destroying the party? Our own people. The party was so strong. We formed a government on our own thrice. I was also the defense minister. I am not playing any politics, just stating the facts."
Akhilesh gave half seats to Mayawati, miffing father Mulayam
Yadav senior is unhappy that his son gave half of the seats to Mayawati. Not only this, but the delay in deciding candidates also miffed the 79-year-old leader. "Look, so far, the tickets haven't been decided. If he can't decide, then ask me, I will distribute tickets," he said. He reminded that when he was the president, he distributed tickets 14 months in advance.
Shocking opposition, Mulayam hoped for PM Modi's win
Interestingly, on the last day of Lok Sabha session, Mulayam Singh Yadav had praised PM Modi and hoped he would win elections again. "The prime minister has taken efforts to take everyone along. I want you to become the prime minister again," he said, shocking the entire opposition. Yadav's latest comments once again show that he doesn't approve of his son's actions.