Boston Dynamics' dog-like SpotMini robot to start selling in 2019
Boston Dynamics' dog-like SpotMini robot to start selling in 2019
Written by
Bhavika Bhuwalka
May 13, 2018, 12:02 pm
2 min read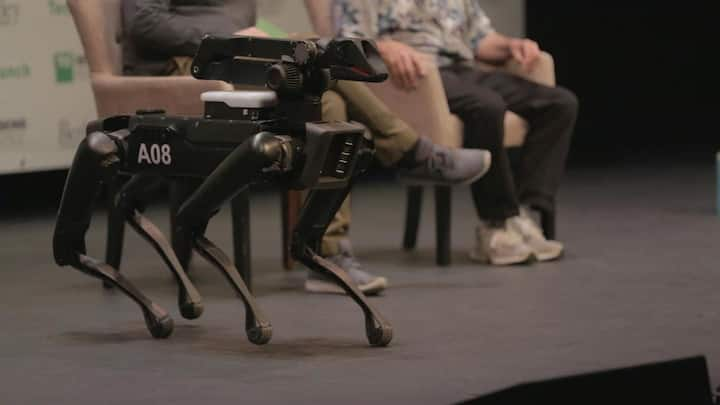 US-based robotics company Boston Dynamics, known for machines that mimic real movements, will finally start selling some robots, starting with the dog-like SpotMini. Founder Marc Raibert said that SpotMini is in pre-production and will be ready for commercial availability in 2019. First introduced last year, SpotMini is a quiet robot that weighs 66 pounds and can operate for 90 minutes on a single charge.
SpotMini designed to be deployed in commercial settings
"The SpotMini robot is one that was motivated by thinking about what could go in an office — in a space more accessible for business applications — and then, the home eventually," Raibert said.
No information on pricing yet
Boston Dynamics will partner with contract manufacturers to build the first 100 SpotMinis this year, and then when production starts to scale, the robot will become commercially available in 2019. The company hasn't disclosed the price yet but they did say that the latest SpotMini prototype cost 10 times less to build than its predecessor.
SpotMini can autonomously navigate a specified route
Very recently the company released a video showcasing that SpotMini can now run around a specified route autonomously. The robot was first taken around the course of its route and allowed to map the area using visual data from front-mounted cameras. Once it localized itself with the area, it could navigate that route autonomously and avoid obstacles and such.
SpotMini can seamlessly climb stairs
Earlier in February, Boston Dynamics had released a video of the four-legged SpotMini opening doors. Described as "a nimble robot that handles objects, climbs stairs, and will operate in offices, homes and outdoors," it can carry out tasks like helping out in the kitchen and throwing cans in the trash. It can also pick itself up after falling down.
Boston Dynamics was founded in 1992
In 2013, Google's parent Alphabet had purchased MIT spin-off Boston Dynamics in a bid to build useful robots. The robotics arm was headed by Android-creator Andy Rubin for a year before he quit Google in 2014. In June 2017, Alphabet sold Boston Dynamics to SoftBank.