In a first, scientists divert lightning strikes using lasers
In a first, scientists divert lightning strikes using lasers
Jan 17, 2023, 02:28 pm
2 min read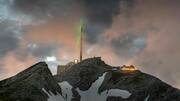 Scientists, for the first time, have shown that high-powered lasers can be used to steer lightning strikes. The demonstration, which involved firing terawatt-level laser pulses to divert lightning strikes toward a 26-foot safety rod, was conducted at the top of the Säntis mountain in north-eastern Switzerland. Such laser-based lightning protection can be employed in airports, launchpads as well as large infrastructures.
Why does this story matter?
For a long time now, safety rods have been commonly used to divert lightning and safely dissipate its charge. However, they have certain limitations such as their fixed in-place design and size, which have made them ineffective in protecting large areas.
This investigation is the first real-world demonstration of how rapidly fired laser beams can steer lightning bolts.
The experiment was carried out between July and September 2022
The Säntis experiment involved a powerful laser positioned near a 124-meter-high telecom tower that is struck by lightning roughly 100 times a year. During a stormy season between July and September 2022, scientists fired laser pulses at the thunderclouds for over six hours. Instruments that recorded the strikes revealed that the laser diverted the course of four upward lightning discharges.
Scientists filmed the lightning strike using high-speed cameras
During one particular strike in July, scientists observed the path of the lightning using high-speed cameras. It was seen that the lightning bolt followed the path of the lasers for about 50 meters, indicating that the laser pulses helped divert the electrical discharge. In the future, similar laser systems can help guide strikes away from sensitive installations and onto a distant lightning rod.
How does this process work?
A laser beam with sufficient intensity can create a conductive path for lightning to travel, just like a metal wire. Laser pulses cause a shift in the properties of the air, namely the refractive index, which causes the beams to condense into a thin, intense filament. This in turn heats the air, reducing its density and creating a favorable path for lightning.
The cost of laser systems is comparatively higher
"The cost of the laser system is very high compared with that of a simple rod," said Professor Manu Haddad, director of the Morgan-Botti Lightning Laboratory at Cardiff University. "However, lasers could be a more reliable way to direct the lightning discharge, and this may be important for the lightning protection of critical ground installations and equipment," he added.