NASA shares photograph of a peculiar rectangular iceberg in Antarctica
NASA shares photograph of a peculiar rectangular iceberg in Antarctica
Jan 20, 2023, 05:22 pm
2 min read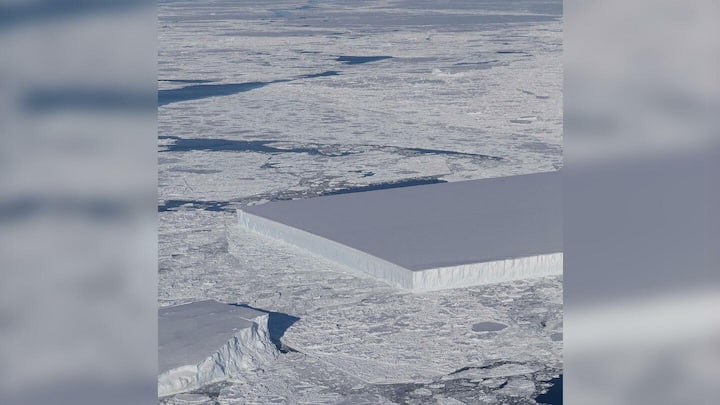 NASA recently posted a picture of an iceberg in Antarctica, but it is not a conventional one. While icebergs with straight edges are not unusual, icebergs with two straight edges that meet at a right angle-like a rectangle— are certainly peculiar. This photograph was snapped in 2018 as part of Operation IceBridge, NASA's longest-running aerial survey of polar ice.
Why does this story matter?
Who would have thought that a near-perfect, sharp-edged rectangular iceberg would be floating in Antarctica? Well, that is what it is.
Data from the IceBridge mission, including this "uncommon" iceberg, help scientists better understand the effect of climate change on Earth's polar regions.
According to NASA, Operation IceBridge is the largest airborne survey of Earth's polar ice.
The picture was snapped from a low-flying aircraft
"A picture of sea ice extending to the horizon, taken from a low-flying aircraft. Where the ocean peeks through the ice is dark blue," reads the image's description. The photograph, shot by Jeremy Harbeck, has been shared by NASA on its Instagram account. It has garnered over 664,180 likes so far in about 13 hours since the post went live.
The "uncommon" iceberg has smooth and straight edges
The rectangular iceberg takes the center stage in the picture but is cut off to the left of the image. The visible portion of the iceberg appears to be almost perfectly rectangular, with smooth and straight edges and two precise right angles for corners.
The iceberg is thought to have broken away from Larsen-C
The rectangular iceberg is supposed to have chipped off from Larsen C, a large ice shelf in the northwestern Weddell Sea extending into the eastern coast of the Antarctic Peninsula. In July 2017, the same Larsen C ice shelf shed the massive A68 iceberg, which has a surface area measuring roughly 6,000 square kilometers - almost the size of Delaware state in the US.
The duration of Operation IceBridge spanned from 2009 to 2019
Operation IceBridge, between 2009 to 2019, deployed aircraft loaded with special equipment to fly over Earth's polar regions to study sea ice, ice sheets, and glaciers. This mission has helped scientists understand how Earth's polar ice is changing in response to climate change. IceBridge also helped bridge the gap in polar observations between NASA's ICESat (Ice, Cloud, and Land Elevation Satellite) missions.