#IndiaInEngland: Why Ishant and Co. deserve appreciation?
#IndiaInEngland: Why Ishant and Co. deserve appreciation?
Sep 08, 2018, 12:50 pm
2 min read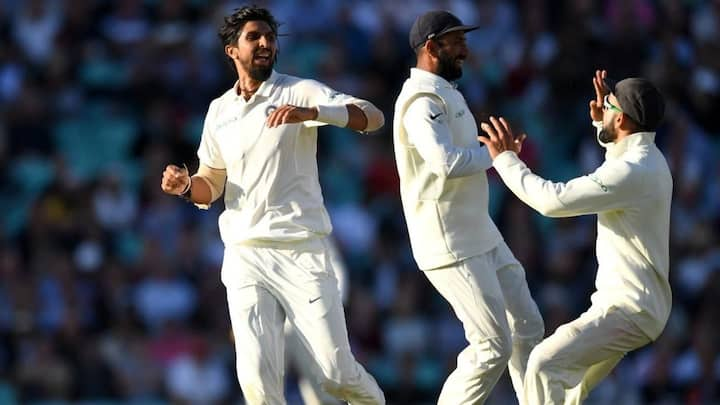 The current Indian pace attack is in a different dimension at the moment. 2018 has been a defining year for the Indian bowlers, as the pace quartet has picked up 20 wickets, consistently, in a Test. In the ongoing 5th Test against England, the pacers bowled well, once again, and took 5 wickets between them on Day 1. Here we decode the phenomenal rise.
Indian pacers have impressed on this tour
In the series against England, the Indian bowlers have done well to take 20 wickets in three of the four Tests prior to the dead rubber at the Oval. Another 7 wickets on Day 1 means they aren't far away from striking perfect 10 yet again. The consistency in line and length bore fruit in the final session, where the group picked 6 wickets.
Ishant a true leader of this attack
Ishant Sharma has been the best in business among Indian bowlers. He has already picked 18 wickets in the ongoing series and has been a menace for England with his perfect line and length. He, currently, sits on second spot in the list of highest wicket-takers in this series. Ishant is quickly showing that he now has taken over the leadership of the attack.
Depth in Indian pace attack a telling factor
The likes of Jasprit Bumrah and Mohammed Shami have been lethal as well. The interesting aspect is that each of them bring a unique skill. Shami, in particular, is fantastic in extracting reverse with the old ball. Bumrah is new to Test cricket, but he looks like a real deal. The depth in the attack is further added by Bhuvneshwar Kumar and Umesh Yadav.
Is Indian pace attack the best?
Indian pacers have been enjoying dream form and that is a worrying sign for opposition teams. The bowlers have stepped up to the plate and are definitely one of the best in the world. The likes of Australia and South Africa are the top bets at the current moment. But India are in the mix as well. It's time they deserve more laurels.