Team India faces backlash for taking the knee: Here's why
Team India faces backlash for taking the knee: Here's why
Oct 25, 2021, 10:23 am
2 min read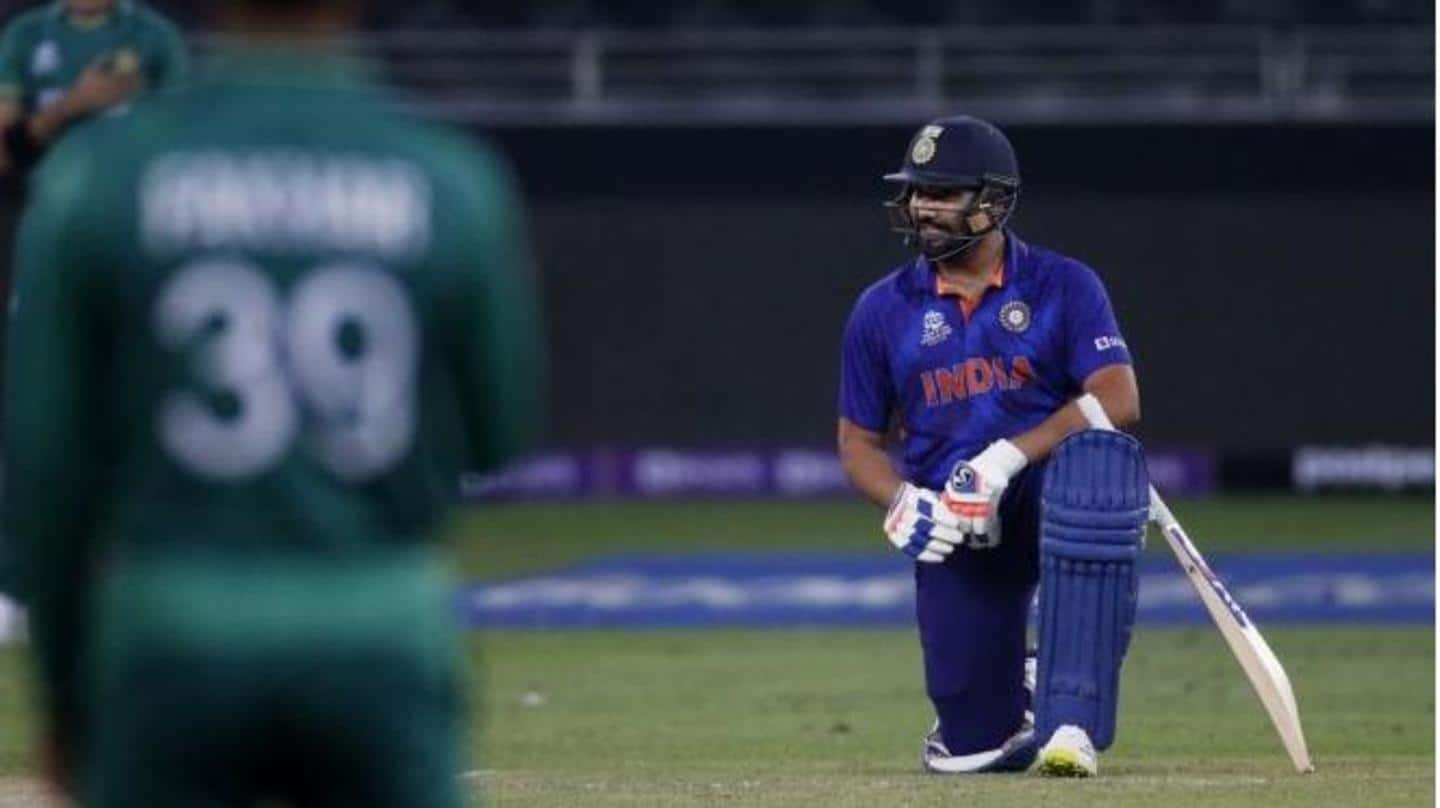 The Indian cricket team took the knee before the T20 World Cup match against Pakistan got underway on Monday. After the match, Virat Kohli, the Indian captain, explained that the same was communicated to the players by the team management. Notably, the Indian players took the knee to voice solidarity with the Black Lives Matter (BLM) movement. However, they were slammed for the same.
"That was communicated to us by the management, the Pakistan team agreed to pay their tribute to the same cause. We accepted our side of the things and that is how it was decided," Kohli told ANI in the post-match conference.
Was it a one-time gesture?
Team India took the knee in order to lend support to the Black Lives Matter movement. Rohit Sharma and KL Rahul showed the gesture inside the playing area, while the other players did so near the dug-out. It remains to be seen whether it was just a one-time gesture. "We have done it for now. Will see in the future," said a team source.
'Black Lives Matter' movement
The Black Lives Matter movement came to the fore after the death of George Floyd in the US. Floyd, a 46-year-old man, died after a white cop Derek Chauvin pinned him to the ground, placing his knee on the former's neck. People from across the globe have been pledging support to this movement ever since. Athletes have played their part by taking the knee.
Sports community has shown solidarity toward the movement
Of late, the sports community has shown solidarity toward the Black Lives Matter movement. The gesture became widespread across sports, especially football, following the COVID-19-enforced break. Ahead of the Euros this year, England manager Gareth Southgate had confirmed that the players would take the knee in every game. The International Olympic Committee (IOC) also allowed the athletes at this year's Olympics to do so.
Team India slammed for taking the knee
After taking the knee, the Indian team faced backlash for ignoring the attacks on Bangladeshi Hindus. Earlier this month, violence against Hindus erupted across Muslim-majority Bangladesh after videos surfaced on social media alleging desecration of the Holy Quran at a Durga Puja event in Cumilla. More than 200 people attacked a temple, following which two Hindu men were killed.
Team India faces backlash on Twitter
Black Lives Matter but Bangladeshi Hindus' lives don't!
When you're eager to lose civilization battle then what harm would losing a cricket match do? https://t.co/mkqNXqIuGm

— ঘোররূপা (@_Agnijwala_) October 24, 2021