Nepal plane crash: 5 Indians among 15 foreign passengers killed
Nepal plane crash: 5 Indians among 15 foreign passengers killed
Jan 15, 2023, 04:35 pm
3 min read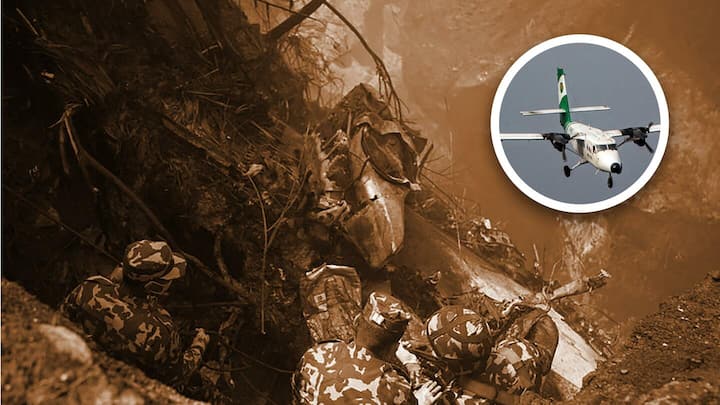 At least five Indian nationals were onboard the Yeti Airlines plane that crashed near Pokhara in Nepal on Sunday morning, Nepal Civil Aviation Authority confirmed, per NDTV. The aviation officials said the plane was carrying 72 people, including 15 foreigners, when it crashed into a river valley while landing at Pokhara International Airport. So far, there have been no survivors of the deadly incident.
Why does this story matter?
It's one of the deadliest plane crashes in Nepal which has a history of such plane crash incidents.
Earlier, US-Bangla Airlines Flight 211 crashed in 2018 at Tribhuvan International Airport leading to the most 51 casualties.
In May 2022, a plane operated by Nepali carrier Tara Air crashed, killing all 22 persons on board. Another Tara Air plane crashed in 2016 killing 23 people.
Plane crashed near Seti River banks
According to Yeti Airlines' Spokesperson Sudarshan Bartaula, the plane—9N-ANC ATR-72—crashed on the bank of the Seti River around 20 minutes after the take-off, suggesting the aircraft might have been on the descent. "We don't know right now if there are survivors," Bartaula told AFP. The incident happened near Pokhara airport while coming from Kathmandu. The flight time between the two cities is 25 minutes.
Indian Embassy in Nepal confirmed death of 5 Indians 
An ATR-72 plane of Yeti Airlines crashed today near the Pokhara Airport while flying from Kathmandu. According to the info provided by Civil Aviation Authority of Nepal, 5 Indians were travelling on this flight. Rescue operations are underway. pic.twitter.com/rkLC3QbStn

— IndiaInNepal (@IndiaInNepal) January 15, 2023
Indian Embassy shared helpline numbers for Kathmandu and Pokhara
The Indian Embassy stated that it is in contact with local authorities and is monitoring the situation. It has also provided helpline numbers for families and others. For Kathmandu, people can contact Diwakar Sharma at +977-9851107021, while Lt Col Shashank Tripathi can be reached at +977-9856037699 for Pokhara. External Affairs Minister S Jaishankar has expressed his grief over the loss of life.
A little about the crashed aircraft
According to the aircraft monitoring service FlightRadar24, the plane that crashed was 15 years old. The ATR72 is a popular twin-engine turboprop airliner jointly manufactured by Airbus and Italy's Leonardo. Notably, Yeti Airlines operates six ATR72-500 aircraft.
Chinese connection and controversy around Pokhara International Airport
Pokhara International Airport, where a 72-seater passenger plane crashed on Sunday, was only two weeks old. On January 1, Nepal Prime Minister Pushpa Kamal Dahal declared it open. The airport was constructed with Chinese aid. Later, when the Chinese Embassy in Kathmandu unilaterally labeled the airport a "flagship project of China-Nepal Belt and Road Initiative (BRI) collaboration" it sparked controversy prompting political reactions.
Record of air accidents in Nepal
Nepal, which has the world's eight highest mountains, has a history of plane crashes. In May 2022, a plane operated by Nepali carrier Tara Air crashed, killing all 22 persons on board-16 Nepalis, four Indians, and two Germans. Another Tara Air plane also crashed in 2016 killing 23 people. In 2018, US-Bangla Airlines Flight 211 crashed at Tribhuvan International Airport, killing 51 passengers.