China, US sparring continues over South China Sea
China, US sparring continues over South China Sea
Written by
Aakanksha Raghuvanshi
Nov 10, 2018, 06:37 pm
2 min read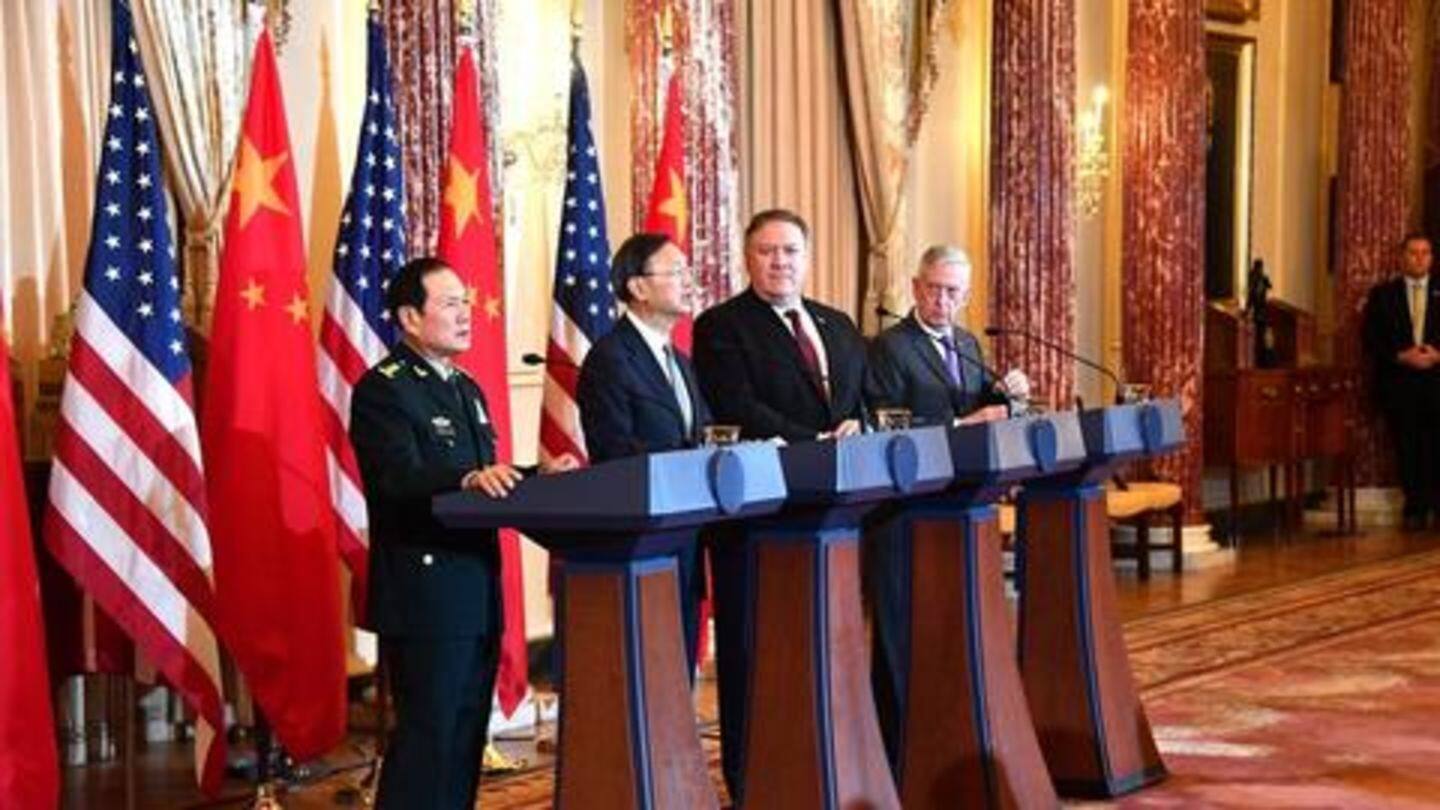 Asserting there is no problem of freedom of navigation in the South China Sea, Beijing said no country should use any excuse to engage in militarization there. Chinese State Councilor Yang Jiechi was speaking at joint press conference in Washington yesterday. Secretary of State Mike Pompeo, US Defense Secretary James Mattis, and Chinese Minister of National Defense Wei Fenghe were also present there.
China, which claims all of the South China Sea, has been unhappy with the US' navigation and overflight patrols in the region over which Vietnam, the Philippines, Malaysia, Brunei, and Taiwan have counterclaims. In September, a Chinese destroyer and US warship nearly collided in the disputed waters. Using freedom of navigation and overflight as an excuse to pursue military actions is unjustifiable, said Yang.
Trump and Jinping to engage in a meeting this month
The Chinese leaders are in Washington to set the stage for a meeting between US President Donald Trump and his Chinese counterpart Xi Jinping later this month. In an apparent attempt to allay the growing global concern about China constructing defense facilities in the disputed territory, Yang said Beijing is only building certain security facilities in response to possible threats from outside.
Constructions at South China Sea are civilian facilities: Yang
Yang said China has undertaken some constructions on the islands and reefs in the region, however, "most of them are civilian facilities" whose purpose is to "serve Chinese people's interest and to provide public goods to others". He said to pursue militarization in the region will not only undermine the interest of regional countries but will also hurt the nations that take these actions.
Will fly, sail and operate wherever international law allows: Mattis
In response, Mattis said the US adheres strictly to international law and the international maritime rules of the road and it "will continue to fly, sail, and operate wherever international law allows". Addressing the conference, the 26th Secretary of Defense said the US's commitment to a free and open Indo-Pacific, one that is underpinned by the rules-based international order and regional stability, is unwavering.
Pompeo tweeted about US-China dialogue
During today's U.S.-China Diplomatic and Security Dialogue, #SecDef Mattis and I took important steps to implement President Trump's vision of a constructive, results-oriented relationship on key diplomatic and security issues. pic.twitter.com/HNJ8FPfkLp

— Secretary Pompeo (@SecPompeo) November 9, 2018