ISIS chief Baghdadi appears in video after 5 years
ISIS chief Baghdadi appears in video after 5 years
Apr 30, 2019, 10:29 am
3 min read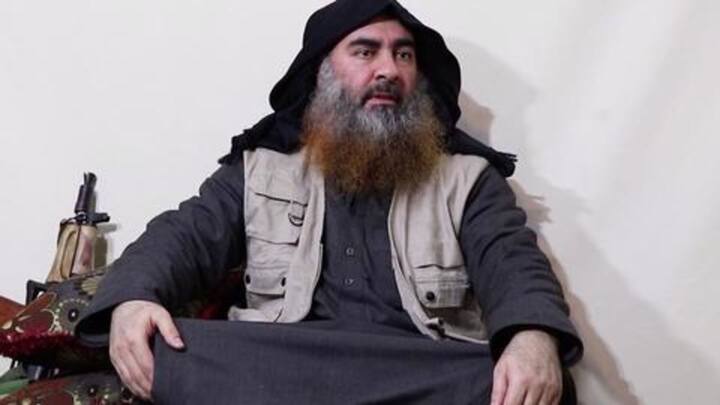 For the first time in five years, Abu Bakr al-Baghdadi, the ISIS chief who had gone underground and was presumed dead, surfaced in a new video. The terror group's Al Furqan media network released a video of a man sitting beside an assault rifle. In 2014, Baghdadi gave a sermon to followers from a mosque in Mosul and then 'disappeared'. Here's more.
Man claiming to be Baghdadi spoke about Baghuz
In the clip, the man didn't speak for more than 40 seconds. Sitting cross-legged, he said the battle of Baghuz is over, but it has shown the brutality of Christians towards the Muslim community. Baghuz, a town in eastern Syria, was liberated from ISIS' clutches in March this year. This was widely referred to as the fall of the so-called caliphate.
Baghdadi seemed content with Sri Lanka bombings
Baghdadi also sent his "congratulations" for Easter attacks in Sri Lanka, in which more than 250 people died and 500 were injured. This message appeared in a separate audio segment suggesting that it was shot after the primary video. "This is part of the vengeance that awaits the Crusaders and their henchmen," Baghdadi said. He also appreciated the attackers, without directly taking the responsibility.
Baghdadi spoke about Netanyahu's re-election, Sudan's revolution
He also referred to recent political events around the globe - from Benjamin Netanyahu's victory in Israel to Sudan's President Omar al-Bashir being ousted after a revolution and Algeria's President Abdelaziz Bouteflika resignation. Unlike the last confirmed video, Baghdadi's beard appeared gray in the latest one. He seemed to be in good health, with no signs of injuries. He appeared calm and composed.
Experts said Baghdadi still wields power on his followers
Rita Katz, director of the SITE Intelligence Group, said the video confirms Baghdadi still poses a serious danger. "He is able to reemerge to his supporters and reaffirm the group's us-vs-the-world message after all the progress made against the group," Katz wrote on Twitter. Spokesperson of US-based coalition, which is fighting Daesh (another name for ISIS), said they are working to know video's authenticity.
Committed to defeating Daesh: Spokesperson of joint forces
"We are continuing to support partner forces in their mission of an enduring defeat of Daesh, which includes the capability to finance their operations, recruit new members, and collaborate to conduct violent extremist attacks," Col. Scott Rawlinson told CNN.
ISIS can't be allowed to gain new ground: US Senator
In February 2018, reports emerged that Baghdadi was injured during an airstrike in May 2017. Troubled with his injuries, Baghdadi had to give up control over ISIS for at least five months. However, his apparent re-emergence has given ample reasons to worry. US Senator Angus King said ISIS can't remain "unchecked" and it's important that the group doesn't gain new ground.
Baghdadi's message shows ISIS isn't dead
The timing of the video begs attention. Just a few weeks ago, US President Donald Trump "celebrated" the end of the caliphate and confirmed it has been ousted from Syria. However, Baghdadi re-appeared to paint a different picture that Daesh might have lost territories, but it is far from dead. Baghdadi, known to enjoy heavy security, took a risk to communicate with followers.
Video could galvanize remaining fighters and allies of ISIS
Reportedly, some 15,000 to 30,000 "fighters" are still present in Iraq and Syria, and Baghdadi's message could have been intended for them. Further, he also thanked groups which swore allegiance to ISIS. These groups flourish in Mali, Burkina Faso, Western Sahara, and Pakistan. Despite the success of coalition forces, Baghdadi's message shows ISIS is not only surviving but looking to expand boundaries.