Doctor burns to death as Tesla doors fail to open
Doctor burns to death as Tesla doors fail to open
Oct 24, 2019, 09:21 pm
3 min read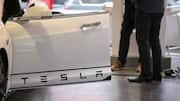 The futuristic doors of the electric car manufacturer Tesla Inc. have now landed the company in hot water. Earlier in February, a United States-based doctor, Omar Awan, burned to death inside his blue 2016 Model S Tesla after a crash in Davie, South Florida. Now, Awan's family is suing the carmaker, alleging that Tesla's door handles prevented a police officer from rescuing him.
Awan died after car crashed into tree, caught fire
On February 24, Awan, an anesthesiologist, was speeding 75-90 mph (120-145 kmph) before he lost control of the vehicle and slammed it into a tree, Florida Sun-Sentinel had reported earlier this year. After the crash, Tesla's Lithium-ion battery caught fire and the car burst into flames, burning Awan beyond recognition. Later at a tow yard, the car reportedly reignited and burned several times.
Family blames Tesla's door handles for death
However, Awan's family believes it was a case of wrongful death and has filed a lawsuit. Reportedly, while Awan was being burnt from the feet up inside the car, a crowd had gathered outside, and a cop had also arrived in time. However, they couldn't rescue Awan as the car's retractable door handles, which are supposed to "auto-present" when they detect a key fob nearby, malfunctioned.
Awan died from smoke inhalation, thermal injuries: Autopsy
According to The Washington Post, a Broward County autopsy report revealed Awan's cause of death to be "inhalation of products of combustion with a contributory cause of death of thermal injuries." Awan didn't sustain any internal injuries in the crash, Mirror reported. Based on this, Awan's family attorney Stuart Grossman argued that he could've been saved, had it not been for the door malfunction.
'Model S defects rendered car a death trap'
The lawsuit stated, "Tesla failed to warn users about the scope and extent of the defective and unreasonably dangerous conditions of the Model S." It added, "These Model S defects and others rendered it a death trap." Grossman also argued that these "overengineered" and "techy" cars "just love to burn" citing other instances of Tesla cars catching fire.
Similar lawsuit blamed Tesla for death of two teens
Notably, in October, a similar lawsuit blamed the death of two teens- Barrett Riley and Edgar Monserrat- on Tesla. The two died after the overspeeding Tesla crashed and caught fire. A third passenger was thrown from the car and survived. In April, a video of smoke billowing from a Tesla Model S at a Shanghai parking garage went viral and triggered an internal investigation at Tesla.