#ThatWas2018: Remembering some bright souls who left us this year
#ThatWas2018: Remembering some bright souls who left us this year
Written by
Aakanksha Raghuvanshi
Dec 31, 2018, 07:37 pm
3 min read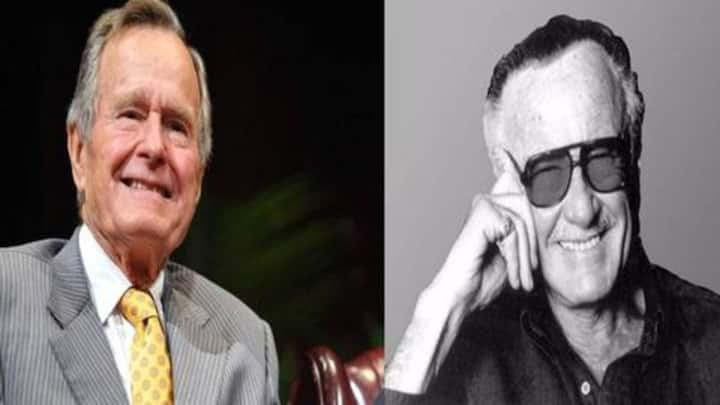 Some extraordinary people, who were known for their amazing stories (Stan Lee), their music (Avicii), their stupendous brains (Stephen Hawking), and their service to their nation (George HW Bush) died this year. The world mourned their loss but well, death is an inevitable truth of life. Here we pay homage to these icons who brightened our lives and left us forever, this year.
A life of service: 41st US-President George HW Bush (1924-2018)
Former President George HW Bush, who served as the 41st president of the United States from 1989-1993, died on November 30, in Texas, US. He was 94. The last World War II veteran to serve as US President, Bush was instrumental in guiding the States out of the four-decade long cold war. The leader died less than eight months after his wife Barbara's demise.
The creator of our favorite Marvel universe: Stan Lee (1922-2018)
Comic book maestro Stan Lee, credited for the creation of a significant chunk of the Marvel universe, including iconic characters like Iron Man, Spider-Man, and the Avengers, passed away on November 12, in California, US. The iconic writer revolutionized comics in the 1960s by merging unreal costumes and action craved by young readers with real characterization, witty dialogs, sophisticated plots, satire, and philosophy.
The scientist who redefined rules of reality: Stephen Hawking (1942-2018)
Iconic scientist Stephen Hawking, whose ideas shaped modern cosmology, died on March 14 at his home in Cambridge, UK. He was 76. One of this era's most brilliant minds, the Briton was known for his work on relativity and black holes. Hawking was diagnosed with motor neuron disease at Cambridge, but that didn't stop him from revolutionizing the field of science.
Co-founder of Microsoft, business magnate, philanthropist: Paul Allen (1953-2018)
Paul Allen, the man who started Microsoft alongside Bill Gates, passed away on October 15 in Washington, US. He was 65. Allen and Gates, childhood friends with curious minds, started Microsoft in 1975 but after 8 years, Allen left the company as an employee but remained on its Board till 2000. After leaving Microsoft, he started an investment company called Vulcan in 1986.
The 'Wake Me Up' EDM star: Avicii (1989-2018)
Swedish DJ Avicii, known for his radio hits like Wake Me Up and Hey Brother, died on April 20, in Muscat, Oman. Avicii, whose real name was Tim Bergling, was 28. Though the cause of his death was not released officially, his family hinted towards suicide saying he "struggled" with the meaning of life. Avicii had collaborated with Madonna and Coldplay, amongst others.
Former First Lady of the US: Barbara Bush (1925-2018)
Former US First Lady Barbara Bush died on April 18 in Texas, US. She was 92. Barbara, the wife and mother of two former presidents, George HW Bush and George W Bush, respectively, had founded the Barbara Bush Foundation for Family Literacy to help underprivileged parents and children learn to read. An active civil rights advocate, Barbara was known for her straightforwardness.
Former US Senator, Vietnam war-hero: John McCain (1936-2018)
Former US Senator John McCain passed away on August 25 in Arizona, US. He was 81. A war-hero, McCain spent close to six years as a prisoner of war during the Vietnam war. He was defeated by former US President Barack Obama in 2008 presidential race. A six-times senator, McCain supported the US army intervention in foreign lands after the deadly 9/11 attack.