Russia-Ukraine crisis: Negotiations are 'more realistic', says Zelensky
Russia-Ukraine crisis: Negotiations are 'more realistic', says Zelensky
Written by
Manzoor-ul-Hassan
Mar 16, 2022, 04:26 pm
4 min read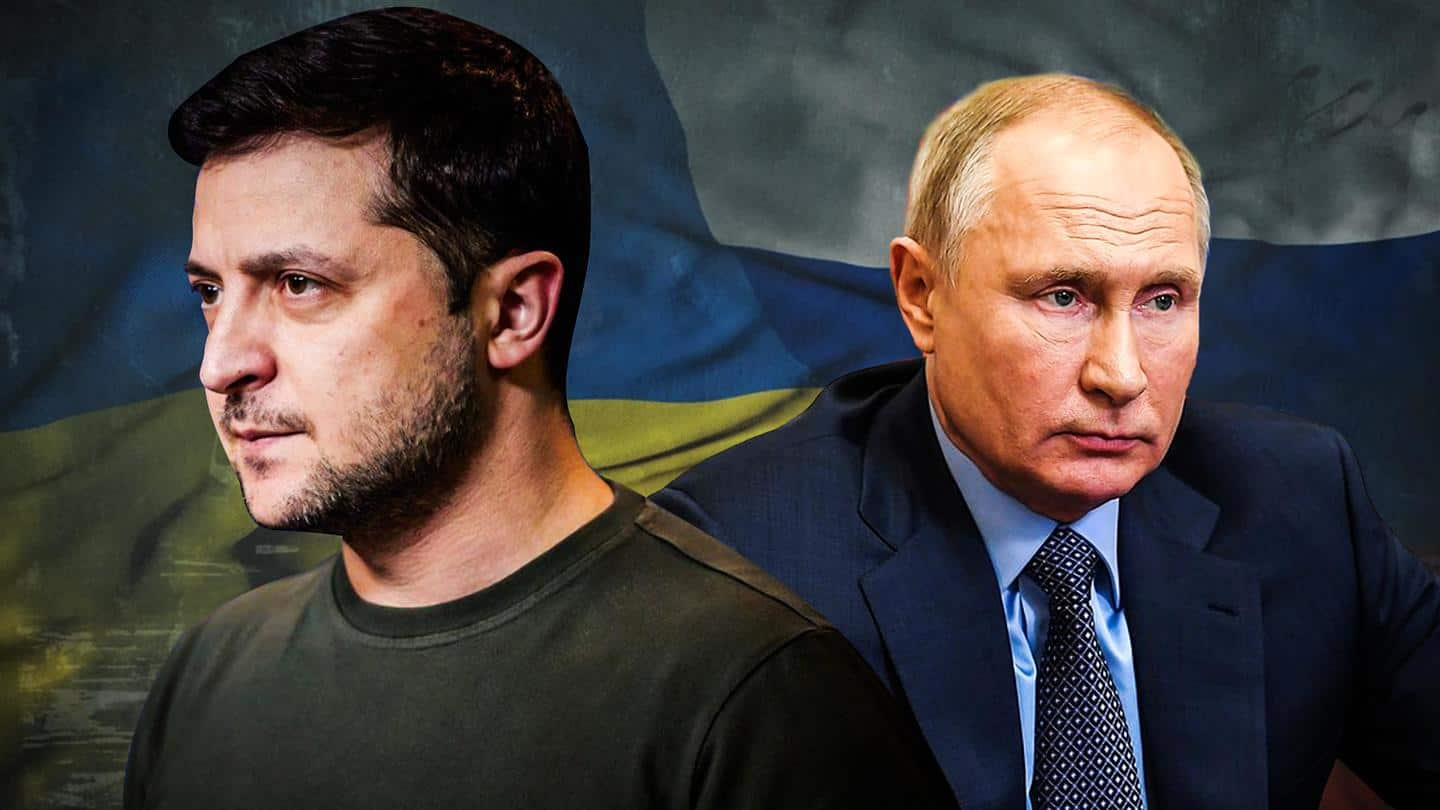 Ukraine has signaled a positive outcome of peace talks with Russia as the war between the two countries entered the 21st day on Wednesday. While Russia has been intensifying its bombardment on Kyiv in order to capture it, an estimated 20,000 residents left the surrounded port city of Mariupol via a humanitarian corridor. Here are the most recent updates.
Negotiations 'more realistic', says Zelensky
Ukraine's President Volodymyr Zelensky expressed optimism about the stances of Ukraine and Russia in impending peace talks, saying conversations seem "more realistic." "Meetings continue. I am told that the positions at the negotiations sound more realistic. However, more time is still needed for decisions to be in the interests of Ukraine," he said in a national address.
Some deals with Ukraine close to being agreed: Russia
Russian Foreign Minister Sergei Lavrov said that several deal formulations with Ukraine were nearing agreement, with neutral status for Kyiv being considered "seriously." However, he told RBC News that there were other concerns that were equally important, such as the use of the Russian language in Ukraine. He added that Russia sees no indication that the US is interested in ending the conflict.
103 children killed in Ukraine so far, says emergency service
At least 500 residents of the city of Kharkiv have been killed since Russia invaded Ukraine on February 24, Reuters reported quoting the emergency service. It said that Russia, however, denied the charge of targeting civilians. Meanwhile, the Ukrainian prosecutor general said that 103 children have been killed so far in the war in the country in Russian attacks on 400 educational establishments.
Russia exits Council of Europe
On Tuesday, Russia formally exited the Council of Europe, the Strasbourg-based human rights organization. Russia's departure from the organization may portend the country's expulsion as a result of its invasion of Ukraine. The leader to the Council of Europe's Parliamentary Assembly, Pyotr Tolstoy, handed over a letter from Russia's long-serving foreign minister, Sergey Lavrov, to the Council of Europe's Secretary-General, Marija Pejcinovic Buric.
Here are the latest sanctions on and by Russia
The US slapped sanctions on Russia over charges of committing grave human rights violations. Russian energy sector investments, luxury goods exports to Russia and steel imports from Russia are all prohibited by the European Union. With $117 million in interest on two dollar-denominated sovereign bonds due Wednesday, Russia's sanctions-ravaged government is on the verge of its first foreign financial default since the Bolshevik revolution.
Russia could stage a false flag operation in Ukraine: NATO
Russia could stage a "false flag operation in Ukraine", said NATO chief Secretary-General Jens Stoltenberg adding that Moscow might use chemical weapons in the operation. He further warned that "any use of chemical weapons would be a violation of international law."
Over 13,800 Russian soldiers killed so far, claims Ukraine
According to a statement released by the Ukrainian military on Wednesday, around 13,800 Russian soldiers have been killed since Moscow started its invasion of Ukraine last month. An additional 430 tanks, 1,375 armored combat vehicles, 190 artillery systems, and 108 helicopters were destroyed, according to the figures provided by Ukraine's ministry of defence, according to a Guardian report.
US to provide $800 million security assistance to Ukraine
According to a White House official, US President Joe Biden will provide $800 million in fresh security assistance to Ukraine on Wednesday. He said, "the total (help) announced in the last week alone amounts to $1 billion," according to AFP, citing an unidentified source.
ICJ to rule on Ukraine invasion
Ukraine's urgent appeal for Russia to stop its invasion is expected to be decided by the International Court of Justice (ICJ) on Wednesday, with Kyiv saying that Moscow falsely accused Ukraine of genocide to justify the conflict. Ukraine had filed an urgent plea immediately after Russia's attack with the Hague-based court The court will rule on Kyiv's request to demand Russia halt its invasion.
Zelensky to address US Congress today
Ukrainian President Volodymyr Zelensky will give a speech to the United States Congress on Wednesday at 6.30 pm IST. Zelensky's live-streamed address to the US Congress will be one of the most important in a one-of-a-kind and highly visible strategy in his fight against Russia.