#ThatWas2018: The highs and lows of the Trump presidency
#ThatWas2018: The highs and lows of the Trump presidency
Written by
Shiladitya Ray
Dec 30, 2018, 09:14 pm
4 min read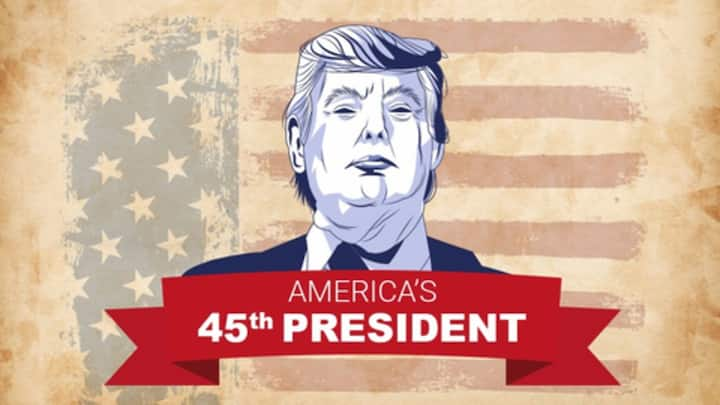 US President Donald Trump has ridden on waves of approval and disapproval since he came into power in 2016. 2018 marked the mid-point of his presidential tenure, and it is definitely not ending on a great note. Before going into predictions about what 2019 holds for President Trump, here's a look at the highlights (and lowlights) of 2018 for the mercurial US President.
Government shutdowns in 2018 brings to light existing tensions
The mid-point year of the Trump presidency indeed brought to light growing tensions between the current administration and the Democrats. Notably, the year saw three government shutdowns owing to disagreements within the US Congress. While the January shutdown and the February shutdown last three days and a mere few hours, respectively, the ongoing shutdown could last well into January 2019.
A storm about Stormy Daniels is still blowing over
Following a rocky start to the year, February indeed turned out to be...stormy for the US President. In February, Trump's personal lawyer, Michael Cohen said that he had paid $130,000 to pornographic actress Stormy Daniels, who claimed to have had an affair with Trump. Subsequently, in August, Cohen suggested that he had been directed by Trump to pay hush-money, something that was affirmed by federal prosecutors months later. Trump, however, has denied being involved. Meanwhile, Cohen's admission to a litany of other crimes saw him being sentenced to three years' prison.
Trump's stand on immigration hasn't earned him many friends
While a storm was blowing over Trump's personal life over the Stormy Daniels issue, the President also faced severe criticism at home over his immigration policy. At one point in the year, Trump's 'zero tolerance' immigration policy saw migrant children being separated from their families at US borders. After backlash, the order was withdrawn, but tensions remain high at the US-Mexico border over the influx of migrants and Trump's proposed border wall.
Some major contentious foreign policy decisions taken by Trump
Meanwhile, on the foreign front, Trump found himself involved in a variety of contentious decisions, including imposing import tariffs on Chinese goods and even on steel and aluminium from allied nations. Trump was also heavily involved in the US pulling out of the Iran nuclear deal, the shifting of the US embassy in Israel to the disputed territory of Jerusalem, and withdrawing US troops from Syria.
Trump lost several respected members from his administration
The year also saw a slew of resignations from the Trump administration. In February, White House communications director Hope Hicks resigned, alleging that her job required her to tell white lies. Hicks' exit was followed by Secretary of State Rex Tillerson, and National Security Adviser HR McMaster. However, the most high profile departures were those of Attorney General Jeff Sessions, and Defense Secretary Jim Mattis.
Trump managed to tilt the US Supreme Court's balance
Yet, while the scene was rocky on the domestic front, Trump managed a massive victory when his nominee to the Supreme Court, Brett Kavanaugh, was accepted. While Kavanaugh's nomination had initially been marred by sexual harassment and assault allegations by multiple women, Kavanaugh ultimately made it to the US Supreme Court, thereby tilting its balance in favor of the right for an entire generation.
The Trump-Kim meeting was a first in Washington-Pyongyang relations
In terms of diplomacy too, while Trump receded on several fronts, he secured a historic meeting with North Korean Supreme Leader Kim Jong-un. After beginning the year taunting each other, and after some impromptu cancellations of their meetings, Trump met Kim in June, marking the first-ever meeting between a US President and a North Korean Supreme Leader. Despite long-held animosities, Trump told a rally, "We fell in love."
The biggest blow to Trump was the mid-term elections
Despite the highs and lows, the biggest blow to the Trump presidency came in November during the US mid-term elections. While the Republicans went on to maintain and consolidate their majority in the Senate, then Grand Old Party lost its majority in the US House of Representatives, thereby allowing Democrats some power to stymie President Trump's plans.
Expect an even more confident Trump in 2019
Given the aforementioned developments and events, it would be safe to say that 2018, for Trump, was indeed a mixed year, a year that was marked by instability, dissent, and a host of impulsive decisions. That said, one thing is clear: President Trump has grown more confident about his own instincts, and is choosing to leapfrog his advisers to take executive decisions. What does 2019 have in store? Could Trump get another term? Well, we'll have to wait and see.