OnePlus Nord Watch review: Limited features but lots of finesse
OnePlus Nord Watch review: Limited features but lots of finesse
Nov 03, 2022, 10:17 am
10 min read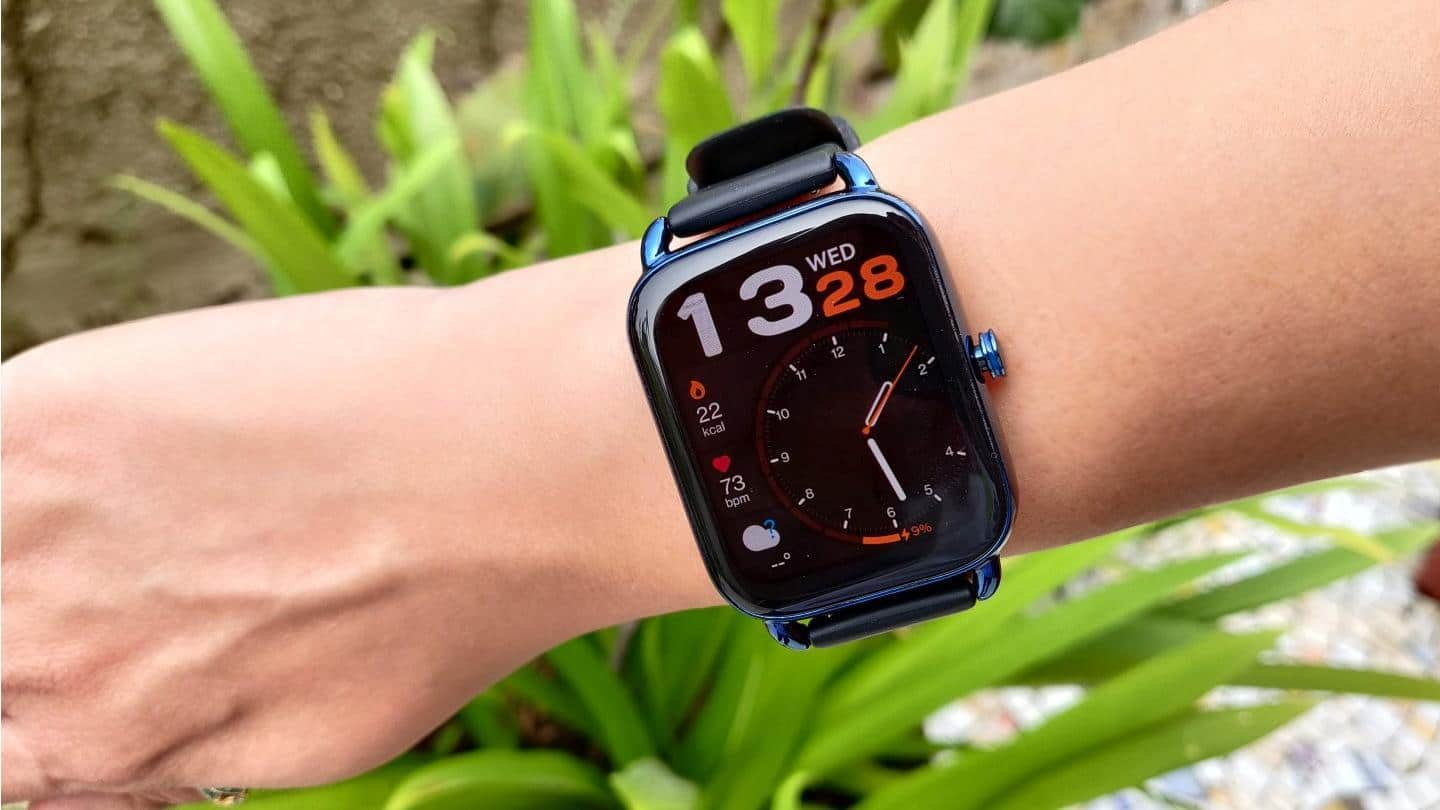 The Nord sub-brand continues to grow. And by that I do not mean the excessive number of Nord phones released this year with multiple suffixes. From phones to earphones to now a fitness watch, the portfolio just got more interesting. The idea behind Nord was to have competent yet affordable products, and the Nord Watch that we have for review today adheres to that philosophy. Budget watch brands these days look to pack their products with way too many features, some of which are either undercooked or there just to bloat the spec-sheet. OnePlus has taken a slightly different route with this product, wherein it skips a few features but adds an extra coat of polish to what's available. Time to check what's available, what's missing, what works and what does not in the OnePlus Nord Watch.
A neat looking watch that's comfortable around the wrist
The OnePlus Nord Watch design is quite neat, if not unique, with a rectangular frame and rounded edges that blend into the touchscreen display. A physical button is present on the right. The frame has a glossy finish, while the base of the watch has a matte finish; the opposite could have worked too. You get two shades to choose from - Midnight Black and Deep Blue, and they both look quite stylish. The black variant doesn't exactly have a black frame, but a dark shade of blue that goes well with the black straps. The default silicon straps have a cool texture to add to the style quotient. The locking mechanism is standard with a stainless steel buckle and hoops. You can wear it for long hours as the straps do not cause sweating or skin irritation. They are replaceable, but you may have to get straps specific to this watch and not any generic ones with similar width. The watch tilts the scale at 50 grams with straps, which may seem a little heavy on paper in comparison to some other watches, but doesn't feel heavy at all after you wear it. The build quality is quite rugged and the watch flaunts IP68 rated dust and water resistance. While you can wear it in the rain without a worry or even occasionally clean it with water, do not enter a swimming pool with it as it is not swim-proof.
Excellent AMOLED display but limited watch-face slots on the watch
The Nord Watch has one of the best displays in the segment. It has a sharp 1.78-inch AMOLED display with a resolution of 368x448 pixels, 500 nits brightness and 60Hz refresh rate. The colors truly pop on this screen and images and text look sharp, courtesy of its 326ppi pixel density. The product page doesn't mention the presence of a scratch resistant glass or oleophobic coating, but there were no scratches on the screen after a few weeks of wearing it. The smudge marks weren't absent but not excessive either. The screen is clearly legible outdoors under bright sunlight at close to 80% brightness. When indoors, you can drop it to 50%. You get auto and manual brightness controls, and even better, you get a proper brightness control slider like on smartphones rather than the 5 point adjustments available on most budget fitness watches. You can flick your wrist or press the physical button to turn on the screen. The flick gesture is responsive and has the right sensitivity. One can (and should) turn it off during sleep hours. The watch-face collection is pretty decent, and you get close to a hundred of them for this watch in the companion app. You can choose from digital, analogue, data-heavy and animated faces (they drain battery faster). Having said that, you get to choose only four faces of your liking as that's the maximum number of slots available on the watch, in addition to the default face that cannot be removed or replaced.
Polished user interface, basic but uncluttered companion app
The Nord series doesn't just get a newer product category under its belt but also a new companion app for the OnePlus Nord Watch. You need to download the N Health app, and sync this watch with it over Bluetooth; the process is hasslefree. The app is mainly used for setting your physical attributes and fitness goals, viewing daily/weekly/monthly fitness reports and changing watch faces. Quite a few settings of the device are available on the watch itself, which reduces the extra reliance on the app. The N Health app is fairly basic when it comes to data analysis, but more importantly, it is easy to understand even for a new user. The summary of your fitness activities, sleep patterns and health parameters like heart rate, blood oxygen level and stress are neatly presented. It does give you further breakdown of certain things, but not all. Just like the app, the user interface of this watch is quite simple too. Even better, it is fluid and with a great degree of finesse. The UI is smooth with nice use of colors, with some cool animations and transition effects thrown in. Swiping down on the home screen gives you access to quick settings, while swiping up shows notifications. You can swipe left or right to browse through various widgets that show activity progress, heart rate, blood oxygen level, sleep data and more. The physical button when pressed on the home screen brings up all the watch functions, and on all other screens, it serves as a back button.
Fairly reliable fitness tracking, but lack of GPS limits accuracy
This watch has a heart rate monitor and a SpO2 sensor. If you keep your hand steady for 30 seconds, you get a fairly accurate oxygen score, which is probably a point lower than an over-the-counter oximeter. But this is supposed to provide just a broad indication and not serve as clinical equipment. Similar to newer Amazfit watches, you also get one tap measurement for three health parameters. It measures your heart rate, oxygen level and stress level at one go in 75 seconds. Sleep tracking works well here but misses an important parameter. It tracks the quantum of light sleep, deep sleep and awake time, but there is no REM sleep option. It considers it as a part of deep sleep it seems, as that figure was a lot larger than usual when I wasn't sleeping any longer or better. The app provides you with a sleep score based on the quality and quantity of sleep. Stress monitoring, menstrual cycle tracking, assisted breathing exercises and sedentary reminders are available on the OnePlus Nord Watch. This watch claims to track 105 different activities ranging from walking, running, cycling, free training and certain dance types. It can also monitor popular sports like cricket, football, table tennis, badminton etc. This watch doesn't have built-in GPS and that directly affects the distance tracking. The steps count during an outdoor walk was reasonably accurate but the distance calculated was approximately 12% lower than actual. That quantum of error is quite high even for a watch without GPS. But that's not the only error I spotted on this watch. At times it also reports a few false steps, especially during a train or a car journey. The false steps issue wasn't as prevalent in day to day activities or during walks or jogs. So if you do not want freebies, just note the steps count before you board a vehicle, and subtract the extra steps.
A handful of useful features and very good battery backup
Though this is not a smart watch, it does offer a bunch of useful features. Before we get there, a quick word on the one it misses out on. It does not support Bluetooth calling that you get on several budget watches these days, so you cannot dial or accept calls directly from the watch. It does inform you about incoming calls, but only lets you silence or reject them. You can choose to receive notifications and messages from most apps on your phone. Of course, you cannot reply back, but none of the watches in this segment let you do that. The text looks sharp and properly legible on the watch screen. Other handy features available on the OnePlus Nord Watch include music playback controls, remote camera shutter, calendar, calculator, alarm, weather info and a couple more. OnePlus states a battery life of 10 days for the Nord Watch under normal usage scenario. In reality the watch did a lot better than that with a similar usage pattern, give and take a few things. With a good four hours of weekly workouts, notifications limited to mail and SMS, and sleep tracking every alternate night among other things, it lasted for two full weeks, which is impressive. Its standby time is equally impressive. The battery reserves only drop by a percent or two if you don't wear the watch at all for the entire day. At that rate it can last way more than OnePlus' estimate of one month. Not that one would leave it idle for that long, but not losing much of the reserves on days you don't use it is a good feeling. The company bundles a magnetic pin charger that charges the watch fully in about 90 minutes.
Not the most feature-rich, but loads of finesse on offer
The OnePlus Nord Watch is available for purchase for Rs. 4,999 with a one year warranty. It may not be the most feature-rich watch in the segment, but barring a couple, it has most of the stuff you expect in a budget watch. You get a neat looking fitness watch with arguably the best AMOLED display in the segment, a polished UI, uncomplicated companion app, generally reliable health and fitness tracking (except distance) and very good battery backup under Rs. 5,000. It does miss out on a built-in GPS, 5ATM water resistance and REM sleep tracking though. Bluetooth calling I can still live without. Time to talk about the competition, and the first one that comes to mind is the Realme Watch 3 Pro that sells for the exact price and offers almost everything that the Nord Watch does, along with built-in GPS and REM sleep tracking. But its battery backup is far from impressive and almost a third of this OnePlus product. If you want all the features of the Nord Watch as well as some it misses, you need to increase your budget by another thousand Rupees and opt for the newer version of the Amazfit GTS 2 Mini. That too has an impressive AMOLED display (a little smaller though) along with built-in GPS, 5ATM water resistance, comparable battery backup and an even better design and companion app. That would be money well spent. However, if you are looking for something south of Rs. 5,000 with a good degree of finesse and solid battery backup, the OnePlus Nord Watch is a good choice.
OnePlus Nord Watch review: At a glance
Review:
The Nord Watch does miss out on a couple of features that the competition offers in this segment, but its screen quality, battery backup and style quotient are second to none under Rs. 5,000.
Good Stuff:
Stylish design, good build quality
Comfortable to wear for long
Impressive battery backup
Simple and smooth user interface
IP68 ingress protection (but not swim-proof)
Bad Stuff:
No built-in GPS, Bluetooth calling
Distance tracking is not accurate
REM sleep tracking is not available