Samsung Galaxy Watch4 Classic Review: Best smartwatch for Android?
Samsung Galaxy Watch4 Classic Review: Best smartwatch for Android?
Oct 27, 2021, 11:38 am
10 min read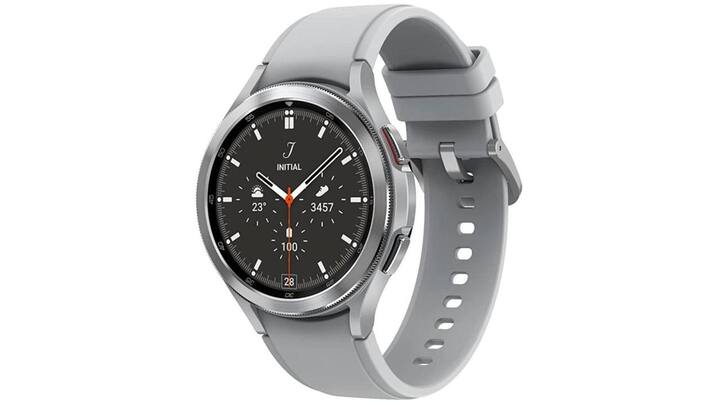 There are dozens of fitness watches in India but hardly any smartwatches. Today, we got our hands on one of the most recent and popular smartwatches around, the Samsung Galaxy Watch4 Classic. This series is crucial for Samsung too as they look to jump from their homegrown Tizen platform to Google Wear OS. This watch promises a blend of unique and useful features pertaining to both fitness and productivity. Despite that, is it worth paying several times the cost of a good fitness watch? We will soon find out. But, before we head there, in case you are wondering about the major difference between a smartwatch and a fitness watch, here's a quick word on that. The primary difference is that smartwatches let you install more apps on the watch and let you perform tasks that you would otherwise require your phone for - managing calls or replying to messages or emails, for instance, among other things. Both watches have fitness tracking options, and the accuracy of captured data has nothing to do with whether it's a smartwatch or not, but with the sensors and software used. Now onto the Samsung Galaxy Watch4 Classic!
Classy design, sturdy build but on the heavier side
The Samsung Galaxy Watch4 Classic has a sturdy build, thanks to its stainless steel body. At 52gm without straps, it is a bit on the heavier side. The silver variant that we reviewed looks elegant with a brushed metal body. However, the silicone straps feel a little out of place. They aren't bad quality by any means but don't go well with the design language here. Probably leather or synthetic leather would have gone well with the classy theme. Also, the default straps are quite large and not meant for those with slim wrists. But worry not, this watch uses straps with standard 20mm width, and in case you do not like the bundled pair, you can always replace them with any Samsung or third-party straps of the same width. The locking mechanism is fairly simple, and you should be able to change the straps yourself without breaking a sweat. The Galaxy Watch4 Classic has a 46mm dial with a rotating bezel that works like a scroll wheel; something unique and extremely fun to use (and to show off). You get two physical buttons along the right edge of the watch that not only serve as Back and Home keys, but also double up as pins to measure body composition - more on that later. The Samsung BioActive sensor found at the back of the watch combines the heart rate sensor, SpO2 sensor and a few more to track various fitness parameters.
Excellent AMOLED display, wide variety of sensors for fitness tracking
The Samsung Galaxy Watch4 Classic has a round Super AMOLED display with a resolution of 450x450 pixels. A layer of Corning Gorilla Glass DX protects it against scratches. The display is sharp, vibrant and bright enough to be clearly legible under bright sunlight. It supports always-on display as well as flick-to-wake gesture, which is perfectly responsive. You can press one of the physical buttons to turn the screen on too. This smartwatch strives to take some load off your phone. Given that it's based on Google Wear OS 3.0, it lets you install quite a few apps on the watch and do a bunch of things from the watch screen. You can answer calls, reply to messages or emails and also navigate using Google Maps. Google Assistant is a notable absentee here, though. You do get a voice assistant, but it's Bixby. It's a Samsung product after all. This watch flaunts a multitude of sensors -- Accelerometer, Barometer, Gyroscope, Geomagnetic Sensor, Light Sensor, Optical as well as Electric Heart Rate Sensors, to name a few. Blood pressure measurement and ECG are also listed in the specifications sheet, however, those features aren't enabled in India yet. Also, some features are limited to Samsung phones as of now. This watch does have a rather interesting feature that I don't remember seeing on a watch till date. It can measure your body composition like BMI, skeletal mass, body fat, body water content and more. It can be done by simply placing two fingers on the physical buttons while the watch passes a very mild current through your body to measure the composition. In addition to that, you have your usual fitness and sleep tracking along with monitoring your stress and blood oxygen levels. There is a variety of workout modes and it auto-detects a few too. The watch is IP68-rated as well as 5ATM water resistant and can be worn for a swim.
Simple user interface, good companion app, but one too many
As I mentioned earlier, the Samsung Galaxy Watch4 series makes a transition from Tizen to Google Wear OS 3.0. If you have used a Samsung watch based on Tizen before, you will notice a handful of similarities as some of the UI elements have been ported here, which is not a bad thing. However, unlike most Wear OS based watches, you cannot sync this watch with the Wear OS app. Nor is there support for iOS. Even worse, you need to install two apps to use this watch -- Galaxy Wearable and Samsung Health. While the former is used to sync the watch with the phone and set it up, the latter gathers and processes your fitness data. Ideally a single app should have managed both. The Samsung Health app has an uncluttered interface and is fairly easy to use even for a novice. All the fitness data is neatly presented along with a granular breakdown of your workouts. The phone UI is almost as easy as using an Android phone. Swiping down on the home screen brings up the quick settings menu, and swiping up opens the app drawer. Rings a bell? The installed apps are neatly arranged and have sizable circular icons to tap on. Right swipe gesture on the home screen gives you access to notifications, while you can browse through a bunch of widgets like daily activity progress, heart rate, oxygen and stress level by swiping left. You can use the touchscreen or the rotating bezel to scroll through the widgets or menus. The tactile click that you get when turning the bezel is extremely cool. Since we are dealing with a Wear OS watch here, you get access to popular Google services as well as Play Store that lets you install additional apps on the watch to reduce the dependency on your smartphone.
Reliable fitness and sleep tracking with detailed analysis
Before I discuss the performance, a word on the specifications. The Samsung Galaxy Watch4 Classic is powered by an Exynos W920 dual core processor and packs 1.5GB RAM and 16GB of internal storage, of which about 7GB is available for more apps, data and storing music. Wireless connectivity includes Bluetooth 5.0 and dual band Wi-Fi. You also get a LTE variant of this watch but we received the standard variant itself for review. And yes, we are still talking about a smartwatch and not a smartphone, in case you got confused. The overall performance of the watch is quite good and the tracking is reliable. The heart rate monitor provides accurate results and the SpO2 readings are probably 1% lower than over-the-counter oximeters, which is perfectly acceptable. The body composition readings serve as a good frame of reference, but not something you need to indulge in daily. The sleep tracking seems to be on the money with a proper breakdown of different sleep stages. It can also track the blood oxygen level every minute while you are asleep but at times it cannot get a reading if you are shifty in bed; it consumes extra battery too. While the sleep tracking is good, wearing this watch to bed isn't the most comfortable experience, given its size and weight. The watch can track about 90 workouts ranging from the usual suspects like walking, running, strength training and some sports. The activity tracking is quite good with the pedometer recording the right number of steps on most occasions. The GPS tracking is spot on too as long as you are in the open. The watch can auto-pause and auto-resume workouts which is a good option if you like taking frequent breaks during workouts. But during outdoor walks, it takes a bit longer to resume, and the total reported distance can be a little lower than what you actually cover.
Lots of smart features but poor battery backup
As expected, the smart features work well on this watch. It provides a smooth and a highly refined experience for the Android platform. The watch has a built-in microphone and a more than decent speaker that's good enough to receive calls on. It is not great for music though. Speaking of music, you can store some on the watch itself and use Bluetooth earphones to listen to it. The battery backup on this watch is far from impressive and can serve as a major deterrent for potential buyers. The Samsung Galaxy Watch4 Classic lasts for about 27 hours on an average on a full charge, and cannot go beyond a day and a half even without the use of GPS or SpO2 monitoring during sleep. That has been the Achilles' heel of the majority of smartwatches, and not much seems to have changed over the past year or two. Compare this battery life figure with that of fitness watches like Amazfit GTR 2 or even a Mi Watch Revolve Active that give you anything between 10 days to upwards of two weeks of battery backup. Now you know what I am talking about! You get a wireless charger with this Samsung watch that takes close to two hours to charge its 361mAh battery from 0 to 100 percent. Fast charging isn't an option here either.
Refined smartwatch, but price and battery backup may limit appeal
The Samsung Galaxy Watch4 Classic carries a price tag of Rs. 34,999 with a one year warranty. If you are looking for a feature-rich smartwatch to pair with an Android phone, and price is not a factor, the Galaxy 4 Classic is one of the best in India currently. However, this is not an easy sell for one and all. If long battery life is one of your top requirements, this is certainly not a watch for you. You would be better served by a good fitness watch like the Amazfit GTR 2 that provides you with most of the popular fitness features one would need, along with the ability to receive calls on the watch and support for Alexa. It not only costs a fraction of this Samsung watch but gives you 10 times longer battery backup. Of course, you will get fewer smart features and no option to install more apps. If you want all the smart features at the cost of battery backup but have a slim wrist, you also get a 42mm variant of the Samsung Galaxy Watch4 Classic for a few thousand bucks less. If you are willing to let go of the rotating bezel, the Samsung Galaxy Watch4 (non-Classic) can do most of the things the Classic variant can for a lot less money. As always, choose one depending on your requirements.
Samsung Galaxy Watch4 Classic review synopsis
Review:
The Samsung Galaxy Watch4 Classic provides a refined smartwatch experience at a premium, but still doesn't come close to matching the superior battery backup of more affordable fitness watches.
Good Stuff:
Premium stainless steel body, rotating bezel
Access to multiple apps via Google Play Store on watch
Simple and smooth user interface, good companion app
Reliable fitness tracking
Can use third-party 20mm straps with this watch
Bad Stuff:
Need to install two apps for setup and fitness tracking
No Google Assistant, no support of iOS yet