Boat Rockerz 330 Pro Wireless Neckband review: Should you buy?
Boat Rockerz 330 Pro Wireless Neckband review: Should you buy?
Jan 31, 2022, 06:57 pm
7 min read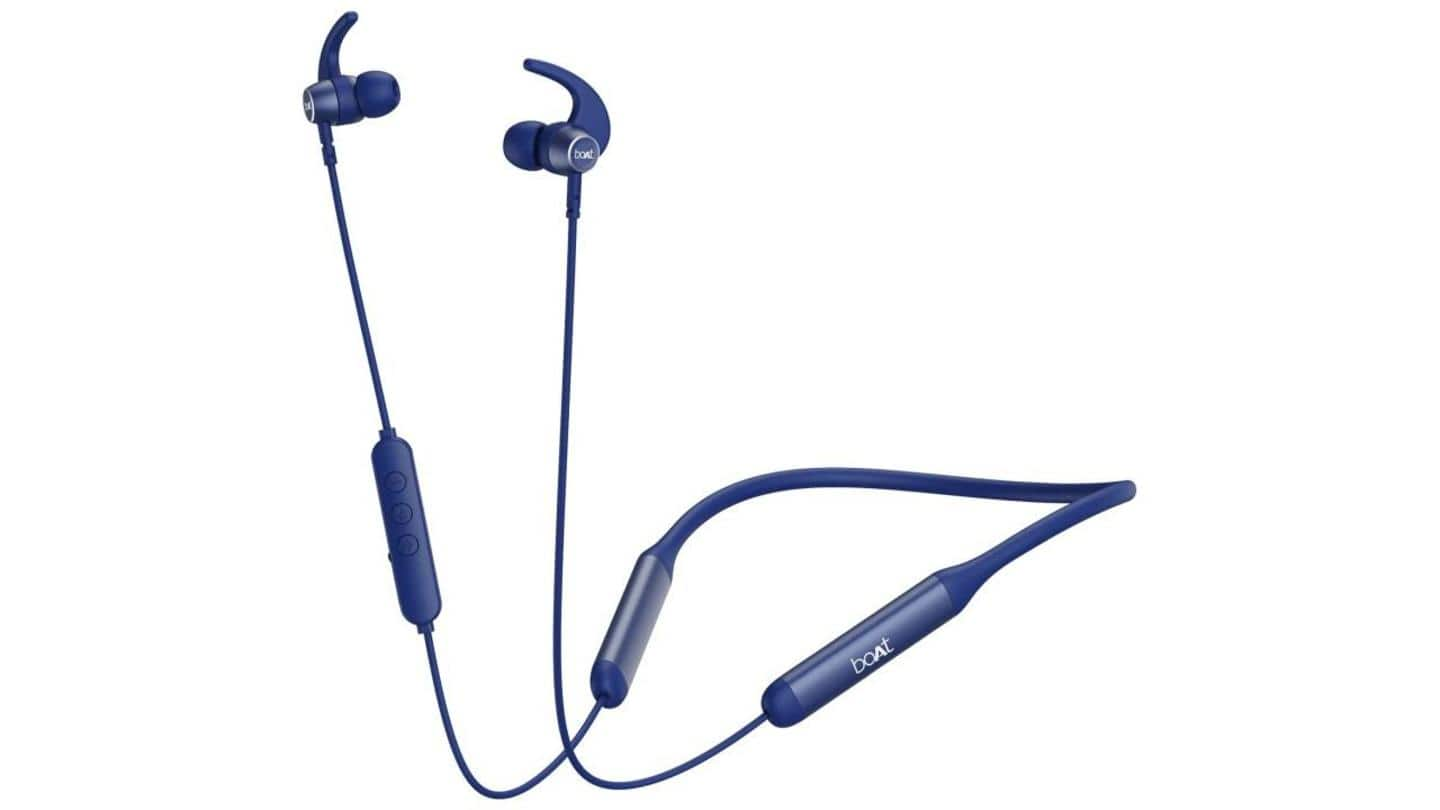 Last year we reviewed the Boat Rockerz 330 wireless neckband and quite liked the overall package. Among other things, it offered close to 30 hours of battery backup. Its recently-launched Pro variant that we have reviewed here claims to double that figure. Yes, that is close to 60 hours of battery backup that the company is claiming. There were a few shortcomings in the non-Pro version that the company had ample time to address. Let us find out if they have done that here or if the Boat Rockerz 330 Pro is just the 330 with extra battery reserve.
Good build quality and comfortable to wear for long hours
The build quality of the Boat Rockerz 330 Pro is as good as that of the 330 and perfectly acceptable for the segment. If anything, the finish seems marginally better. The wireless neckband is quite light despite the higher battery capacity. The soft, rubberized neckband sits comfortably on the neck without any skin irritation and merges into two metallic modules that host a 150mAh battery each. Unlike the Rockerz 330, the controls aren't placed on one of those modules, and you have a separate in-line remote for volume and playback controls. The pre-installed medium sized ear-tips provide good passive noise isolation and there are two more pairs of silicone tips in the bundle in case medium isn't the right size for you. The earbuds fit snugly in the ear and the fins provide a reassuring grip, however, they attract a bit of dust and need to be cleaned frequently. This neckband is IPX5 rated splash resistant, and can be worn during workouts or jogs without worrying about sweat damaging it. The Boat Rockerz 330 Pro is available in multiple color shades, and we got the dark blue variant for review which looks pretty neat.
Standard set of features with focus on battery backup
The in-line remote doesn't feel flimsy and the three buttons on it have just the right key press; not too stiff, nor too soft. You get a multi-function button and two volume control keys that also let you jump to next or previous tracks with a long press. The placement of volume up and down buttons continues to be counter-intuitive. When you wear the neckband, the volume up button is located at the lower end of the remote, while the volume down button is right at the top. You often end up performing the opposite function out of habit. These three keys let you access all the functions ranging from volume control, play/pause, skipping to next/previous track, answering/ending/rejecting calls, power and Bluetooth pairing. Each earbud is fitted with a 10mm dynamic driver. The back of the buds have magnetic tips, and again, they do not act as an on/off switch when separated or stuck; a feature we prefer to see on wireless neckbands. This neckband supports dual pairing and can be used with two devices simultaneously. Just like its predecessor, the Rockerz 330 Pro is compliant with SBC and AAC codecs, and doesn't opt for Qualcomm's aptX codec. However, the Bluetooth version has been upgraded to 5.2 from 5.0. And as you know by now, the battery cell has been bumped up to 300mAh to achieve 60 hours of audio playback on a full charge.
Easy to use, good wireless range but overly bass-heavy sound
Pairing this neckband with a smartphone is a straightforward process. Keep the multi-function key pressed for a few seconds to get it into pairing mode, find the neckband in the list of Bluetooth devices on the phone and pair it. The wireless range is as advertised with the neckband retaining a strong connection up to 10 meters without a clear line of sight, and a little over half of that with a concrete wall in between, which is perfectly acceptable. If you remember, the Rockerz 330 used to sound different on SBC and AAC codecs. And as weird as it may sound, unfortunately, that unintentional bug doesn't exist on the 330 Pro. Due to that bug, you had a choice between a bass heavy sound profile on AAC codecs and a more balanced sound on SBC, thus catering to two different tastes. The Rockerz 330 Pro sounds the same on both codecs, and the output is too bass heavy. While a lot of users prefer extra bass, there is just too much of it here, and it isn't tight either. The boomy sound impacts the mid-range frequencies big time and there is noticeable auditory masking. As a result, certain instruments as well as vocals do not sound as sharp as they should. The highs are decent but roll off too soon, making the output sound a bit soft and low on details. The soundstage isn't too broad but acceptable for the segment. These earphones are sufficiently loud at 60-70% volume level, and the sound starts to distort at volume higher than 80%. The latency is fine when watching videos, and there was no noticeable delay between the audio and video. Again, the bass dominates there too but the dialogue clarity is a little better than vocal clarity in music.
Unbelievable battery backup, very good call quality
The call quality was quite good on the Boat Rockerz 330 and remains impressive on the 330 Pro too with both parties perfectly audible to each other. When outdoors, it suppresses most of the ambient noise quite well, and even the sound of vehicles passing by from close quarters was barely audible to the person on the line. This is impressive for a budget neckband. Probably, the company should advertise this more than the 'Boat Signature Sound.' The battery backup of the Rockerz 330 Pro is meant to be its piece de resistance, and it delivers in style. While I couldn't accurately measure the battery backup to the last hour, we did manage to use this neckband for about three hours daily for two weeks, mostly for music and calling. That right there is over 40 hours of playback, and there was about 20% juice left in the tank after that. Thus the 330 Pro should last you anything between 45 to 50 hours of playback on a full charge at 70% loudness. This neckband also supports fast charging through its USB-C port. The company claims that 10 minutes of charging can give you about 20 hours of play time. We couldn't verify this claim because of time constraint, but what it essentially means is a 10-minute charge can keep the neckband powered for a week with a couple of hours of daily listening. It takes less than an hour to charge fully, which is impressive given its sizable battery capacity.
Great battery backup, good for calling, but average sound quality
The Boat Rockerz 330 Pro sells for Rs. 1,799 with a one year warranty. That makes it about Rs. 400 more expensive than its non-Pro variant. Should you buy the Pro then? If you are looking for a wireless neckband with insanely high battery backup and primarily for calling, you cannot go wrong with the Boat Rockerz 330 Pro. If sound quality is the top priority, then there are better options in this price bracket, unless you like excess bass. For starters, if you are willing to settle for about 25 hours of battery backup, you can save a few bucks with the Boat Rockerz 330 that also sounds better (on SBC codec). The other option is the newly-launched OPPO Enco M32 that sounds noticeably better and more detailed than the two Boats, and offers close to 25 hours of playback too. The Realme Buds Wireless 2 Neo with customisable sound and controls is also an option. That's not all! Closer to Rs. 2,000, you also face competition from some true wireless (TWS) earbuds that sound better than the Boat Rockerz 330 Pro. A couple of options come to mind straight away - Soundcore Life Note E and Realme Buds Q2, both frequently available online for Rs. 1,999. The former offers three sound profiles and close to 30 hours of battery backup, while the latter flaunts active noise cancellation and customisable touch controls. The options are aplenty, so choose wisely depending on your requirements.
Boat Rockerz 330 Pro Wireless Neckband: At a glance
Review:
The Boat Rockerz 330 Pro offers outstanding battery backup and very good call quality, but in terms of pure sound quality, this isn't the best option around Rs. 2,000.
Good Stuff:
Outstanding battery backup
Lightweight and comfortable
USB Type-C charging port with fast charging
Bluetooth 5.2, dual pairing support
Bad Stuff:
Audio distorts at high volume
Magnetic ear tips don't serve as a power switch
No significant improvements over 330 (non-Pro) other than battery life