Mi Portable Bluetooth Speaker (16W) Review: To buy or not?
Mi Portable Bluetooth Speaker (16W) Review: To buy or not?
Aug 24, 2021, 11:52 am
7 min read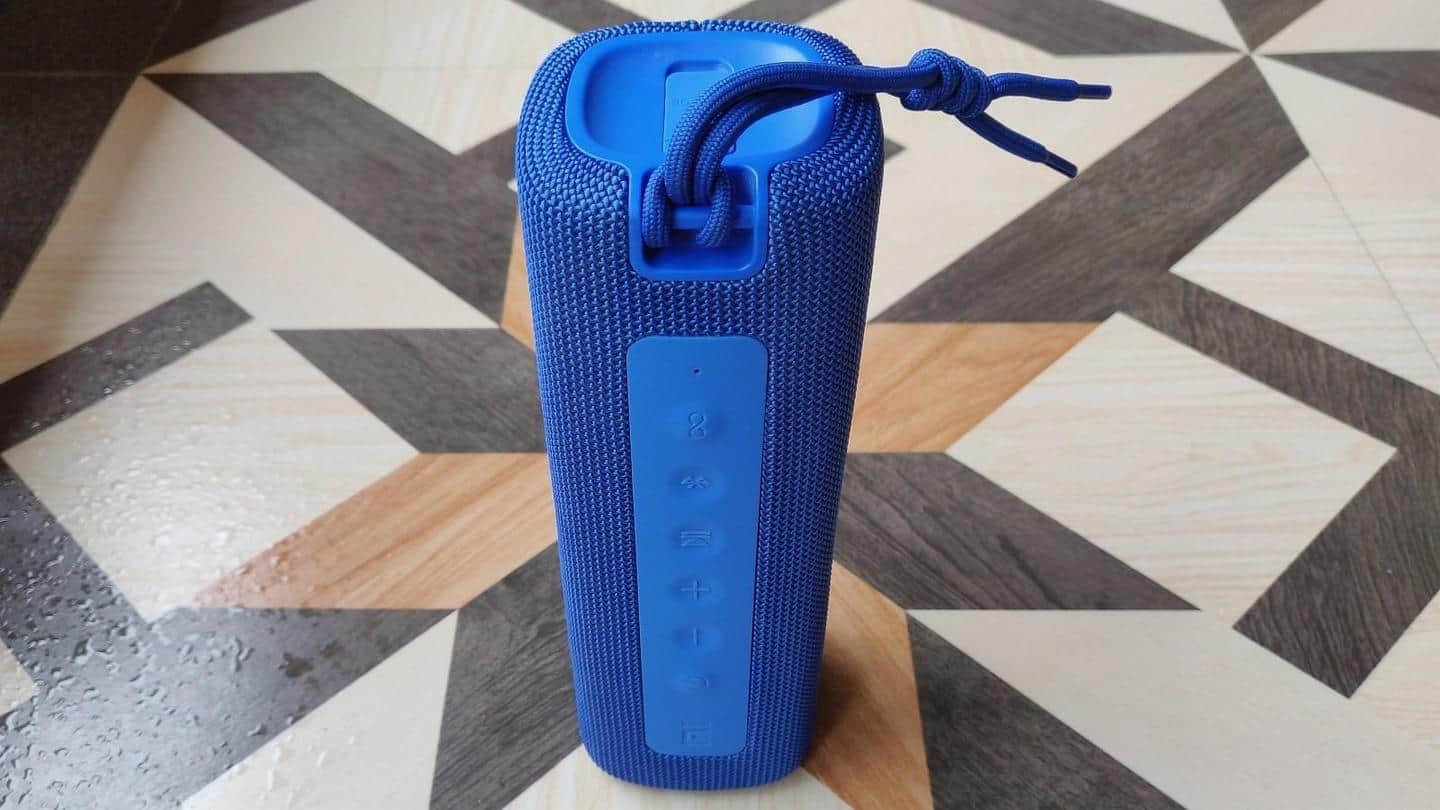 It's the monsoon season in India, and one feature you hope to have in most of your gadgets at this time of the year is moisture resistance. In fact, all the products we have reviewed so far this month have had some degree of ingress protection, and the device we have for you today is no different- the Mi Portable Bluetooth Speaker from Xiaomi. It promises powerful audio on the go and a bunch of interesting features at an affordable price-point. Let's get to know it better.
Rugged build, but a bit on the heavier side
There is no need to tell you what this product is about because its name 'Mi Portable Bluetooth Speaker' leaves nothing to imagination. We got the blue variant for review, and it looks quite lively. This rectangular Bluetooth 5.0 speaker with rounded edges has a rugged build and a good finish. It measures 21.3cm in length, and while it is portable, it's a bit on the heavier side weighing close to 800gms. Notably, it has anti-slip pads on the base to hold it in place on almost any surface. It is IPX7-rated water resistant, which means it can survive a dip in meter deep water for up to 30 minutes. Though I did not push it that far, I held it under a tap for a minute and used it in a light drizzle outdoors, and it survived both. You get a USB-C charging port, a 3.5mm AUX input on the side under a rubber flap along with a lanyard cable to carry it around. The fabric that covers the speaker tends to gather a bit of dust, but it's not too hard to clean. Now you know why I put it under the tap!
Features and specifications
Playback and volume controls on the speaker itself
The top of the speaker has all the necessary controls under a rubberized panel. You get a power button, Bluetooth pairing button, play/pause button and volume controls that also double up as buttons to go to the previous or next track with a long press. The volume control on the speaker syncs with the one on the source device (smartphone in my case), and you can control the audio playback without having to access your phone, which is a big plus. There is another button that lets you pair this speaker with one more of its kind wirelessly for stereo output and extra power. We didn't have a second unit to test this feature out, but it's a good option to have. Further, the Mi Portable Bluetooth Speaker has a pair of drivers each rated at 8W RMS and a passive radiator that deliver a total sound output of 16W RMS. The supported frequency range lies between 80Hz and 20KHz. You also get a built-in microphone for hands-free calling or summoning the voice assistant on the paired device. It has a 2,600mAh battery that is meant to last for up to 13 hours at 50 percent loudness (more on that a little later). Then, there is Bluetooth 5.0 for wireless connectivity and a 3.5mm AUX input to connect to a wired source.
Loud and punchy sound output
Now, pairing this Xiaomi speaker with your phone over Bluetooth is a straightforward process. All you need to do is turn on the speaker, press the Bluetooth button to get it into pairing mode, select it in the list of Bluetooth devices on the phone and you are good to go. There is a voice alert that informs you when the speaker is switched on, paired or disconnected. The speaker automatically turns off when there is no activity for a few minutes, or even if you pause the audio for too long. This audio product has a fairly powerful sound output and can get surprisingly loud for a mid-sized room. The output is quite balanced with good vocal clarity and more than decent sharpness in the highs. Unlike several budget portable Bluetooth speakers, the bass has a good presence here. Don't expect it to rock your furniture, but there is noticeable warmth in the lows, and you can feel a bit of thump in the bass. You can also hear a good amount of detail in audio across various popular genres of music. All in all, the sound output is quite impressive for its size and asking price. The sound output is loud enough around the 50-60 percent volume level in a mid-sized room, and it is perfectly audible even at 30 percent loudness when you want to indulge in some soft music without disturbing others. When outdoors, you will need to push it closer to 75-80 percent. Beyond that, it sounds harsh on the ear and isn't enjoyable.
The party can go on for half a day
The company doesn't specify a Bluetooth range in the specification sheet, but it worked perfectly fine without any signal drop when I kept the source and the speaker 10 meter apart without any obstruction in between. For all practical purposes, I expect the listener and the speaker to be in the same room, so the range shouldn't be an issue. Also, the speaker isn't that powerful to suffice for a 10 meter long room. As mentioned earlier, the Mi Portable Bluetooth Speaker has a 2,600mAh Lithium ion battery, which the company claims can last for 13 hours when listening at 50% volume. I can say this isn't much of an exaggeration as I managed to get 12 hours out of it at 50 to 60% loudness. That's good battery backup for a 16W speaker with an output as loud and punchy. It takes about three to four hours to charge fully using a standard USB-C charger. The speaker also has a built-in microphone that allows you to answer calls or summon the voice assistant. The call quality is pretty decent as long as you stay within a couple of feet from this device when speaking. The company flaunts a Dual EQ mode (two sound profiles) in the features list. Pressing play and volume up buttons simultaneously switches between Normal and Deep Bass equalizer presets. In reality, there is very little difference between the two, so we can simply pass it off as a marketing gimmick.
Ticks a lot of boxes at a competitive price
The Mi Portable Bluetooth Speaker (16W) is priced at Rs. 2,499 with a one year warranty, and is available on the company's e-store Mi.com and other popular e-commerce platforms. That's a good price for all the things it offers. You get punchy sound output with good details, and one that's loud enough for a mid-sized room. All the necessary controls are available on the speaker itself, and an IPX7-rated ingress protection gives you the assurance that it can survive a few spills or even a rain dance. As for alternatives, you have the Soundcore Motion Q with 16W RMS output, IPX7 rating and slightly better sound than this Mi speaker. However, it sells for Rs. 1,500 more. Other options in this price-range include the Breeze II and Breeze Plus from Portronics with comparable sound but half the battery life. Speakers from popular brands like JBL at this price-point (Go and Clip series) aren't as powerful, while the likes of JBL Flip sell in excess of Rs. 5,000. Long story short, the Mi Portable Bluetooth Speaker is a solid option under Rs. 3,000.
Mi Portable Bluetooth Speaker (16W) Review
Review:
The Mi Portable Bluetooth Speaker ticks a lot of boxes and offers good sound and battery backup at a reasonable price.
Good Stuff:
Playback and volume controls present on the speaker
Good battery backup; up to 12 hours
Option to pair two of these speakers for stereo sound
Bad Stuff:
A bit on the heavier side, weight-wise
Sounds harsh beyond 80% volume level
Dual EQ modes is just a gimmick