Micromax Airfunk 1 Pro Review: Could have been much better
Micromax Airfunk 1 Pro Review: Could have been much better
Dec 04, 2021, 01:28 am
8 min read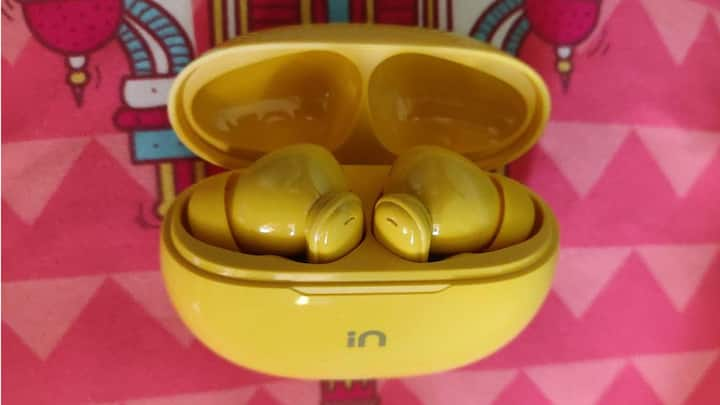 Our exploration of the budget true wireless (TWS) earphones segment continues, and it brings us to the Micromax Airfunk 1 Pro that, among other things, boasts of a feature that's rare in the sub-Rs. 2,500 segment -- Qualcomm aptX codec support. Of course, just being compliant with those codecs doesn't magically make them sound great. We have seen in the recent past how the Redmi Earbuds 3 Pro with unreal specifications failed to deliver an impressive audio as compared to some other earbuds with much more modest specs. Can these Micromax buds do a better job? What else do they bring to the table in this crowded segment? Are they worth buying? Time to answer these questions and some more in our Micromax Airfunk 1 Pro review.
Overly funky exterior, plasticky build but good in-ear fit
The Micromax Airfunk 1 Pro lives up to its name with a funky exterior. To add to it, we got a bright yellow variant for review. Need I say more? The build quality of the product is acceptable for the segment barring the sharp edges on the stems of the buds. You have a distinctly glossy finish on the case as well as on the buds making them look plasticky. What amused me was a black mark on each of the buds. Some may mistake it for a mic or a sensor, but it does literally nothing other than trying to ape an Apple AirPods design element. The case is quite compact and pocketable. Thanks to the silicone tips, the buds fit snugly in the ears and offer average passive noise isolation with the pre-installed medium-sized tips. There are two more pairs of tips in the bundle in case medium isn't the right size for you. Given that they weigh 4gm each, you can barely feel their presence in your ears. The buds stay in place even during jogs and do not stick out of the ears much. But the yellow color is bound to attract attention. Fans of the CSK franchise may love it though! The stems are touch enabled and fairly responsive except for triple click. The configuration could have been smarter, which I will talk about shortly.
Good feature set, but touch controls could have been smarter
You do not get active noise cancellation (ANC) here, but each earbud is equipped with two microphones to cut down on the background noise. The top part of the earbud stems are touch enabled and support touch gestures. But unlike Realme or Dizo buds, they aren't programmable as you do not have a companion app to change the mapping. You have to make do with the predefined gestures, which could have been smarter. Double tap on either buds is used to play/pause the audio or answer/end calls, while triple tap on left or right buds lets you jump to the previous or next track respectively. Triple tap gesture doesn't register at times if you tap too fast or too slow. Touch and hold gesture on the left bud brings up the voice assistant but no function is assigned to a similar gesture on the right bud. Single tap on the left bud drops the volume, while a tap on the right increases it. It is good to have volume controls on the buds itself but not a smart idea to assign a function to single tap. You often end up unintentionally increasing or decreasing the loudness when trying to adjust the buds or even when you simply place them on your palm. Ideally, the company could have left single tap free and assigned volume control to touch and hold gesture on either of the buds, while mapping voice assistant to long touch on both buds simultaneously. The base of the case has a USB-C charging port, and you get a tiny charge indicator LED at the front. These earbuds are Bluetooth 5.2 compliant and have support for aptX, AAC and SBC codecs. The earbuds are IP44 rated dust and sweat resistant. The wireless range is standard with the buds maintaining a stable connection up to 10 meters with a clear line of sight.
Audio lacks punch due to weak bass response
Each earbud is equipped with a large 13mm dynamic driver which hints at a bass heavy sound. To my surprise, it was exactly the opposite. I wouldn't call it a pleasant surprise though because the bass is a bit too weak, making the output sound flat and bright for my liking. I have no issues with companies keeping the bass low and opting for a mids-centric tuning for better vocal response, but there needs to be a balance, which is missing here. It is compounded by the fact that the instrument separation is not so good and the soundstage is quite narrow. It makes the output feel muddled, lacking in detail and causes listener fatigue rather quickly. The Micromax Airfunk 1 Pro is better suited for listening to podcasts and other vocal heavy content rather than music. The buds are loud enough at around 70% volume. Watching movies or web-series with more dialogues and less action sequences work better here. You immediately notice the deficient bass as soon as you encounter some explosions and gunshots or some energetic background score. On the bright side, there was no noticeable lag between video and audio when consuming content on Netflix on my phone. But the latency doesn't seem low enough for serious gaming.
Decent battery backup, average call quality
As I touched upon earlier, the earbuds have two microphones each for environmental noise cancellation (ENC). They do a reasonable job of suppressing certain low frequency background noises during calls, though not all. The overall call quality is average. People on either end of the call are audible to each other but the voice clarity is just about passable and not as sharp as the phone's microphone. Things are a little better indoors. More than the actual ambient sounds, it seems the ENC algorithm is what makes the voice less clear than ideal. Micromax claims that the Airfunk 1 Pro can last up to 32 hours (buds and case combined) on a full charge. During my testing, the earbuds and charging case combined could deliver close to 22 hours of playback. The buds alone could manage a continuous playback of five-and-a-half hours on a full charge at 70-75% loudness on aptX codecs. The charging case can recharge them fully thrice more. While the numbers aren't as great as advertised, 22 hours is pretty decent. The charging case has the newer USB-C port, which is good to see, and takes a little over 75 minutes to charge the case and buds fully. There is no mention of fast charging here.
A case of what could have been than what is
The Micromax Airfunk 1 Pro TWS earbuds can be purchased for Rs. 2,499 with a one year warranty on the company's website and on popular e-commerce platforms. This product ticks a lot of boxes on paper like a Qualcomm chipset with support for aptX codecs, Bluetooth 5.2, larger drivers, four microphones, high capacity battery and more. In reality, all these factors don't come together to create a great product. The biggest culprit is the tuning that makes these buds sound lackluster in most music genres. To make matters worse, the competition in this segment is way better. I will name just two that are priced similar to the Airfunk 1 Pro. Firstly, the Soundcore Life Note that also has support for aptX codecs. They too aren't bass heavy but the sound has much better balance and detail. Add to that better battery backup in excess of 30 hours with the case and arguably the best call quality in this segment. It doesn't have touch controls though. The next obvious choice is the Realme Buds Q2 that is extremely hard to beat in this budget. Even without aptX support, you get far superior sound quality along with a companion app for configuring controls and sound profiles. What's more, you also get functional ANC that is incredibly rare in this segment. The battery backup is comparable to the Airfunk 1 Pro and so is the call quality, but the overall experience is far superior. Hence, it is hard for us to recommend the Micromax Airfunk 1 Pro. The company has managed to gather the right ingredients, and with a few tweaks and better tuning, they can easily create a much better product than what we have here. Let's hope it happens sooner than later.
Micromax Airfunk 1 Pro Review Synopsis
Review:
The Micromax Airfunk 1 Pro TWS earbuds have all the right ingredients on paper, but they do not combine to make a great dish.
Good Stuff:
Bluetooth 5.2 with Qualcomm aptX support
Lightweight and good in-ear fit
Touch controls with volume control
Decent battery backup; approximately 22 hours with case
IP44 dust and sweat resistant
Bad Stuff:
Touch controls could have been smarter
Plasticky build with a few sharp edges