Sensex climbs 515 points, Nifty settles above 17,650 points
Sensex climbs 515 points, Nifty settles above 17,650 points
Aug 11, 2022, 03:56 pm
2 min read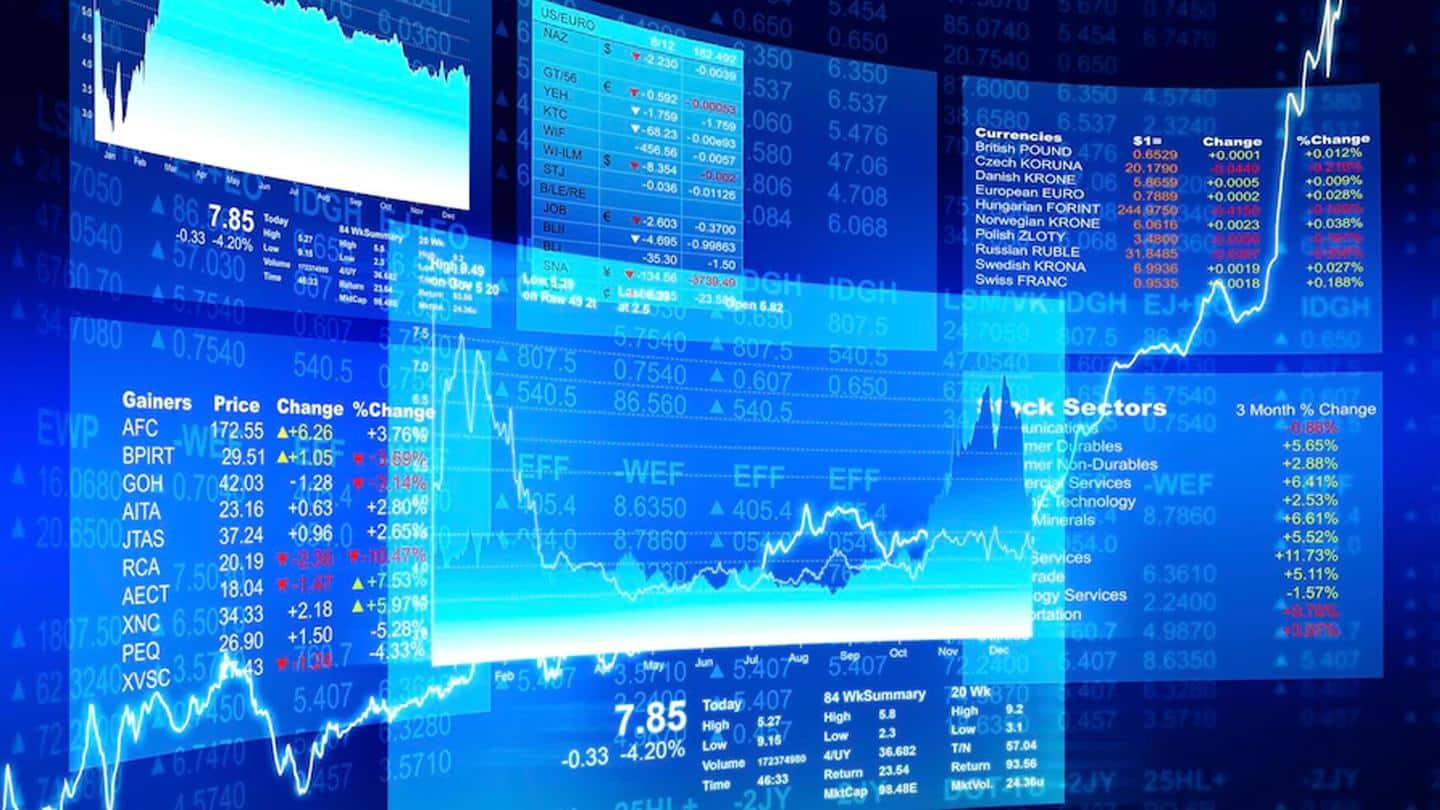 On Thursday, the benchmark Sensex and Nifty indices witnessed a surge, extending their winning streak for the fourth day in a row. The Sensex jumped 0.87% to 59,332.6 points, while the Nifty climbed 0.7% to 17,659 points. The midcap stocks followed suit as the Nifty Midcap 50 gained 0.9% to close at 8,322.85 points. Read on for more details on Thursday's market report.
Who were the biggest winners and losers?
The top sector gainers in the stock market were NIFTY PSU BANK, NIFTY IT, and NIFTY FIN SERVICE, gaining 2.33%, 1.76%, and 1.55%, respectively. Axis Bank, Bajaj Finance, and HDFC emerged as the biggest stock gainers, adding 2.69%, 2.37%, and 2.36%, respectively. TATA Consumer Products, Apollo Hospital and ITC led the losing pack, falling 2.16%, 1.94%, and 1.59%, respectively.
INR slipped 0.14% against the US dollar
The Indian rupee (INR) on Thursday weakened against the US dollar, falling 0.14% to settle at Rs. 79.64. The gold futures prices largely traded flat, settling at Rs. 52,319, but the silver futures dropped 179, or 0.3%, to Rs. 58,781. Crude oil future prices surged by $1.26, or 1.37% to $92.78/barrel.
Take a look at the global markets
On Thursday, the Asian markets traded in the red with the Shanghai Composite Index, the Hang Seng Index, and the Nikkei plunging 1.6%, 2.4%, and 0.65% to 3,281.67, 20,082.43, and 27,819.33 points, respectively. In the US, NASDAQ edged 2.89% higher to 12,854.8 points.
How have the popular cryptocurrencies moved today?
Bitcoin is selling at $24,459.05, up 6.02% from yesterday. Ethereum is currently trading at $1,883.61, up 10.96%. Tether, BNB, and Cardano are priced at $1.00 (0.02% up), $329.60 (3.04% up), and $0.5363 (5.01% up), respectively.
Fuel prices in Delhi and Mumbai remain the same
The fuel prices in Delhi remain unchanged on Thursday with diesel priced at Rs. 89.66/liter and petrol costing Rs. 96.76/liter. In Mumbai, diesel is priced at Rs. 94.25/liter while petrol costs Rs. 106.29/liter.