Twitter addresses the irony in Bhumi Pednekar's brownface in 'Bala'
Twitter addresses the irony in Bhumi Pednekar's brownface in 'Bala'
Written by
Siddhant Pandey
Oct 14, 2019, 12:57 pm
3 min read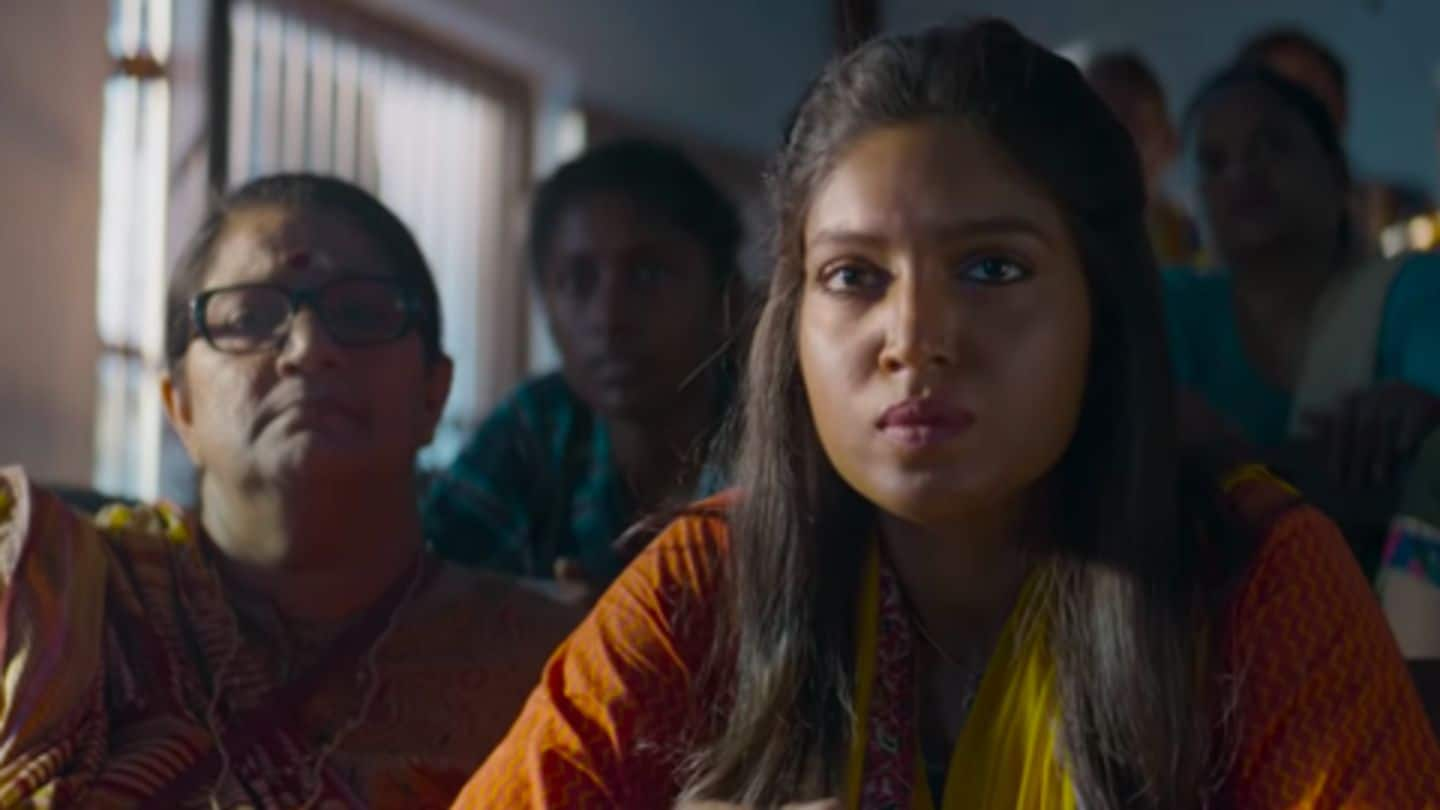 The trailer for Bala, starring Ayushmann Khurrana and Bhumi Pednekar, dropped last week and the film is already drawing criticism on Twitter. In the trailer, Pednekar can be seen sporting a noticeably darker skin tone than usual. The 30-year-old actor now stands accused of using brownface and people on Twitter questioned why a darker-skinned actor couldn't be cast instead. Here are more details.
Pednekar's character in 'Bala' faces society pressure over dusky complexion
Directed by Amar Kaushik, Bala brings the issue of male pattern baldness to the fore. The film stars Khurrana in the lead role of Bala/Gaurav Rawat who struggles with balding and looks towards alternatives to cover up his condition. Pednekar plays Nikita who faces societal pressure due to her dusky complexion. Additionally, Bala stars Yami Gautam, Javed Jaffrey, Saurabh Shukla, and Seema Pahwa.
'If only there were any actors with darker skin'
People on Twitter pointed out the irony in casting a fair-skinned actor with makeup for a character whose inherent struggle stems from the privilege held by fair-skinned people. "If only there were any actors in this country with darker skin... if only. #Brownface #Bala," writes one Twitter user. Another asked why actors like Konkona Sen or Bipasha Basu couldn't be cast in the role.
Here's how people reacted to the news
This poster is soo weird💀
and why Bhumi Pednekar when we have Konkona Sen Sharma, Bipasha Basu, Priyanka Chopra and many more bollywood actresses with dusky complextion https://t.co/uk2I2M4sW0

— ๖ۣۜƤiαツ (@ShadySGian) October 10, 2019
'Ironic, to say the least'
So Bala is about a man who suffers from hair loss, who is played by Ayushman, and a dark skinned girl who gets mocked because of that. However, instead of maybe hiring a real dark skinned actress they just cast Bhumi and further darken her face. Ironic, to say the least 🤦🏻‍♀️ pic.twitter.com/IH9ImpPbyq

— lost soul (@theClaiire) October 10, 2019
If anything, 'Bala' highlights India's obsession with fair skin
So bollywood is trying to make a statement about India's obsession with fair skin by casting a fair skin woman to play a darker one?
Also! My God that makeup is bad! No dark person looks like that! They are beautiful

— Ekta Chauhan (@ekta2993) October 10, 2019
'Real dark-skinned girls better-suited for such roles'
Y'all are either constantly endorsing fairness creams or putting on tons of dark makeup to make some dumb point there's no in between. When will yall learn that there are real living dark skinned girls who're pretty af and mich better suited for roles like this

— Anjali 🏳️‍🌈💜 | Jimin💜 (@ARavenclaw28) October 11, 2019
Recently, Pednekar was criticized for 'Saand Ki Aankh' role
Incidentally, colorism isn't the only issue in Pednekar's filmography. Earlier this year, the actor faced criticism alongside Saand Ki Aankh co-star Taapsee Pannu for playing sextagenarians in the film. Meanwhile, the film industry continues to push older actors, regardless of gender, to the sidelines.
This year, both 'Super 30' and 'Gully Boy' featured brownface
In the recent past, Hrithik Roshan was accused of using brownface when he appeared in the film Super 30 as Anand Kumar. Roshan also had a ridiculous Bihari accent in the film. Ranveer Singh in Gully Boy and Alia Bhatt in Udta Punjab are also popular examples of brownface. Meanwhile, dark-skinned actors, such as Nawazuddin Siddiqui, have voiced concerns of colorism in Bollywood.
'Bala' also seems to have angered 'Ujda Chaman' director
Bala is already embroiled in another controversy with director Abhishek Pathak and his upcoming film Ujda Chaman. Apparently, both films touch upon the same subject and were seemingly made without any knowledge of the others' making. However, Bala's release was advanced in light of this from November 15 to November 7, a day ahead of Ujda Chaman's release. Pathak says this move was 'unethical'.