'The Last of Us': Everything about HBO's 2023's biggest show  
'The Last of Us': Everything about HBO's 2023's biggest show  
Jan 05, 2023, 08:00 pm
2 min read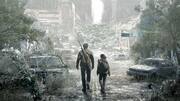 The Last of Us, a post-apocalyptic drama based on the famous Playstation video game will be finally streaming on January 15 on HBO Max. As per reports, the release date originally got leaked accidentally on the streaming platform. Fans considered it a boon since many were eager to watch this series adapted from a videogame of the same name. Read on for further details.
Streaming details and storyline
The series will have a total of nine episodes and will stream simultaneously on HBO and HBO Max. On HBO, the series got the primetime slot in which House of the Dragon was streaming—Sunday at 9:00pm. The protagonists are Joel and Ellie. Joel is a smuggler who has been tasked to escort teenager Ellie through the post-apocalyptic USA.
Cast and crew of the series
The protagonists' roles are played by Pedro Pascal and Bella Ramsey. The other cast members are Gabriel Luna, Merle Dandridge, and Anna Torv. The recurring cast includes Nico Parker, Murray Bartlett, Nick Offerman, Melanie Lynskey, and many more. The series has been primarily filmed in Alberta and a quartet of cinematographers shot the series. The music has been composed by the acclaimed Gustavo Santaolalla.
Production and the videogame it has been adapted from
As per reports, this TV series is the largest Canadian TV production which has been bankrolled by Sony Pictures Television, PlayStation Productions, Naughty Dog, Word Games, and the Mighty Mint. It also marks the first work of PlayStation Productions. The series has been created by Craig Mazin and Neil Druckmann for HBO whereas the original 2013 video game was developed by Naughty Dog.
Storyline of the video game
The video game released back in 2013 was about the protagonists Joel and Ellie who were out on a mission to fight the clickers in order to save the victims from the deadly virus. In that journey, they had to overcome difficulties.
Earlier attempts at making it a motion picture
As per reports, there have been two attempts to adapt the video game into films, but none were fruitful. Druckmann had planned a feature film and later Oddfellows planned an animated short film adaptation but both of them ended up in development hell. This series came into talks again in 2020 and Mazin was roped in as well.