Pee-gate: Air India fined Rs. 30L, pilot's license temporarily suspended
Pee-gate: Air India fined Rs. 30L, pilot's license temporarily suspended
Jan 20, 2023, 05:15 pm
2 min read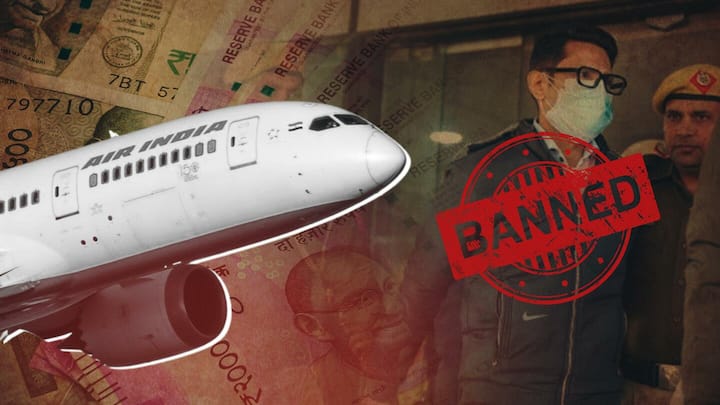 Following the negligence in reporting the incident in which a drunk man urinated on an elderly co-passenger onboard an Air India international flight, the Directorate General of Civil Aviation (DGCA) fined the airline Rs. 30 lakh and suspended the license of the flight's pilot-in-command for three months. Earlier, the pilot and four cabin crew members of the flight were taken off roster.
Why does this story matter?
The shocking incident occurred on November 26, but an FIR was not filed until January 4, almost 40 days later, following a letter to N Chandrasekaran, chairman of Tata Sons, which owns Air India, by the woman.
The airline claimed a complaint wasn't filed in the matter as the woman rescinded her initial request for the accused's arrest after reaching a settlement.
Acknowledge gaps in our reporting: Air India
After the aviation regulatory body's action, Air India issued a statement saying that it acknowledged the lapses on its part, and it would take relevant steps to prevent them in the future. The director of in-flight services was also fined Rs. 3 lakh for failing to discharge her duties. The pilot's license was suspended based on Rule 141 of the Aircraft Rules, 1937.
Air India disregarded regulatory obligations: DGCA
The DGCA's statement said that prima facie the airline disregarded the regulatory obligations as described in applicable rules. Earlier, the DGCA issued a show-cause notice to the accountable manager of Air India, the director of in-flight services, and the pilots and cabin crew members for dereliction of duties and asked them to submit a reply within two weeks.
Complainant peed on herself: Accused
On Thursday, a three-member internal committee of Air India imposed a four-month ban on the accused, Shankar Mishra, a former executive of Wells Fargo. Mishra has, however, denied the charges and his lawyer even argued that the woman urinated on herself. This came after the accused apologized for the incident and claimed to have reached a "settlement" with the woman.
Reviewing policy on serving alcohol on flights: Air India CEO
Mishra's lawyer said the committee's order hinges on their wrong understanding of the aircraft's layout. Earlier, Chandrasekaran admitted that the airline's response should have been swifter. Air India CEO Campbell Wilson said that the airline was reviewing its policy on serving alcohol on flights.