Gyanvapi case: SC extends protection to 'shivling' till further orders
Gyanvapi case: SC extends protection to 'shivling' till further orders
Nov 11, 2022, 04:59 pm
3 min read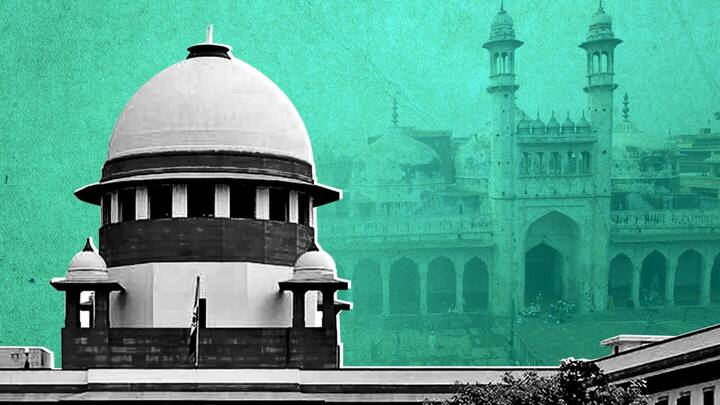 The Supreme Court (SC) on Friday extended protection to the area at the Kashi Vishwanath-Gyanvapi Mosque complex in Varanasi, where it was claimed that a shivling had been found. The apex court had on May 17 given interim protection order in this regard. The claim of finding the shivling was made after a videography survey of the complex was conducted in May.
Why does this story matter?
The Gyanvapi issue has become a trigger for the heating up of history wars between the Hindu majority and Muslims in India as most parts of the region were ruled by Muslims during early times. Right-wing Hindus alleged that Muslim rulers plundered and destroyed temples during their reign to change the demography and religious identity of the region.
The bench allows consolidation of all lawsuits
Besides extending the protection to the area "until further orders," the bench headed by Chief Justice of India (CJI) DY Chandrachud has agreed to the consolidation of all lawsuits. The bench also comprising of Justice Surya Kant and Justice PS Narasimha allowed Hindu appellants to move an application to the Varanasi district judge for "the consolidation of lawsuits on the Gyanvapi case."
Argument in court over the appointment of commissioner
Hindu plaintiff argued that the Special Leave Petition (SLP), challenging the appointment of advocate commissioner, by the Masjid committee has turned pointless as "they have been participating before the Advocate Commissioner." However Muslim petitioners submitted "that the application had been filed by the plaintiffs with incorrect averments that the defendants have been participating in the commission proceedings," reported Live Law.
Court asks Hindu respondents to file replies within 3 weeks
Meanwhile, the court regarding the appointment of a survey commissioner by Allahabad High Court in April this year has directed Hindi parties to submit replies within three weeks' time. Anjuman Intezamia Masjid has challenged the Varanasi court's appointment of the commissioner. The advocate commissioner was assigned "to carry out a video-recorded inspection of the site and submit an action taken report.
Looking back at the case that is stretching
Five Hindu women early this year filed a petition in Varanasi court seeking "permission to worship at Maa Shringar Gauri Sthal," on the outer wall of the Gyanvapi Mosque complex. In April a committee was constituted to verify the religious character of the complex. Muslims challenged the committee in Allahabad High Court but the petition was dismissed on April 21.
Muslims pinned hopes on the apex court
Following the dismissal of the petition by Allahabad High Court, Muslims moved to SC. Hearing the case in May this year, the top court while declining proceedings of the Varanasi court said, "ascertainment of the religious character of a place is not barred." It directed protection of the area where shiviling was claimed, without hindering the religious activities of Muslims.